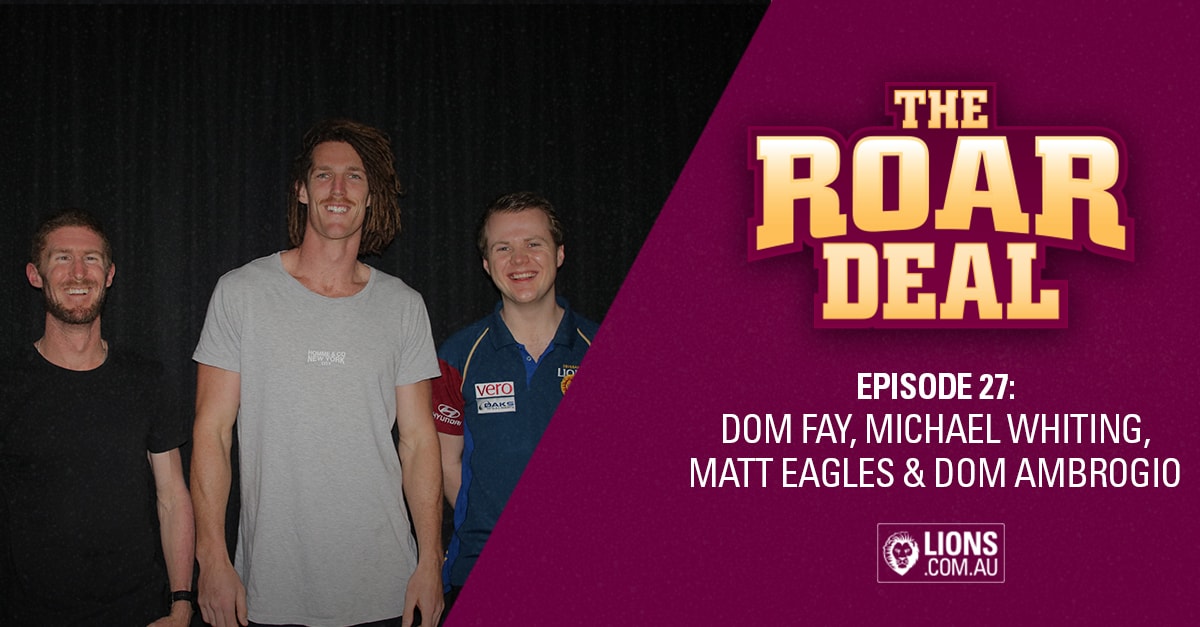 Since Matt Eagles' debut back in Round 7 at the Gabba, Lions fans have been wondering - what's the meaning behind the new saying around the Club: it's ya boi!
This week Matt Eagles sat down on the Roar Deal to give hosts Dom Fay and Michael Whiting the answer.
"I just rocked up to the Club after a recovery session in the pool and Sam Mayes just started saying, 'it's ya boi'," Eagles said.
"I just thought, 'okay, I can run with this'."
The boys quickly caught on with the phrase and before long, Lions fans jumped onto social media to voice it too.
"It has definitely taken me by surprise," Eagles said.
"To come to the Gabba and witness our fans so engaged, it's a great feeling."
All joking aside, Matt Eagles has been both humbled and baffled by his recent journey to the big league.
It's ya boiiii... Matty Eagles!

Listen to the #RoarDeal: https://t.co/nDUugKlqOr pic.twitter.com/caWXgMxdeo

— Brisbane Lions (@brisbanelions) May 25, 2018
'It's all really surreal, everything's happening so quickly and I'm just happy to be a part of it."
"It's like a fairytale really."
Eagles' journey to football as been a long and unconventional one, earning his spot on the Lions rookie list after winning the TV series, The Recruit.
While Eagles is grateful for the opportunity that The Recruit provided, he wasn't shy in admitting that it hasn't been easy.
"I loved The Recruit, it went so quickly and I wish it went for longer."
"It was tough coming from a different draft process. I was an outsider.
"It's a tricky process but you've just got to trust it. Trust the process."
SUBSCRIBE TO THE ROAR DEAL ON ITUNES
Last Sunday, the 28-year-old defender had spectators at the Gabba on their feet when he fended off a Hawks player and bagged his first career goal.
Set to play his fourth career game this weekend, Eagles doesn't believe neither coaches or fans have yet seen his best form.
"I'm pretty harsh on myself, I'm probably my worst critic."
"But that sort of drives me to keep getting even better and better."
Brisbane Lions List Manager Dom Ambrogio also joined the podcast for a chat.
Ambrogio gave light on the recent news of Tom Fullarton's recruitment as a Category B Rookie.
"David Noble (GM of Football) has done most of the work there," Ambrogio said.
"Fullarton's been of interest to us since an U15s football carnival when he proved to be quite strong.
"He then went and chose basketball for a period after that.
"Now we're lucky enough that he's made the decision to come back to the Lions."
For Ambrogio, the name of the game is building a strong base of talent that can grow together as a team over the years.
"I think we're still at a stage where we want to get a nucleus of talent together that can go through as a group," he said.
"We're just keeping our eyes open and collecting as much information as we can along the way."
The views in this article are those of the author and not necessarily those of the AFL or its clubs