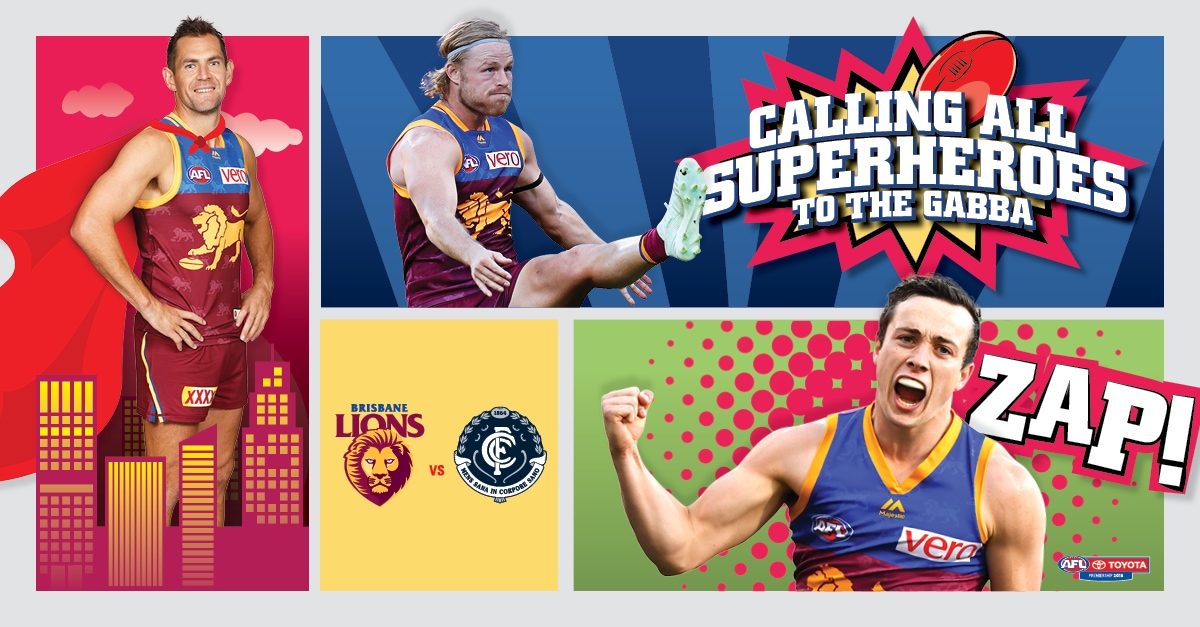 Match Day Info: Saturday, July 7.
Below you will find all of the information that you need for a huge day of football at the Gabba.
AFL Premiership Season: Round 16
Brisbane Lions v Carlton Blues
Saturday, July 7
The Gabba
Corporate Gates open at 11.45am, Public Gates at 12pm
Bounce at 1.45pm
Make sure you dress super this weekend for the Lions' Super Hero round!
Dress as your favourite superhero character or make up your own for your chance to win our best-dressed competition which will be announced on the field at three-quarter time.
Be on the lookout for superheroes roaming around the inside and outside of the Gabba performing spectacular tricks and breathtaking shows.
We will also have free giveaways and plenty of prizes to be won throughout the day for our super fans!
This week's match day partner is Hyundai and Hyundai Help for Kids.
At the match, we are very lucky to host children and their families from Darling Point Special School, in a superhero themed party in our Hyundai Help for Kids iView.
Lion Park
Located outside Gate 2, this is the ultimate match day kids hub. Patrons have the chance to get their face painted and join in all the family friendly activities such as the below:
Member HQ
Lions Shop
Roy's Rookies
Roy's AFL Zone
Rockclimbing wall
Facepainting thanks to Hyundai
Triple M
INC Kick for Cash - register to win $4K cash!
DJ
Carlton Merchandise
The big man, Roy, is up to his usual tricks, make sure you collect your Roy banner and share a photo to social media using #SpottedWithRoy.
Lions Shop
Head to the Lions Shop at Gate 2 to take advantage of great game day offers including:
Buy three packs of Team Coach footy cards get a fourth pack free

Purchase any 2018 Majestic Kids guernsey and receive a Sherrin PVC game ball valued at $14.99 free
The Coffee Club - Meet You on the Boundary Line
Get your pre-game footy fix with our Brisbane Lions footy guru, Josie Fielding, coming live to the big screen from our sideline couch. This week we'll chat with a Brisbane Lions coach and player.
Brisbane Lions Social Club
Ciao! Enjoy a little slice of Italy at the Social Club this week
FREE access for all game entry members - access via Gate 6 from 11:45am or via the lift outside Section 51 from 12:00pm.
Meals available for purchase from the Italian menu below:
Traditional pasta and meatballs
Traditional Lasagna
Roast butternut pumpkin and ricotta gnocchi with creamed spinach and roasted pinenuts
Seasonal tomato, buffalo mozzarella, basil with olive oil & balsamic
Brisbane Lions Members Bar
Premium season reserved seat members and September Members have FREE entry to the bar located in Section 62. Entry to the bar is subject to capacity and proof of 2018 membership must be shown upon entry.
Hyundai How Much Do You Know Quiz?
Test your Lions knowledge in the Hyundai How Much Do You Know quiz and you could win 2 tickets to the Area VIP Lounge presented by Hyundai. We'll randomly select two lucky contestants from the crowd to go head to head in the ultimate test of minds.
INC Kick 4 Cash*
With thanks to Sport Nutrition Partner, INC, you could be kicking for $4k cash at quarter time.
Simply head to the INC marquee in Lion Park pre-game to register your details and we could be calling upon you to take the field.
*Activation is subject to fine weather permitting
Oaks Roar Cam
The roar of a lion can reach 114 decibels at a distance of 1 metre, and can be heard from 8 kilometres away. Oaks Hotels & Resorts are challenging you to get your roar on and the same time get behind our team. If you can roar the loudest and proudest, keep an eye out for the Oaks Hotels & Resorts Roar Cam and you could win a $150 Oaks Hotels & Resorts accommodation voucher.
Four'N Twenty Lucky Row
Thanks to Four'N Twenty, you could score yourself a free pie! Each home game, Four'N Twenty will be giving away free pies to a randomly selected row. Make sure you're in your seats and keep an eye on the big screen to see if you're in the lucky row.
Macca's Kick 2 Kick
Stick around after the game to get on the ground with Macca's Kick 2 Kick. And if you want to join Dayne Zorko at the 2018 Toyota AFL Grand Final for the ultimate Macca's Kick to Kick make sure to take a photo of yourself having a kick and upload it Instagram or twitter with the #MaccasK2K or head here for more information. Dayne will also be visiting one lucky fan for a one-on-one kick to kick in their very own backyard. So make sure you upload a photo for your chance to win.
The Coffee Club Bonus Brew
Thanks to the Brisbane Lions Coaches Partner, The Coffee Club, you will receive a FREE small hot beverage from any one of the participating stores across Brisbane the day after each of our Brisbane Lions home games.
Simply present your match day ticket or membership card to redeem on Sunday, July 8. Click here to see full Terms and Conditions and a list of Participating Stores.
Oakstravaganza
WIN four tickets to the 2018 Toyota AFL Grand Final plus flights and accommodation. Enter here.
Park Inside 50. Hyundai game day parking
Forget about public transport, drive your car right up to the Gabba and stroll across the road to the game. Thanks to Hyundai, 2018 Brisbane Lions Members can park at The Gabba, just metres from the stadium, no matter what kind of car you drive!
20 lucky Brisbane Lions Members will be chosen and notified before each match. For your chance to park in the Hyundai Car Park, click here to enter.
XXXX Take in the Gold
Thanks to XXXX, you and seven mates could be Taking in the Gold at the Gabba from your very own VIP Box plus some cool XXXX merch. Click here and enter your details to win!
50-50 Raffle
Support Darling Point Special School by purchasing a ticket in Saturday's 50-50 raffle.
One lucky person will win 50% of the prize pool in the random draw at the end of the game. The remaining 50% will go to Darling Point Special School.
Tickets are available from only $5! Help Darling Point Special School continue to work with students with disabilities and their families to achieve the best possible educational and life quality outcomes and buy your ticket for a chance to win!
Majestic Athletic Moments
Take a picture of yourself in your Brisbane Lions Majestic Athletic apparel and upload the photo to Instagram, Facebook or Twitter using the hashtag #LionsMajesticMoments to go in the draw to win 4 x Area VIP tickets to our next match plus Lions Shop merchandise vouchers. More details.
The Verandah presented by Hyundai
We are pine-ing for you…
Tropic Like It's Hot on the Verandah with The Brisbane Lions! Be seen at the city's hottest new social event. It's the most scenic Verandah in Brisbane - the view is second-to-none, we're not Lion.
The Brisbane Lions are bringing the footy to you in the most authentic Queensland way – The Verandah! It's going to take your footy experience to the next level, literally. Get your tickets and find out more here.
Autograph book giveaway
Members can collect an exclusive 2018 Autograph Book this Saturday from the MemberHQ Marquee, Match Office 7 & 9 or the Match Day Social Club! Simply flash your 2018 membership card to receive your copy! *Limited quantities available, one per member per membership card.
The Ultimate Weekender
We've got your weekends sorted!
The Ultimate Weekender combines our three best match day experiences - The Verandah, Area VIP and Premium reserved. Chose from any three games after Round 13 and select where you want to sit for them.
Valid for Round 14 – 23 home matches at the Gabba. You choose when and how you use your seat selections. More information.
Public Transport
Did you know you get FREE public transport to and from the game? Show your Brisbane Lions member card or ticket when getting on and off the train or bus and you're set.
Call TransLink on 13 12 30 or visit translink.com.au to use their journey planner or view and print their maps and timetables.
Park Inside 50. Hyundai Game Day Parking
Want the best parking spot for the game? We're opening up the Hyundai Car Park on game day at the Gabba and you're invited! Forget about public transport, drive your car right up to the Gabba, just metres from the stadium, and stroll across the road to the game – easy!
20 lucky drivers will be chosen and notified before each match. For your chance to park in the Hyundai Car Park, click here to enter.
Make sure you join the conversation using #AllForOne and #AFLLionsBlues
The views in this article are those of the author and not necessarily those of the AFL or its clubs