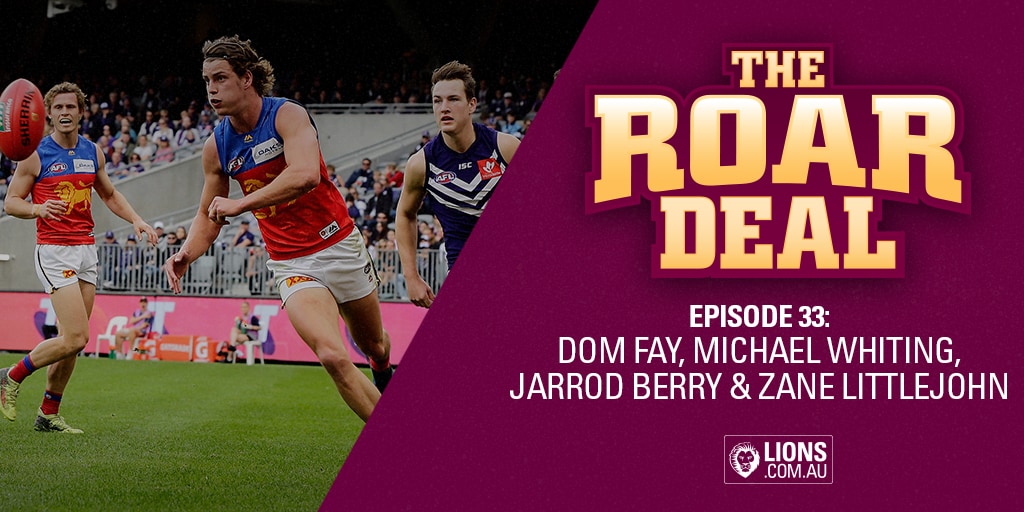 After a huge performance against Fremantle on Sunday, promising young midfielder Jarrod Berry (@17.55) joined the Roar Deal podcast this week with hosts Dom Fay and Michael Whiting.
Berry analysed the game and what went right.
"We changed our mindset to make sure we came out and won the first contest. We aimed as a team to win that first five minutes which we were able to," he said.
"To be in front in the first quarter went a long way towards winning the game.
"It's pretty daunting going out there [Optus Stadium], but we silenced the crowd and really took it up to them. Everything fell into place."
Berry is showing no signs of the 'second-year blues', especially when confronted with huge tasks each week like tagging the Dockers' gun midfielder Nat Fyfe.
"Fages said something to me early in the week [about tagging Fyfe]," he said.
"I knew pretty early on and did my homework. To play on him was a great experience. I learnt a lot about bodywork and how he attacks the contest.
"It was a bit disappointing he got injured. Those things happen. I was happy that it happened and not happy that it did as well."
In his appearance on the Roar Deal, Berry discussed his brother Thomas who is set to feature in the draft this year, how his housemate Harris Andrews is recovering and the upcoming clash with Carlton.

Development Coach Zane Littlejohn (@38.09) also stopped by to chat about Cam Rayner's recent Rising Star nomination and his development this year.
"It's a great reward for Rayner. He really stood up against Fremantle," Littlejohn said.
"He has come into the Club with a lot of talent and a bit of expectation. He just wants to get better, which sometimes young kids don't want to do.
"He knows the areas of his game - around his running capacity - that need to improve. He's going to be a very good player."
Littlejohn's role has him overseeing the development of all of the Lions players and he touched on the hardest area to develop
"Kicking is a tough one, there are so many elements to him - from the drop of the ball, to your leg speed...it can be quite challenging. It's about refining it," he said.
"Jarrod Berry is a prime example. He can here with a bit of a knock on his kick, and on the weekend against Fremantle his kicking was at the standard we want to see.
"You work on your game and work on those little things that give the players confidence.
"The key to development, as with any teaching, is building a relationship and trust."
Littlejohn also talked about his background in Tasmania and what brought him to the Lions.
The views in this article are those of the author and not necessarily those of the AFL or its clubs