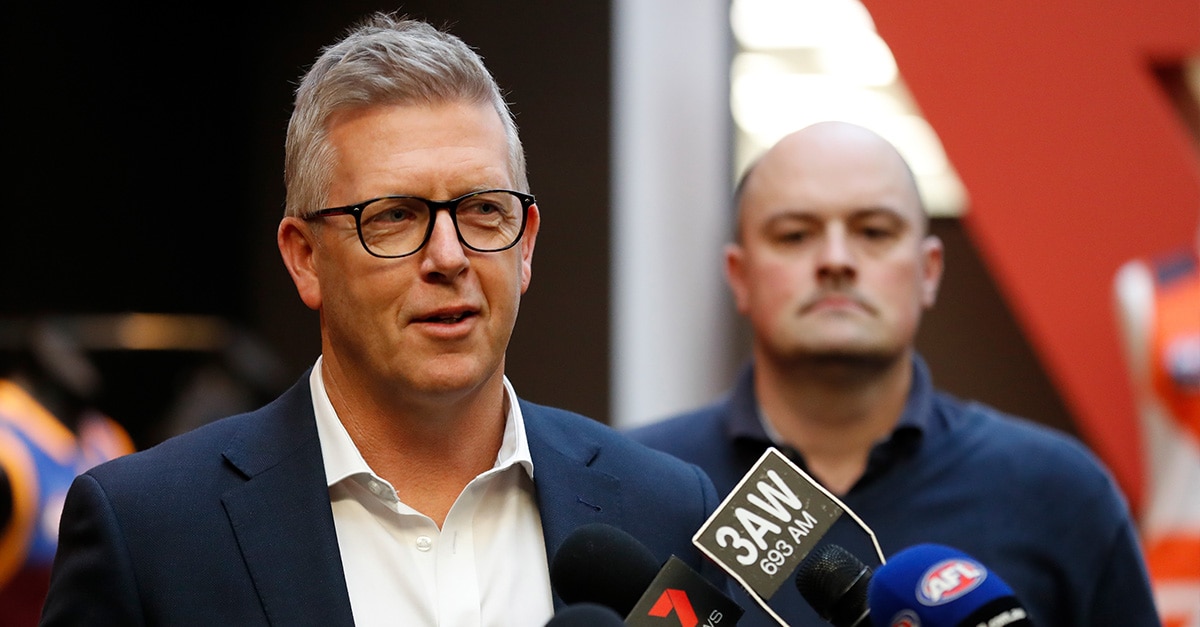 Several rule changes appear likely next season as the AFL moves to combat growing congestion in games, with football operations boss Steve Hocking preparing to put eight recommendations before the Competition Committee next Wednesday.
Hocking said on Tuesday the League had yet to finalise its action plan to combat congestion and would conduct further trials, including one with St Kilda in two weeks' time.
However, he said the League's recent trials with Hawthorn, Brisbane and Fremantle had helped "boil right to the level we need to" three or four potential rule changes that would be put before the committee next week.
Hocking was tightlipped about the precise recommendations that would put before the competition committee, but the recent trials involved such things as structured starting positions at centre bounces and stoppages, an expanded kick-in area of 25m, and the last-touch out-of-bounds rule.
The League's footy boss was adamant, however, that recent high-scoring games such as the Essendon-North Melbourne game in round 15 were not evidence the game would correct itself without intervention.
He also stressed one rule change in isolation would not work, saying he would rather do nothing than head down that path.
Out of those eight (potential rule changes), there are three or four things that we may push really hard and then there's some stuff that we just need to do more work on," Hocking said.
"Everybody's saying potentially if you drop a series of things in you're not sure which one has actually influenced the game. The reality is (with) the work that we're doing here it's the marriage of all of those things we've got to be mindful of.
"How do you change behaviour? Is it rotations that come down as well as starting positions, just as an example? Those two actually come together, they fit in the same bed together.
"And then there's other parts that fit in that same bed as well. And the work that we've currently done (shows) you can't just drop one thing in without that thing and then the other thing as well. It actually starts to impact what you're trying to do.
"The days of just one tweak – which clubs catch up to in a pre-season, not in-season – they're gone."
Hocking said clubs were keen for any proposed rule changes to be tested in a full game rather than the 10-minute halves used in the Hawthorn, Brisbane and Fremantle trials.
He said the League would look to do that at the end of the home and away season, potentially with the VFL teams of clubs involved in the AFL finals.
Hocking said the AFL's push to reduce congestion was not principally motivated by a desire to increase scoring, but rather to increase the "volatile space" around contests, which would give players more time to make decisions.
Meanwhile, Hocking also said:
Reducing interchange rotations from 90 to 40 was not necessarily one of the answers to congestion. "One of the things that is a real highlight of the game is speed/power and just the running capability of the players."
If starting positions were introduced, free kicks might not necessarily be paid for any breaches, with the League considering whether teams should instead be penalised by cuts to their rotations or use of the runner.
The latest trial of four field umpires had been worthwhile, but there were "big challenges to overcome" before four officials could be introduced permanently. The AFL umpires' list would need another 10 to 15 new members to cope with such a change. "Where does the talent come from?"
The views in this article are those of the author and not necessarily those of the AFL or its clubs