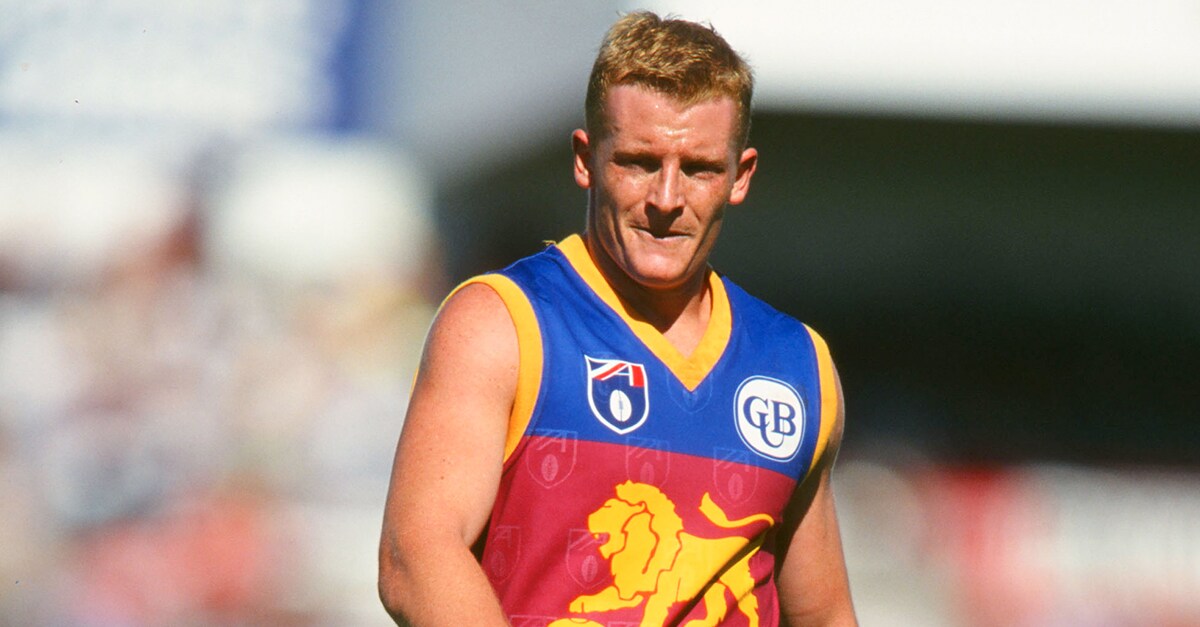 Twenty-two years and 15 days ago the Brisbane Lions were born.
It was 4 July, 1996, when a historic merger between the Brisbane Bears and the Fitzroy Lions was signed.
It was a mix of the new and the old. The AFL's youngest club, not even 10 years old and barely established at the Gabba after a tumultuous beginning on the Gold Coast, and one of the foundation clubs of the former VFL in 1897, rich in history and tradition but struggling on and off the field.
On Saturday the AFL's only merger club will celebrate its 500th game day.
Ahead of this giant milestone against the Adelaide Crows at the Gabba, it is timely to look back, albeit in abbreviated form, at how this momentous union occurred.
It wasn't exactly a new idea. There had been numerous approaches since 1986 when Fitzroy seemed certain to move north even before the Bears were born until a private financier stepped in at the last minute and saved the club.
And in the months leading up to the culmination of the 'marriage', there was every chance Fitzroy would merge instead with North Melbourne. But there was a major dispute over the name of the new entity.
Initially, it was to be Fitzroy-North Melbourne Kangaroos, but on 25 June, after Fitzroy had suggested North Fitzroy United, it was reported that suddenly there was a push from Arden Street for the name North Melbourne-Fitzroy Football Club United.
It was a difference of opinion that was never going to be easily resolved, and the entire situation changed on Friday, 28 June, when Bears Chief Executive Andrew Ireland was playing golf with a holidaying Ross Oakley, AFL Executive Commissioner, at Twin Waters on the Sunshine Coast.
Oakley, who only 11 days earlier had announced he would step down from the job at the end of the season, learned that the Nauru Insurance Corporation, owed $1.25 million by Fitzroy, had appointed an Administrator to recoup their debts.
How ironic it was. The same company which two years earlier had saved Fitzroy from extinction would deliver the final telling blow that made a merger the only alternative to oblivion.
Suddenly all power over Fitzroy's financial matters was stripped from the club directors and instead Administrator Michael Brennan, representing Ernst & Young, became the sole decision-maker for a club he said was $4.5 million in debt.

Amid untold speculation and varying degrees of angst across the entire competition a meeting of the AFL Commission lasting almost six hours was held on Monday night, 1 July.
The Commission declared that unless Fitzroy could forge a merger with another AFL club acceptable to the Commission and the other clubs then their upcoming game against Essendon on 6 July would be their last.
Effectively, the Commission had agreed in principle to a Fitzroy-North Melbourne merger, and given the parties four days until the following Friday to close the deal.
North Melbourne, with a non-enforceable Heads of Agreement with Fitzroy, privately thought they were over the line. But the fight was far from over. And pivotal to it all was the player guidelines for the merged entity.
Brisbane had always proposed a list of no more than 44 players, but North wanted more. They wanted 50 players, a $400,000 salary cap extension, and the right to trade Fitzroy players and retain draft rights. A critical issue as negotiations continued.
The view of Ireland, now CEO at the Sydney Swans, and then Brisbane chairman Noel Gordon was that the merger conditions outlined by the AFL gave Fitzroy no fall-back position, and so no bargaining power. If they couldn't come to terms with North they were really being expelled from the competition, effective Friday, 5 July.
Understanding that the Administrator's primary objective was to get the best possible deal for creditors, the Brisbane negotiating team headed by Gordon and Ireland went to Brennan on Tuesday, 2 July with a $3.25 million proposal.
They would pay in full the $1.25 million debt to the Nauruan Insurance Corporation, under-write the player costs for the remainder of the 1996 season (including money they were already owed) to a maximum of $1 million, and cover Fitzroy debts, estimated by the club to be $950,000 but later proved to be almost triple that.
All this was done on the quiet through a long and exhausting Wednesday before the Commission, needing support from the clubs to finalise the Fitzroy-North Melbourne merger, were to meet at 5pm on Thursday, 4 July.
Prior to the Commission meeting the clubs, then with the power to overturn an AFL ruling, were to assemble at Richmond's Punt Road headquarters at 3pm for a meeting chaired by Tigers president Leon Daphne.
The Brisbane party, confident that other clubs would not support the proposed North Melbourne player expectations but unable to get a firm commitment from Fitzroy, met with the AFL and outlined their position.
The TV cameras were rolling and media representatives were running everywhere as club representatives gathered at Punt Road.
Brennan represented Fitzroy as the Brisbane "team" of Gordon, Ireland and fellow director Graeme Downie, an expert in insolvency and later to become club chairman, was armed with a legal document proposing a merger with Fitzroy. They were confident it was substantially more appealing to the Fitzroy creditors than the North offer.
Oakley, a special guest at the meeting of clubs, spoke on the need for a merger to occur to preserve Fitzroy's history, to get them through the 1996 season, and uphold the AFL's standing in the corporate world.
Ross Oakley discusses the merger in 1997.

Brennan told the meeting he believed a merger was necessary and explained that his legal position as Administrator may entail action against the AFL and Fitzroy directors.
North told the meeting that the expanded player concessions were non-negotiable in their merger with Fitzroy, and essential for the successful resolution of any merger. The meeting voted 14-1 against them. Brennan abstained.
North volunteered to change their position on the playing structure and to match the Brisbane conditions. But in a critical moment Chairman Daphne ruled that the Kangaroos had had their chance. He invited Gordon to outline in full detail the terms of the Brisbane offer.
As 6pm approached, without a vote being taken, the parties moved across the park to the MCG. The Brisbane group, still confident in the merit of their offer, were nevertheless concerned that North's willingness to change their offer may still make things difficult.
And there was still a question mark over whether the Commission, with an alternative on the table, would be prepared to take the hard line and effectively relocate a foundation Melbourne club interstate.
Important to the events that would follow was the realisation that the decision on the merger conditions was not one for the clubs. It was for the Commission to make and for the clubs to endorse - or otherwise. The Commission told the Brisbane and North Melbourne delegations that they required their best and final offer.
The Brisbane and North delegations retired to offices nearby in AFL headquarters to consider their positions as the remainder of the club representatives huddled together in small groups in the corridors and reception area.
Brisbane was clearly in a better position, their proposal already finalised in the form of a legal document. North, in contrast, wrote their offer free-hand on loose paper and had no legal representation.
The only concession Brisbane made to their original offer was to exclude the Administrator's fees from the pool of money that would repay Fitzroy creditors, thereby guaranteeing creditors the full agreed sum of $950,000. So, the deal was sweetened to the extent of the Administrator's costs. And that, in the end, was the difference between the two proposals.
The Commission gave the two offers to Brennan with the instruction that he would put a recommendation to the Commission and the Commission would then make a decision.
It was later revealed that Brennan told the Commission the Brisbane offer was better, but that the North offer was also acceptable. Clearly, he didn't want to be left with nothing.
After about 30 minutes, Commission Chairman John Kennedy emerged from the Board Room and walked towards the North party. Gordon was initially concerned, but he need not have worried. Kennedy was telling North they had lost. The North delegation left the MCG and the remainder of the clubs met with the Commission.

They endorsed the Brisbane-Fitzroy merger proposal, and shortly after Oakley, Gordon, Brennan and Daphne addressed the media to announce details of a landmark decision in VFL/AFL history.
It had happened.
A company named 'Brisbane Bears-Fitzroy Football Club' was to be formed and would trade and play as the Brisbane Lions.
Initially, it was indicated that the 'new' team would wear an adaptation of the old Fitzroy pre-season jumper for "away" games, and a modified Brisbane jumper in Fitzroy colours for "home" games. This deal had been struck with representatives of Fitzroy but was scrapped in the interests of having one jumper, only, for the "new" club.
There was still much to do, and much pain for the Fitzroy faithful in the last weeks of the season, but there was no turning back. And at least there was a future. The efforts of 1156 Fitzroy players, and all those who worshipped them, would not be in vain. The Lions would live on.
Fitzroy's last game in Melbourne.

At season's end Brad Boyd, Jarrod Molloy, Chris Johnson, John Barker, Shane Clayton, Nick Carter, Scott Bamford and Simon Hawking were chosen as the eight Fitzroy players to join the merger club and the enormous task of getting ready for 1997 and the new era began.
On Sunday afternoon, 31 March, 1997, the Brisbane Lions, coached by John Northey, took to Football Park in Adelaide for their first game against the Adelaide Crows.
It was the beginning of a new era. A new name, a new jumper, a new song, two new captains and a new expectation.
After an off-season in which everything they'd done had been analysed to extreme levels, the club was pleased, finally, to be playing football.
It wasn't ideal that the first game of the Brisbane Lions wasn't played in Brisbane or Melbourne, where the supporters could rejoice in this historic occasion, and there was little fanfare as new co-captains Alastair Lynch and Michael Voss, appointed following the retirement of long-time Bears skipper Roger Merrett, led the "new" Lions into battle.
There were a handful of hardy types who had driven from Melbourne, and an occasional fanatic from Brisbane, but there was only a sprinkling of Lions fans among the crowd. And not even a banner.
In perfect conditions, Darryl White kicked the first Lions goal as the visitors posted four of the first five, but by quarter-time they were six points down and thereafter they were never really in it.
The marking power of Tony Modra and Barry Standfield up forward proved decisive for the Crows, and together this pair kicked 12 goals.
Marcus Ashcroft, with 29 possessions in midfield, was a clear Lions standout, while Danny Dickfos, Shaun Hart, Voss, Nigel Lappin and Molloy battled hard against the odds. They lost by six goals.
The first Brisbane Lions team was:
B: Ben Robbins, Richard Champion, Danny Dickfos;
HB: Andrew Gowers, Jarrod Molloy, Michael McLean;
C: Matthew Kennedy, Adrian Fletcher, Nigel Lappin;
HF: Scott McIvor, Dion Scott, Michael Voss;
F: Darryl White, Alastair Lynch, Chris Johnson;
FOLL: Matthew Clarke, Marcus Ashcroft, Shaun Hart;
INT: Justin Leppitsch, Clark Keating, Tristan Lynch.
EMERG: Nathan Chapman, Simon Hawking, Scott Bamford, Shane Clayton.
Score
Adelaide Crows 6-1 12-3 17-6 20-12-132
Brisbane Lions 5-2 7-7 10-9 14-12-96
Goals: Crows: Modra 7, Standfield 5, McLeod 4, Pittman 2, T Bond, Williams. Lions: A Lynch 3, Voss 3, Ashcroft 2, Fletcher 2, D Scott 2, McIvor, White.
Disposals: Crows: Ricciuto 36, B James 33, D Jarman 26, Bickley 25, Smart 21. Lions: Ashcroft 29, Hart 28, Lappin 28, Voss 23.
Brownlow Medal Votes: B James (A) 3, Ricciuto (A) 2, D Jarman (A) 1.
Lions B&F Votes: Ashcroft 13, Dickfos 6, Hart 5, Voss 4, Lappin 3, Molloy 1.
That was Brisbane Lions' first game.
It has been a mixed run since then, with 49 wins in the first 100 games, 73 wins and three premierships in the second 100, 46 wins in the third 100, 34 wins in the fourth 100, and 23 wins in the last 99 games.
Fan support in 1997.

After 143 players represented the Bears in 10 years and 222 games a further 171 players (excluding 29 carryover players) have carried on the Lions tradition.
The 200th Brisbane Lions player, including the 29 carryovers, was the Club's most recent debutant Matt Eagle. The 100th player post-merger was Irishman Colm Begley.
Among 47 18-year-olds and 90 teenagers the 10 youngest have been Richard Hadley (18 years 16 days), Cameron Wood (18/51), Chris Schmidt (18/74), Damian Cupido (18/71), Justin Sherman (18/80), Rhan Hooper (18/89), Luke Power (18/86), Ash McGrath (18/91), Lachie Henderson (18/105) and Harris Andrews (18/128).
Among 34 players 30-plus, the oldest has been Alastair Lynch (36/98), ahead of Simon Black (34/136), Andrew Bews (34/41), 2018 recruit Luke Hodge (34/22), Ben Hudson (33/191), Shaun Hart (33/124), Jonathan Brown (32/228), Martin Pike (32/195), Darryl White (32/76) and Richard Champion (32/72).
Of the 499 games, Black (322) has played most, from Luke Power (282), Jonathan Brown (256), Daniel Bradshaw (219), Nigel lLappin (218), Ash McGrath (214), Michael Voss (210), Jason Akermanis (210), Tim Notting (208), Jed Adcock ()206), Chris Johnson (205) and Daniel Merrett (200).
Brown (594) has kicked most goals from Bradshaw (486), Lynch (371), Akermanis (263), Power (226), McRae (176), Voss (173), Black (171), McGrath (170), Dayne Zorko (157), Tim Notting (138), Justin Leppitsch (136), Lappin (134), Josh Green (107), Johnson (105), Molloy (104) and Daniel Rich (102).
Playing under the Brisbane Lions banner, the Club has a record of 225 wins, six draws and 268 losses, with their 60% win ratio against the Gold Coast their best.
Ironically, after the Bears lost their 11 games to Collingwood and had a 2-13 record against the Magpies at the time of the merger, their best record against the non-Queensland clubs is against Collingwood (17-13 - 56.7%). They are also positive against Carlton (18-15), Melbourne (15-13), St Kilda (16-15).
BRISBANE LIONS WIN/LOSS RECORDS - POST-MERGER

Team

Played

Won

Drawn

Lost

Win %

Adelaide

31

15

0

16

48.4%

Carlton

33

18

0

15

54.5%

Collingwood

30

17

0

13

56.7%

Essendon

30

14

1

15

48.3%

Fremantle

27

13

0

14

48.1%

Geelong

32

14

0

18

43.8%

Gold Coast

15

9

0

6

60.0%

GWS

8

2

0

6

25.0%

Hawthorn

32

15

0

17

46.9%

Melbourne

28

15

0

13

53.6%

Nth Melb

35

15

1

19

44.3%

Port Adel

35

15

2

18

45.7%

Richmond

29

8

1

20

29.3%

St.Kilda

31

16

0

15

51.6%

Sydney

35

11

1

23

32.9%

W/Bulldogs

37

18

0

19

48.6%

W/Coast

31

10

0

21

32.3%

Total

499

225

6

268

46.3%
The Brisbane Lions have played at 19 different venues, and have a 143-3-111 record in 257 Gabba games.
GROUND BY GROUND - POST-MERGER

Venue

Played

Won

Drawn

Lost

Win %

Gabba

257

143

3

111

56.2%

Docklands

66

23

2

41

36.4%

MCG

50

15

1

34

31.0%

Subiaco

27

7

0

19

25.9%

Football Park

22

11

0

11

50.0%

SCG

15

5

0

10

33.3%

Kardinia Park

15

5

0

10

33.3%

Carrara

9

4

0

5

44.4%

Launceston

9

2

0

7

22.2%

Princes Park

8

3

0

5

37.5%

Waverley

6

2

0

4

33.3%

Adelaide Oval

6

0

0

6

0.0%

Stadium Aust.

3

1

0

2

33.3%

Syd Showgrounds

2

0

0

2

0.0%

Victoria Park

1

1

0

0

100.0%

WACA

1

0

0

1

0.0%

Darwin

1

1

0

0

100.0%

Perth Stadium

1

1

0

0

100.0%

Totals

499

224

6

268

45.5%
Eight coaches have guided the post-merger Lions through their 499 games: triple premiership mastermind Leigh Matthews (237), Voss (109), Leppitsch (66), Chris Fagan (38), John Northey (34) and caretaker coaches Roger Merrett (11), Mark Harvey (3) and John Blakey (1).
Merrett assumed the reins after Northey was sacked mid-1998, Blakey deputised for Matthews for personal reasons in 2005, and Harvey took over after Voss was terminated in 2013
The Club's highest score post-merger is 29.15 (159) against Adelaide at the Gabba in Round 17, 2004, when they also posted their biggest win by 141 points. Lynch (6) and Akermanis (4) led the goal-kicking.
The lowest score is 2.5 (17) against Richmond at the MCG in Round 4 this year, and the biggest loss was 139 points against St Kilda in Matthews' last game in charge in Round 22, 2005, against St Kilda at Etihad Stadium. It was 7.5 (47) to 28.18 (186).
Ironically, just as the Club's 500th game post-merger will be at the Gabba on Saturday, so too were the previous big milestones games. And just as the Club started the post-merger era against the Crows they will reach their half millennium against the Crows.
Game #100 in Round 6, 2001, produced a 55-point win over Geelong when Brown kicked seven goals, Voss (33) and Lappin (31) led the possession count, and Akermanis (27 possessions 2 goals) took three Brownlow Medal votes from Brown (3) and Voss (1).
At the time Marcus Ashcroft had played 97 of a possible 100 games to lead the way from Lappin (96) and Darryl White (94). Lynch led the goal-kicking with 131 goals from Craig McRae (84) and Akermanis (81).
Game #200 in Round 5, 2005, ended in a 73-point loss to West Coast. Chris Scott kicked an equal career-best five goals as Cameron Wood made his debut.
By then Lappin (184) had played most games post-merger from Akermanis (180) and Voss (172) and the retired Lynch (371), Bradshaw (274) and Akermanis (231) led the goal-kicking.
Game #300 was Round 17, 2009, and saw the Lions 55-point winners against North Melbourne. Brown kicked eight goals including the 400th of his career for three Brownlow votes, Mitch Clark had 22 possessions and 31 hit-outs for two votes, and Justin Sherman 22 possessions for one vote.
Black (248) topped the games list from Power (233) and Lappin (218), and Bradshaw (478), Brown (401) and Lynch topped the goal-kicking list.
And game #400 was on Easter Thursday in Round 5, 2014, and saw a 43-point loss to Richmond, Brown kicked four goals in his 250th game while Darcy Gardiner debuted. Dayne Zorko collected 28 possessions for one Brownlow vote.
By then the retired Black (322) and Power (282) topped the games list from Brown, and Brown (584) led the post-merger goals list from the retired Bradshaw (496) and Lynch (371).
Of the very first Brisbane Lions side only one person will be involved in the 500th game on Saturday: Matthew Clarke. The ex-Lions ruckman, winner of the first Merrett Murray Medal in 1997, is now an assistant coach with the Crows ahead of a new role next year as Senior Coach of the Crows' AFLW team.
Still involved in the AFL from the first side are Voss (Assistant Coach at Port Adelaide), Leppitsch (Assistant Coach at Richmond), Lappin (Assistant Coach/runner at Geelong), McRae (VFL Coach/Development Coach at Richmond) and Shaun Hart (Head of Development at the Gold Coast Suns).
Ashcroft, former Football Manager at the Suns, and Power are working with the AFL, and Adrian Fletcher, a former Lions' Assistant Coach, is at AFL Queensland. Andy Gowers' son Billy is playing with the Western Bulldogs.
The views in this article are those of the author and not necessarily those of the AFL or its clubs