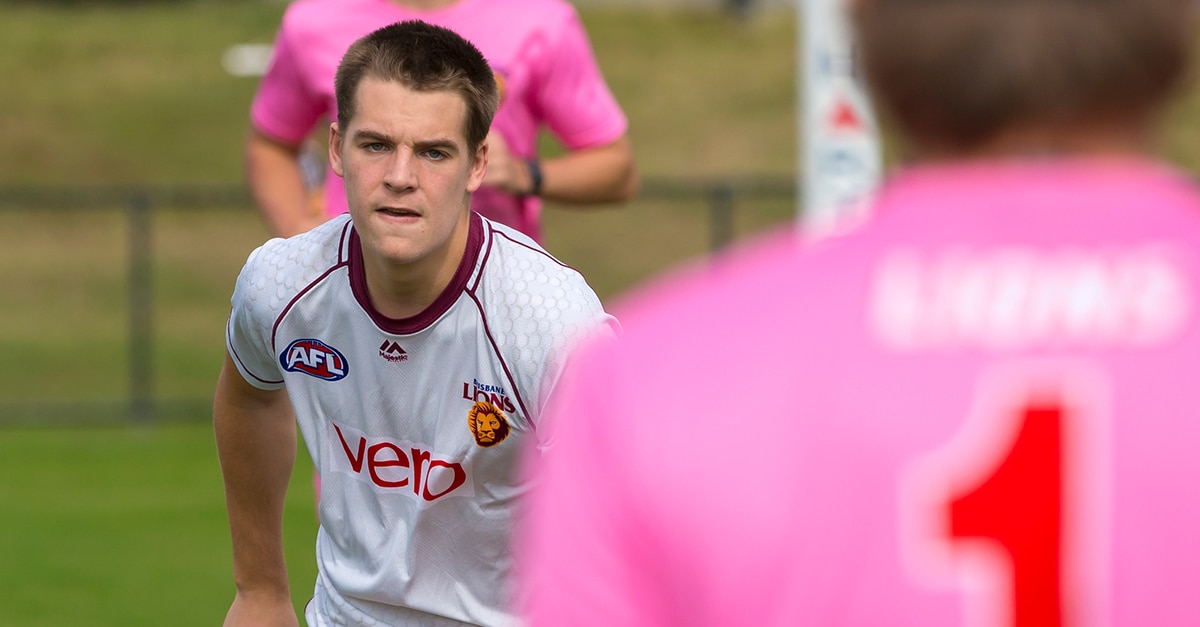 Brisbane will continue to monitor father-son prospect Casey Voss after the potential Lion played recently for the club's NEAFL side.
The 18-year-old has played for Sturt's under-18 side and its SANFL reserves team this year while being based in Adelaide, where his father Michael is now an assistant coach for Port Adelaide.
However, he recently won a clearance to play for the Lions' NEAFL team while training with the Club and has improved to be in the mix as a draft chance this year.
Brisbane recruiting manager Stephen Conole told AFL.com.au's Road to the Draft podcast the club was watching Voss closely despite him missing out on playing for South Australia at the NAB AFL Under-18 Championships.
"He had a game at Southport (for the Lions' NEAFL side) and he was really good. It was difficult conditions, it was really wet. He played half-back in that game and was serviceable," Conole said.
"Similarly, he went up to Sydney University and we hadn't won for a few weeks so he got to be a part of that.
Vossy Jnr looking good in Lions colours on Saturday! 👌 #NEAFL

More photos: https://t.co/PaCFNKnEyq pic.twitter.com/OZFmvsW4RX

— Lions NEAFL (@LionsNEAFL) July 9, 2018
"He went back to Sturt and had a solid game on the weekend. He's had a solid year. He would have liked to have been involved in that South Australian (under-18) program but he just missed selection there.
"It seems like he's in a really good program at Sturt and his footy's getting better all the time."
Michael Voss is one of the most decorated players of the modern era, captaining Brisbane's 'three-peat' premierships from 2001-03 and winning the 1996 Brownlow Medal.
After playing 289 games with the club, he coached the Lions from 2009-13.
Conole said Clubs would be assessing Casey's performances across the season.
"The draft is really deep this year. We're just one Club out of 18 so I'm sure everyone's having a look at him, so he'll be in with a chance," he said.
"It'd be a good story if Casey comes through. I hope for him he gets a chance. If it's not with us, then somewhere."
The Lions would get first call on Casey under the father-son rule and also have access to Academy midfielder Connor McFadyen.
McFadyen is a big-bodied midfielder who can also play as a forward and was named as an All Australian after a strong carnival for the Allies.
Conole said McFadyen was shaping as a possible second-round pick at the draft.
Episode guide
3:24 – Who shapes as Brisbane's top pick this year? We discuss this year's draft pool
6:20 – Will another Voss be joining the Lions? The guys chat about the father-son prospect
8:10 – When did Brisbane settle on Cam Rayner for the No.1?
13:00 – Why the Lions expected Hugh McCluggage to blossom this season
17:00 – We go behind the scenes to Luke Hodge's recruitment at the end of last year
25:10 – Is the doubt over Dayne Beams' future at the Lions warranted?
28:12 – Conole's take on the wider recruiting issues facing the game
The views in this article are those of the author and not necessarily those of the AFL or its clubs