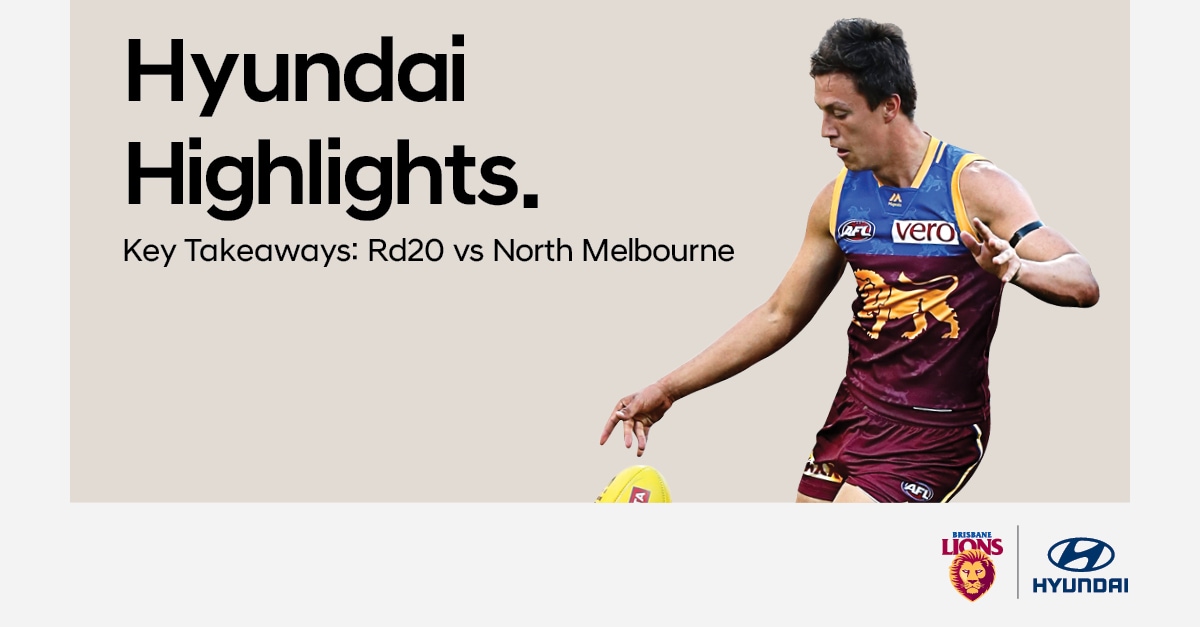 As was the case in the recent matches against Adelaide and Geelong, Saturday's narrow loss to North Melbourne was disappointing given the Lions had plenty of chances to win, but it did again mark great progress forward.
North have been a tough opponent for the Lions of late, having won the last five encounters before Saturday by an average margin of 58 points.
Senior Coach Chris Fagan has also been set on turning the Gabba back into a fortress, and while there's only been two home wins this year, the Lions' average losing margin at home has been just over 10 points.
Saturday was the Lions' fourth loss this year by seven points or less. The streak of narrow losses leaves the Lions 16th on the ladder with a 4-15 win/loss record and a percentage of 90.4%.
Back in 2011, the Lions had four losses by a combined 23 points - two points to Fremantle at the Gabba in Round 1, eight points to Gold Coast at the Gabba in Round 7, five points to Adelaide at the Gabba in Round 20 and eight points to West Coast at the Gabba in Round 23.
Only twice since 1987 and never in the last 20 years has a team third from the bottom of the ladder with three rounds to play had a higher percentage.
In 1995, Fremantle were 6-13 and 91.9% and in 1997 Essendon were 7-12 and 91.3%
The average percentage for teams in this position since 1987 is 80.2%.
Despite sitting 16th the Lions have scored more points this year than Carlton, Gold Coast, St Kilda, Western Bulldogs, Fremantle and Adelaide, and have conceded fewer than Carlton, Gold Coast, St Kilda and the Bulldogs.
Saturday night's loss made for an unforgettable debut for Brandon Starcevich.
Among 315 Brisbane players to debut over 734 games, including 56 games lost by 10 points or less, only six have played in a narrower loss.
In Round 5, 1993, Brendan McCormack, a 44-game Fitzroy player from 1989-92, made his debut with the Brisbane Bears in a one-point loss to Geelong at the Gabba.
In Round 2, 2005, Daniel Merrett, who went on to become a Lions 200-gamer, and Tom Logan, who played three games with the Lions before 114 at Port Adelaide, debuted in a two-point loss to Port at Football Park in Adelaide.
And in Round 1, 2011, the current Lions trio of Claye Beams, Rohan Bewick and Ryan Lester debuted in a two-point loss to Fremantle at the Gabba.
Like Starcevich, Anthony Corrie, who played 55 Lions games from 2004-08 and three games with Collingwood in 2009, debuted in a three-point Lions loss to West Coast at Subiaco in Round 4, 2004, and Ben Keays debuted in a three-point loss to Sydney at the Gabba in Round 6, 2016.
Starcevich, Brisbane player #315 overall and #201 since the merger, became the ninth player to wear jumper #37 for the Club behind 1988 Bears club champion Mark Withers (35 games), Rudi Frigo (8), ex-Fitzroy utility Nick Carter (5), Darren Bradshaw (1), Matt Austin (8), Bryce Retzlaff (7) and Jacob Allison (5).
Starcevich was drafted by the Lions from East Perth with selection #18 in the 2017 National Draft, the compensation pick the Club received via Tom Rockliff's free agency switch to Port Adelaide.
He is the fourth East Perth player to play for Brisbane behind Matthew Leuenberger (108 games), David Bain (86 games) and Llane Spaanderman (3 games).
Glen Bartlett, now chairman at Melbourne, was also drafted by the Bears from East Perth via the 1990 Mid-Season Draft without playing a game.
On Saturday, the damage was done in the second quarter when the Kangaroos kicked six out of the first seven goals and smashed the Lions in contested ball (-16). Overall the Lions lost contested ball by -17.
In the first half eight players had one contested possession or less, in the second half only four players had one or less.
The Lions finished with a huge 61 inside 50s, compared to North's 48 entries, and scored over 100 points for the fifth time this season. 82 of the 104 points came from North turnovers, which is the second highest total this year.
52% of the game was played in the Lions' forward half which is the second best result of the season.
In the last four weeks, the Lions have averaged 53.8 inside 50s per game, which ranks eighth overall in the AFL.
North were much more efficient at scoring from inside 50 entries (56%), compared to the Lions (39%). Skills inside 50 hurt the Lions, committing 17 skills errors - a season high.
Defensive pressure was very strong, with the Lions producing 10 more effective tackles than North Melbourne and applying their third highest pressure factor of the season.
Dayne Zorko was exceptional for the Lions and finished with 35 disposals, 525 metres gained, nine clearances, 10 tackles, two score assists and two goals.
He was supported well in the midfield by Hugh McCluggage (26 touches, three goals), Jarrod Berry (28 disposals, two score assists) and Dayne Beams (29 disposals, nine clearances).
Josh Walker was strong in defence and tallied 12 spoils to go with 23 touches and two contested marks. Harris Andrews produced nine spoils and took 10 marks.
Oscar McInerney spent more time in the ruck than usual and had 17 hit outs (six to advantage). He also took two contested marks and kicked two goals.
Starcevich worked his way into the game after a quiet start to finish with nine touches, two score assists and five tackles.
The views in this article are those of the author and not necessarily those of the AFL or its clubs