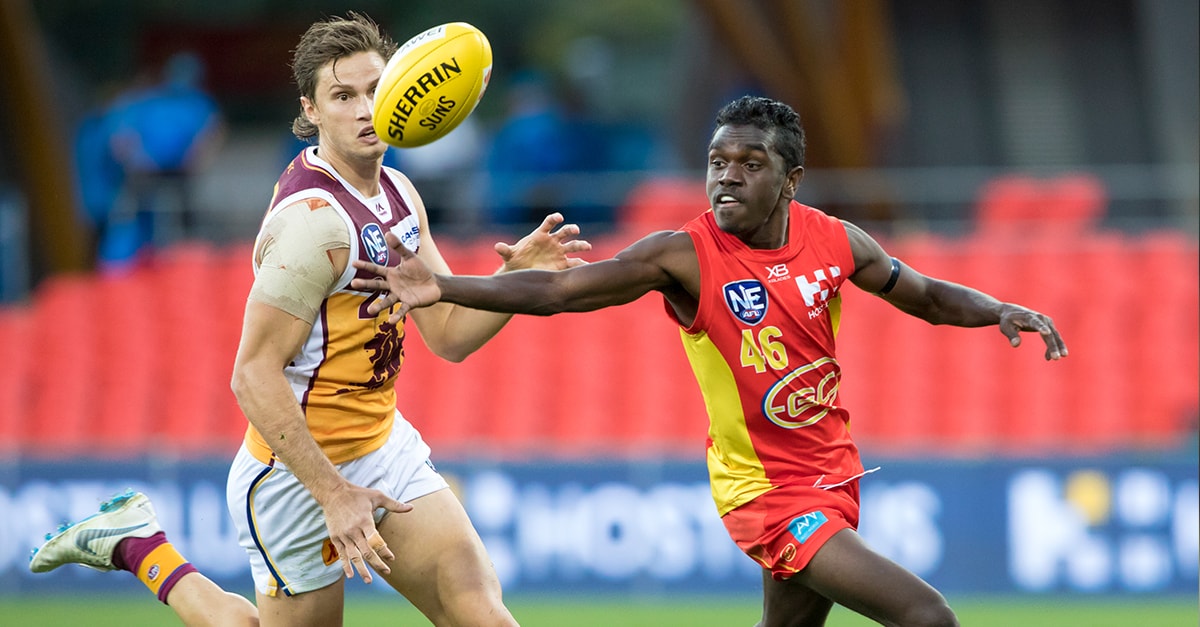 NEAFL Round 20
Brisbane Lions v Gold Coast Suns
3.45pm, Saturday 18 August
Metricon Stadium, Gold Coast
Gates open 3.40pm
Watch the live-stream of the match below:
Head to Lions NEAFL Twitter account for score updates and player stats throughout the match.
Saturday's NEAFL derby against the Gold Coast Suns at Metricon Stadium is a must-win for the Brisbane Lions who sit in equal sixth place on the ladder, ahead of the GWS Giants on percentage.
If the Lions beat the Suns and the Giants lose to the Sydney Swans on the weekend, a spot in the finals is all but secured, barring a disastrous final round result.
The Suns sit in eighth place on the ladder, six points adrift of the Lions, and will be desperate for a victory to stay in the hunt for a finals berth.
The Lions have won all three matches against the Suns this year, with their most recent win by 12 points three weeks ago at Metricon Stadium.
Apart from missing Zac Bailey who has returned to the Senior side, the Lions' team is relatively unchanged from their big win over the Swans two weeks ago.
Ryan Bastinac and Sam Mayes return, while promising Academy players Connor McFadyen and Tom Matthews are also inclusions.
Bounce is at 3.45pm on Saturday at Metricon Stadium. Gates open at 3.40pm and fans require a ticket to the Senior match to access the stadium. Queensland full-season Lions members will be able to gain entry to the match by scanning their 2018 membership card at Gate 1 or 3.
Team
| | | | |
| --- | --- | --- | --- |
| B | #35 - Ryan Lester | #45 - Jack Frost | #21 - Sam Skinner |
| HB | #51 - Keidean Coleman | #42 - Mitch Hinge | #20 - Cedric Cox |
| C | #8 - Rohan Bewick | #17 - Claye Beams | #19 - Jacob Allison |
| HF | #43 - Jake Barrett | #34 - Toby Wooller | #39 - Corey Lyons |
| F | #24 - Liam Dawson | #38 - Connor Ballenden | #4 - Ryan Bastinac |
| FOL | #44 - Archie Smith | #1 - Ben Keays | #32 - Sam Mayes |
| INT | #50 - Jai Kennealy | #53 - Tom Matthews | #55 - Ben Sloan |
| | #56 - Cody Stackelberg | #57 - Connor McFadyen | |
| EMER | Darcy Marsh | Jesse Quint | Justin Currie |
IN: 4. Ryan Bastinac 32. Sam Mayes 57. Connor McFadyen 53. Tom Matthews
OUT: 33. Zac Bailey (AFL) 53. Jesse Quint (omitted) 59. Josh Preval (omitted) 54. Justin Currie (omitted)
Our Run Home
Round 20: Gold Coast v Brisbane at Metricon Stadium, 3.45pm
Round 21: GIANTS v Brisbane at BISP, 11am
The views in this article are those of the author and not necessarily those of the AFL or its clubs