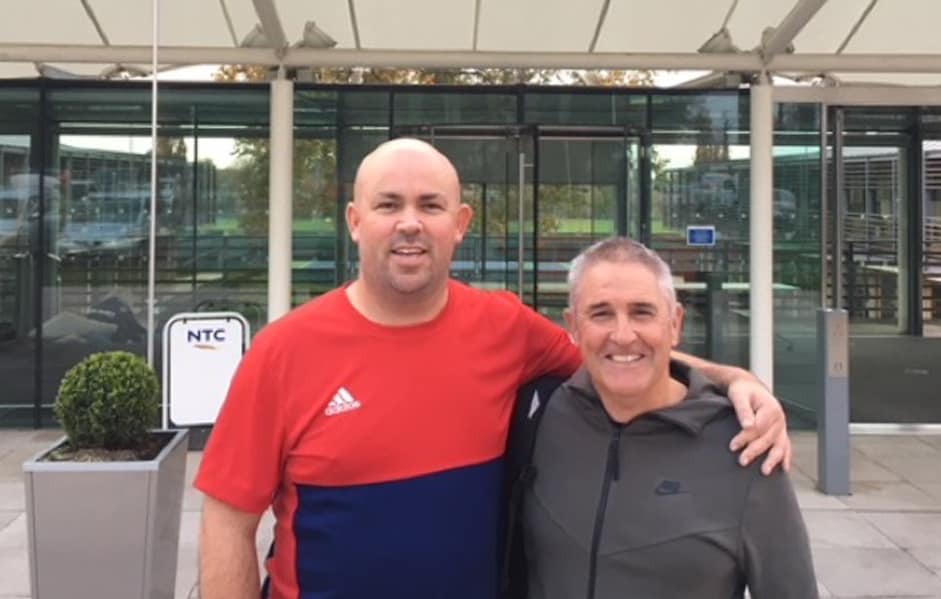 While in the United Kingdom, Senior Coach Chris Fagan will be visiting a number of sporting teams and facilities to learn and develop as a Senior Coach. Here he writes about his time so far and the people he has met in the UK:
Thursday, 15 November:
Today I headed off to meet with Simon Wheatley, the Coach Development Manager for the Lawn Tennis Association of Great Britain.
The offices and training centre are located in Priory Lane, Roehampton about 8kms from London city.
Simon has a big job developing all the elite level tennis coaches in England, Scotland & Ireland.
Somehow, he needs to assist a large number of tennis coaches to improve all elements of their coaching craft – technical, tactical and mental to produce future world women's and men's champions at junior and senior levels.
It's a job that involves a high level of communication, detailed curriculum planning and a large amount of passion and patience.
He was a great person to speak with and we shared plenty of ideas on how best to go about educating coaches in both our sports effectively.
He showed me around the centre and I met most of the staff from the different departments including strength and conditioning, game analysis and administration.
In many ways it was like an AFL Football Department except the focus was on resourcing elite tennis players and their coaches so that they can compete at the highest level possible.
Andy Murray spends a lot of time training and preparing at the Centre as does Johanna Konta Britain's No. 1 ranked female tennis player.
Johanna's highest ever ranking was World No. 4 but currently she is ranked No. 37.
Well that's it for this study tour.
There's no doubt everything I have done over the past two weeks has been beneficial.
Thanks to the AFL Coaches Association and the Lions for funding the majority of the trip.
Tomorrow [Friday] night I jump on a flight back to Brisbane where landing is scheduled for Sunday morning.
Looking forward to seeing everyone back at training on Monday!
Cheers from England,
Fages.
Read Part 1 of Fagan Takes the UK
Read Part 2 of Fagan Takes the UK
Read Part 3 of Fagan Takes the UK
Read Part 4 of Fagan Takes the UK
The views in this article are those of the author and not necessarily those of the AFL or its clubs