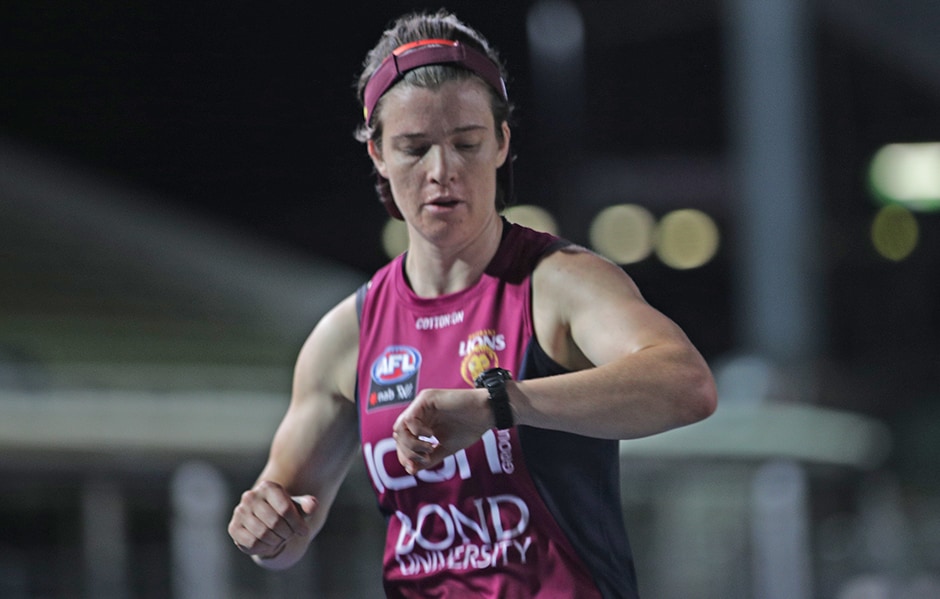 Sam Virgo wasn't first across the line in the Brisbane Lions' 2km time trial, but she had every reason to be sporting the biggest smile.
It was 444 days since the Lions star ruptured her ACL playing for Yeronga South Brisbane in its 2017 QWAFL Grand Final win and her first AFLW training session since that match.
Completing five laps of the Queensland Sports and Athletic Centre track in the southside Brisbane suburb of Nathan signified a huge landmark in Virgo's comeback.
"I had a bit of surprise case of the nerves hit me about two o'clock that afternoon," Virgo told AFL.com.au.
"I wasn't expecting that. It was the nerves of a draftee nearly, just anxious and excited to go.
"It was great to tick one off."
Not only did she get through the time trial and short skills session, but Virgo excelled, finishing in the top 10 to prove she was well and truly over the knee injury.
444 days later... there is no stopping @samvirgo44 ❤️🦁#Uncaged pic.twitter.com/6IO3SzwJl6

— Brisbane Lions AFLW (@lionsaflw) November 15, 2018
The 31-year-old said although her rehabilitation had been relatively straightforward physically, the mental side had been a different story.
"That was the biggest struggle, seeing my teammates get better and improve so much through AFLW (season) two while I was treading water or way back with a fair amount of catch-up to do," she said.
"While physically I had no hiccups, mentally I really struggled with that for the first five or six months.
"Once I was up running and doing some conditioning and feeling some good pain and challenging myself, I was really good and found that motivation again."
Missing Virgo for the entire 2018 season made the Lions' run to a second straight Grand Final all the more improbable.
In the competition's inaugural season, the composed half-back was an All Australian and one of the team's vice-captains.
"The fear is the competition's gone past me, but I'll do everything in my power to get back (to my best). I'm pretty motivated," she said.
"Every session I'm going out I want to be the best trainer. I've got to be like that to be able to compete."
There was plenty of impressive performances alongside Virgo at the team's opening time trial.
Prolific midfielder Emily Bates ran like she plays, consistently and with tenacity, to win in seven minutes and 50 seconds.
Not far behind was Nat Exon, Paige Parker and 2018 best and fairest Kate Lutkins.
No fewer than 11 players set personal bests, with six of those lopping a whopping 30 seconds or more off their previous best time.
The views in this article are those of the author and not necessarily those of the AFL or its clubs