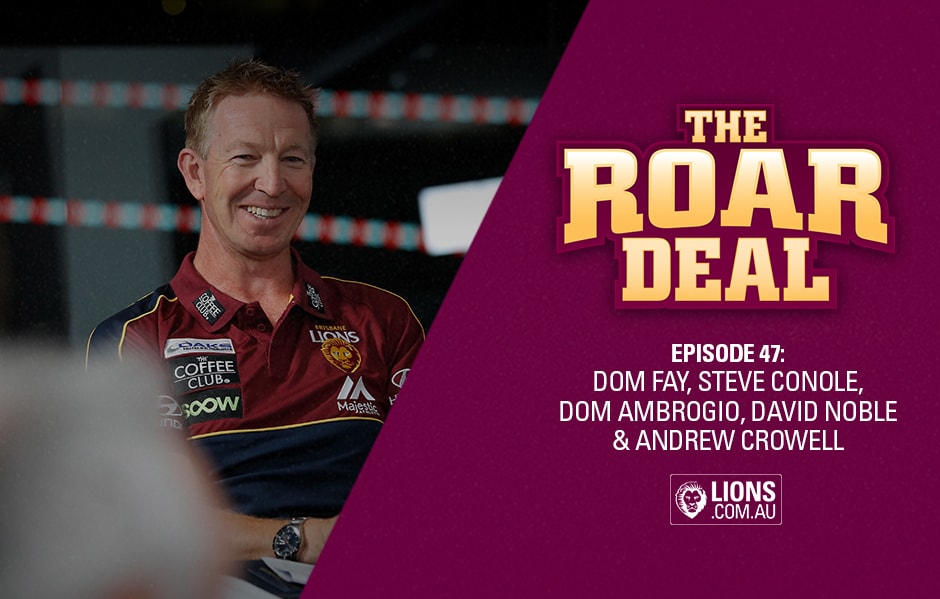 Only hours after the 2018 AFL Draft wrapped up, an all-star Lions cast joined the Roar Deal podcast to talk through a huge two days at Marvel Stadium.
Co-host Dom Fay made the trek to Melbourne last Friday to cover all the action from a makeshift Roar Deal studio at the Lions' Melbourne office.
On this mega episode of the Roar Deal, hear from National Recruiting Manager Steve Conole, List Manager Dom Ambrogio, General Manager of Football David Noble and Head of Personal Excellence and Wellbeing Andrew Crowell.
Listen to the full draft review episode below:
Talking points with Steve Conole:
Conole joins the podcast (0:35).
Conole discusses the Lions' first-round selection Ely Smith (2:00).
Fay and Conole chat about the recruitment of Jarrod Berry's brother Thomas (4:10).
Conole explains the recruiting team's decision to place a bid on Charlie Cameron's brother and West Coast Academy player Jarrod (5:40).
Conole discusses draftee Tom Joyce and his strengths (6:50).
Fay and Conole chat about what positions Connor McFadyen could play next season (9:20).
Discussions about draftee Noah Answerth and his connection to Lions player Toby Wooller (10:50).
The introduction of live trading this year (12:50).
The weekend's road trip around the country to meet the families of new draftees (15:10).
Subscribe to the Roar Deal Podcast on iTunes
Talking points with Dom Ambrogio:
Ambrogio joins the podcast (16:20)
Ambrogio chats to Fay about how the draft plays out behind the closed doors (17:40).
Discussions about the live pick trade with North Melbourne (19:30).
Ambrogio explains the importance of having midfield depth in a list (23:30).
Talking points with David Noble:
Noble joins the podcast (25:30)
Noble shares his thoughts on the introduction of live trading (26:00).
His three-year plan to reshape the Lions' list (27:00)
Noble discusses the intense competition for spots on the Lions' list (28:20).
Building midfield depth (29:00).
Noble discusses Thomas Berry's similarities to brother Jarrod (32:50).
Noble discusses Ely Smith's football background (33:45).
Noble chats about Noah Answerth's impressive ability to bounce back from injury adversity (35:30).
Talking points with Andrew Crowell:
Crowell joins the podcast (38:00)
Crowell discusses the week's road trip with Conole and Chris Fagan to meet the families of the new draftees (39:30).
A message to the new draftees (40:05).
Crowell explains his role at the Club during this time of the year (41:40).
Crowell chats about the upcoming induction weekend for the new draftees and their families in Brisbane (46:00).
The views in this article are those of the author and not necessarily those of the AFL or its clubs