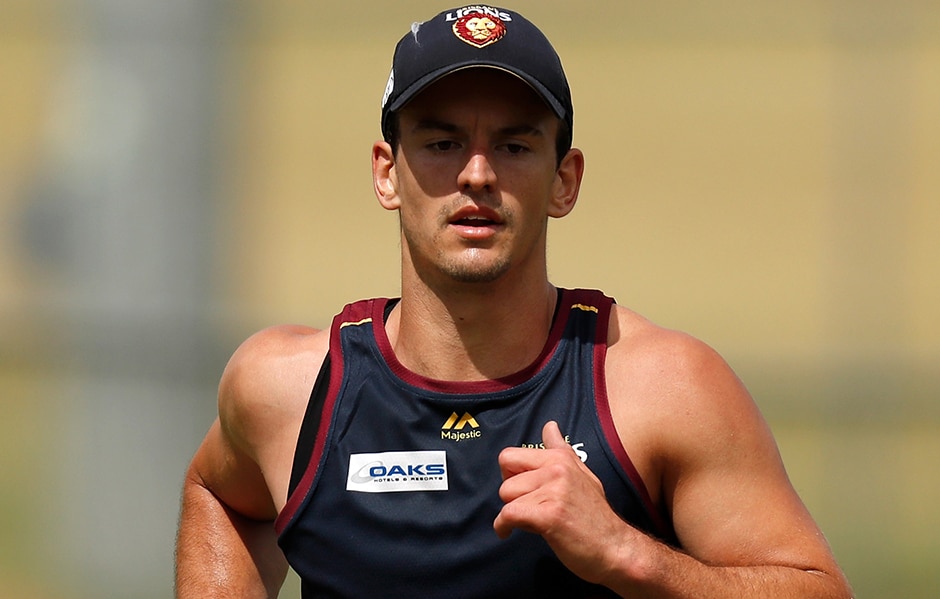 Numbers on a statistics sheet are not everything. But sometimes they are an undeniable guide to a good player, especially a player who spends most of his time in and around the contest.
If a player of this type – let's call him Mr X - averages 24.6 possessions, 13.1 contested possessions and 6.5 clearances per game, and maybe 5.0 tackles per game, it's not unreasonable to figure he's a pretty valuable asset.
For those not in the masters graduate class of AFL statistics, exactly what do these numbers mean?
To put them into perspective, Dayne Zorko has averaged 22.9 possessions, 10.1 contested possessions, 4.9 clearances and 7.1 tackles over the past two years.
So if you signed Mr X you'd be pretty happy.
If you'd also signed Mr Y, who averaged a similarly impressive 30.3 possessions, 15 contested possessions, 7.1 clearances and 4.2 tackles this year, you'd be twice as happy.
That's why when Lions coach Chris Fagan returned to full training on Monday he had a big smile on his face. He's got Mr X and Mr Y on board for 2019.
No prizes for guessing the identity of Mr Y. He is ever-prolific and high profile ex-Fremantle midfielder Lachie Neale, who has previously been statistically and historically introduced to Lions fans here.
But it takes a more statistically aware AFL fan to identify Mr X, who averaged 1.7 possessions, 3.1 contested possessions and 1.6 clearances per game more than Zorko over the past two years, and was only 2.1 tackles per game behind the Lions' tackling dynamo.
Having slipped almost anonymously into the Gabba camp after the AFL Trade Period, when his name was not even mentioned in the frantic 10 days when there was more player movement and outrageous speculation than ever before, Mr X is Jarryd Lyons.
It was a deal cleverly master-minded by Lions List Manager Dom Ambrogio, who had previously been a key part of the Gold Coast Suns' list management team that lured Lyons from the Adelaide Crows to the Suns.
Like most outside the Suns' inner sanctum, Ambrogio was a little curious as to why Lyons was twice dropped by the Suns last season.
So, after the exit of Dayne Beams in the last hour of the trade period, Ambrogio did some homework, and after finding nothing but good things spoke to Lyons about driving up the highway to the Gabba.
He offered him a three-year deal, and with younger brother Cory already on the Lions list, it turned out to be more than Lyons could resist.
View this post on Instagram
Although he was contracted to the Suns for 2019, the 26-year-old cautiously suggested to the Suns they might like to delist him. And on 30 October, on the second last day of the trade period, they did just that.
So, Lyons became a delisted free agent. And on 1 November, on the first day of the delisted player free agency period, he was snapped up by the Lions.
He joined Neale, key defender Marcus Adams and small forward Lincoln McCarthy to complete a hugely successful off-season influx of proven talent.
Lyons, who will wear the number 17 jumper next year, will bring with him the experience of 92 AFL games with Adelaide (2012-16) and Gold Coast (2017-18) and some truly outstanding numbers over the past two years.
As the aforementioned Mr X, he headed the Suns in total possessions, contested possessions and clearances during his time at the club, and was second in tackles to Touk Miller.
He ranked 68th in total possessions in the League over 2017-18 with 910, and among this group, he ranked 38th in average possessions.
So, loosely speaking, his numbers were better than everyone except about two players at each opposition club.
He had five 30-possession games, including a career-best 39 against North Melbourne in 2017.
He finished 6th in the Suns' best and fairest in 2017 and 11th in 2018.
No wonder Fages was smiling this week!
Lyons, whose father Marty played 27 games with Melbourne in 1975-77, is a graduate of De La Salle College and the Sandringham Dragons in Melbourne and was originally drafted by Adelaide with Pick No. 61 in the 2010 AFL Draft.
It was the first of the AFL's compromised drafts, when the Gold Coast took David Swallow, Harley Bennell and Sam Day with selections 1-2-3, and the Lions picked Jared Polec (5), Patrick Karnezis (25), Ryan Lester (28) and Josh Green (32).
Lyons made his AFL debut in a showdown against Port Adelaide in Round 5, 2012, and on a year-by-year basis from 2012-16, he played 3-9-10-13-20 games for the Crows.
After showing good form in the back end of 2014, including a career-best four goals in a Friday night MCG clash with Collingwood, he was hotly pursued by Melbourne.
But he ignored the family link to the Demons to stick with the Crows and went on to play one final in 2015 and two in 2016.
After a career-best 2016, he was traded to the Gold Coast in exchange for two picks in the draft and was a fixture in the Suns' side except for four games missed with an ankle problem in 2017 and two surprise trips back to the NEAFL in 2018.
Insiders will tell you he carried a bad ankle throughout 2018, but he has started with a clean bill of health with the Lions and promises to be a value-plus pick-up.
With the Lions drawn to play the Suns at Metricon Stadium in Round 6, selection-permitting Lyons will become the second player to play for both clubs in a QClash after Pearce Hanley.
Having made his Suns debut against the Lions in Round 1, 2017, and played four QClashes in total for one win, Lyons would also become the fifth player to play for both clubs after Hanley, Michael Rischitelli, Jared Brennan and Andrew Raines.
He will be the first player among this group to play for Gold Coast first and then the Lions.
The views in this article are those of the author and not necessarily those of the AFL or its clubs