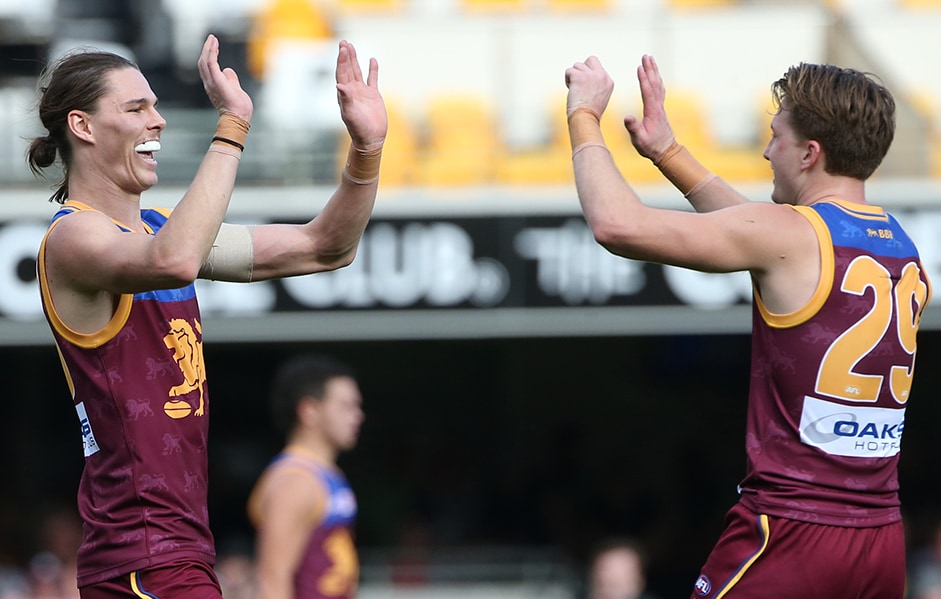 The Brisbane Lions will line up with one of the youngest lists in the competition next season, following the release of Tuesday's final list lodgement.
The past twelve months have seen the Lions move from the fifth youngest team with an average age of 23.35 years to the second youngest team at 24.43 years, behind the Gold Coast Suns.
Hawthorn boasts the most mature playing group next season as its average age of players climbs to 24.9 years.
Hawthorn's game experience will complement the age of its list, with the club ranking first for average games played at 80.4.
Lions players will average 56.6 games, ahead of Essendon (55.4) and Gold Coast (50.2).
Sydney leads the charge with finals experience (6.1 finals games on average) followed by Hawthorn (6) and Geelong (5).
The Lions average 1.4 games, ahead of Carlton (1.2), Essendon (1.1), St Kilda (0.96), Gold Coast (0.57).
LIST AGE
| | |
| --- | --- |
| CLUB | (AVERAGE AGE AT START OF SEASON) |
| Hawthorn | 24.90 |
| Collingwood | 24.80 |
| Adelaide | 24.76 |
| Geelong | 24.22 |
| West Coast | 24.14 |
| Essendon | 24.11 |
| North Melbourne | 24.09 |
| Melbourne | 23.99 |
| Sydney | 23.94 |
| Greater Western Sydney | 23.94 |
| Richmond | 23.92 |
| St Kilda | 23.90 |
| Western Bulldogs | 23.90 |
| Port Adelaide | 23.87 |
| Fremantle | 23.86 |
| Carlton | 23.55 |
| Brisbane | 23.43 |
| Gold Coast | 23.24 |
GAMES PLAYED
| | |
| --- | --- |
| CLUB | (AVERAGE GAMES PLAYED) |
| Hawthorn | 80.4 |
| Collingwood | 78.9 |
| Adelaide | 71.4 |
| Richmond | 70 |
| Geelong | 69.6 |
| Sydney | 69.1 |
| Port Adelaide | 68.9 |
| West Coast | 68.5 |
| North Melbourne | 65.1 |
| Greater Western Sydney | 61.2 |
| Melbourne | 59 |
| Western Bulldogs | 58.9 |
| Fremantle | 58.3 |
| St Kilda | 56.7 |
| Carlton | 56.7 |
| Brisbane | 56.6 |
| Essendon | 55.4 |
| Gold Coast | 50.2 |
FINALS PLAYED
| | |
| --- | --- |
| CLUB | (AVERAGE FINALS PLAYED) |
| Sydney | 6.1 |
| Hawthorn | 6 |
| Geelong | 5 |
| West Coast | 4.6 |
| Collingwood | 4.4 |
| Adelaide | 3.7 |
| Greater Western Sydney | 3.5 |
| Richmond | 3.4 |
| Western Bulldogs | 2.7 |
| North Melbourne | 2.5 |
| Fremantle | 2.4 |
| Melbourne | 2.3 |
| Port Adelaide | 1.8 |
| Brisbane | 1.4 |
| Carlton | 1.2 |
| Essendon | 1.1 |
| St Kilda | 0.96 |
| Gold Coast | 0.57 |
Statistics courtesy of Champion Data
The views in this article are those of the author and not necessarily those of the AFL or its clubs