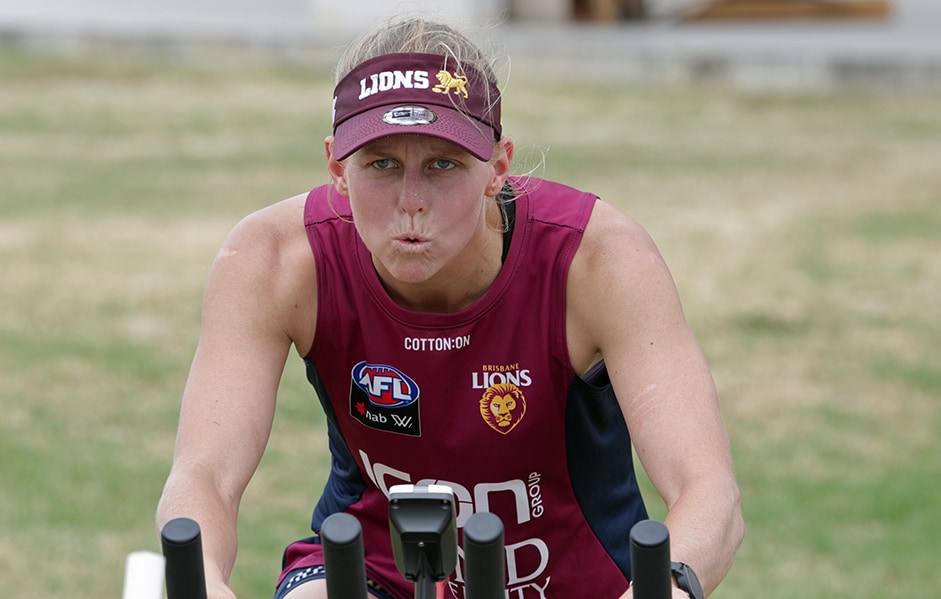 If you want to go to battle with any Brisbane Lions AFL Women's player, it's Kate Lutkins.
The 30-year-old is not only scaling the ranks of the Australian Defence Force, but last season announced herself as one of the best players in the AFLW competition.
Lutkins won the Lions' best and fairest, was named an All-Australian and played a remarkable game in Brisbane's heartbreaking six-point Grand Final loss to the Western Bulldogs.
Her 21 disposals – most of them intercept possessions – and six marks, underlined her outstanding effort.
Although the humble defender isn't as widely known as some of her peers, she is a genuine star and a match-winner.
The quietly spoken army private said she liked to keep things simple and was planning to do the same heading into the 2019 season.
"I certainly go out there with the aim to impact every game, but I wouldn't say I'm one of the better players," Lutkins said.
Lutkins recently completed four years of service at the Enoggera Army Barracks in Brisbane and will move into a '2IC' role of her transport section next year.
She said there was a definite crossover of skills and requirements in her two pursuits.
"Whether it's PT (physical training) or doing field exercises, everything army is teamwork-based. You're only as fast as your weakest person," she said.
"You've got to have your teammates' back no matter what and work hard for each other.
"There's no easy way to do anything."
That's just the way she likes it, though.
Lutkins is based in Brisbane for a further two years but with the ADF recognising the AFLW as an elite sporting pursuit, she will have grounds to stay in the Sunshine State for as long as she's on the Lions' list.
She said it "still stung" to talk about the Lions' two narrow Grand Final losses (they lost to Adelaide in 2017) and only four months of intense work could give them a shot at taking the extra step next season.
"Overall the girls are in a way better place than they were this time last year and all the fitness stats are showing that," she said.
"That's the easy part done and now it's up to us to keep working.
"You need to put the work in."
The views in this article are those of the author and not necessarily those of the AFL or its clubs