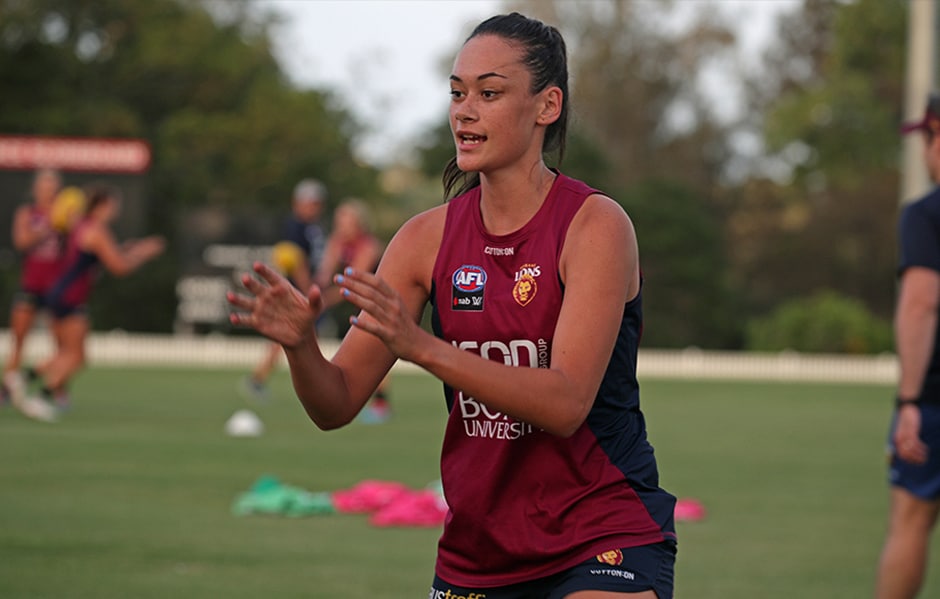 Two weeks remain until the Brisbane Lions AFLW's Round 1 clash against GWS Giants at home.
As the team undergoes their final preparations of the pre-season, it's time to learn the numbers of our nine new recruits and draftees for 2019!
#10 - Paige Parker
The first-round pick at the 2018 NAB AFLW's Draft, Paige Parker (Pick No. 9), will wear jumper number 10 this season.
In 2018, Parker finished equal fourth in the 2018 QWAFL Best and Fairest and was a standout at the inaugural Winter Series competition while representing the Gold Coast Suns.
Over the last two years, the Lions have played a significant role in Parker's development, with the young halfback participating in the side's train-on group.
#16 - Lauren Arnell
The number 16 jumper will be worn by Lauren Arnell in 2019.
Arnell joined the Lions following a trade with Collingwood for Pick No. 40 at the Draft, which was later exchanged to Carlton for Arnell.
Her experience as Carlton's inaugural Captain will bolster the Lions side in season three.
#17 - Nat Grider
The Lions' Pick No. 33 at the 2018 Draft, Nat Grider, will sport jumper number 17 this season.
Grider was an All Australian and Under-18 Queensland Captain in 2018. Grider had her first taste of AFLW last year when she played for the Lions in the Winter Series against GWS Giants and the Gold Coast Suns.
#22 - Brianna McFarlane
After signing with the Lions as an other-sport rookie late last year, Brianna McFarlane is set to don jumper number 22 at the Club.
Unfortunately, McFarlane dislocated and chipped a bone in her shoulder while completing a drill early in the pre-season and has been ruled out for the 2019 home and away season.
#25 - Jacqui Yorston
Midfielder Jacqui Yorston will wear number 25 of her Lions jumper in 2019.
Yorston was drafted at Pick No. 71 after being named in the 2018 Under-18 All Australian squad.
The 18-year-old had her first taste of AFLW when she played in the Lions' undefeated Winter Series team last year.

Jacqui Yorston.
#26 - Tori Groves-Little
Former Coorparoo Best and Fairest Tori Groves-Little (Pick No. 56) will wear the number 26 on her back this season.
Lions fans can look forward to Groves-Little's exceptional speed and clean set of hands out on the wing and running off the half-back flank in 2019.
#29 - Jade Ellenger
In 2019, Lions Academy graduate Jade Ellenger (Pick No. 72) is set to wear number 29 on her jumper.
Ellenger will fit well into the Lions midfield and defence and has been likened to Lions' Best and Fairest Kate Lutkins for her brave game style.
#30 - Jesse Wardlaw
Jumper 30 will be worn by Lions' Draft Pick No. 61, Jesse Wardlaw, in season three.
Wardlaw is a tall forward who represented Queensland in the Under-18 National Championships and represented the Lions during last year's Winter Series competition.
#32 - Lauren Bella
Last year's Under-18 All Australian ruckwoman Lauren Bella (Pick No. 45) will wear jumper 32 in 2019.
Bella proved a great competitor during the Winter Series competition for Gold Coast Suns and has been waiting in the wings for two years until she became of age to be drafted to the Lions.
#33 - McKenzie Dowrick
Western Australian McKenzie Dowrick (Pick No. 33) will wear jumper 33 this season.
Her accurate left boot, slinky skills and clever ball use will be exciting to watch in Lions colours.

McKenzie Dowrick (L) and Tori Groves-Little (R).

| | |
| --- | --- |
| Player | Jumper Number |
| Emily Bates | 1 |
| Bella Ayre | 2 |
| Bre Koenen | 3 |
| Sharni Webb | 4 |
| Sam Virgo | 5 |
| Megan Hunt | 6 |
| Jordan Zanchetta | 7 |
| Emma Zielke | 8 |
| Kate McCarthy | 9 |
| Paige Parker | 10 |
| Leah Kaslar | 11 |
| Sophie Conway | 12 |
| Kate Lutkins | 13 |
| Sabrina Frederick-Traub | 14 |
| Nat Exon | 15 |
| Lauren Arnell | 16 |
| Nat Grider | 17 |
| Ally Anderson | 18 |
| Emma Pittman | 19 |
| Shannon Campbell | 20 |
| Arianna Clarke | 21 |
| Brianna McFarlane | 22 |
| Jess Wuetschner | 23 |
| Ruby Blair | 24 |
| Jacqui Yorston | 25 |
| Tori Groves-Little | 26 |
| Jessy Keeffe | 27 |
| Gabby Collingwood | 28 |
| Jade Ellenger | 29 |
| Jesse Wardlaw | 30 |
| Krystal Scott | 31 |
| Lauren Bella | 32 |
| McKenzie Dowrick | 33 |
The views in this article are those of the author and not necessarily those of the AFL or its clubs