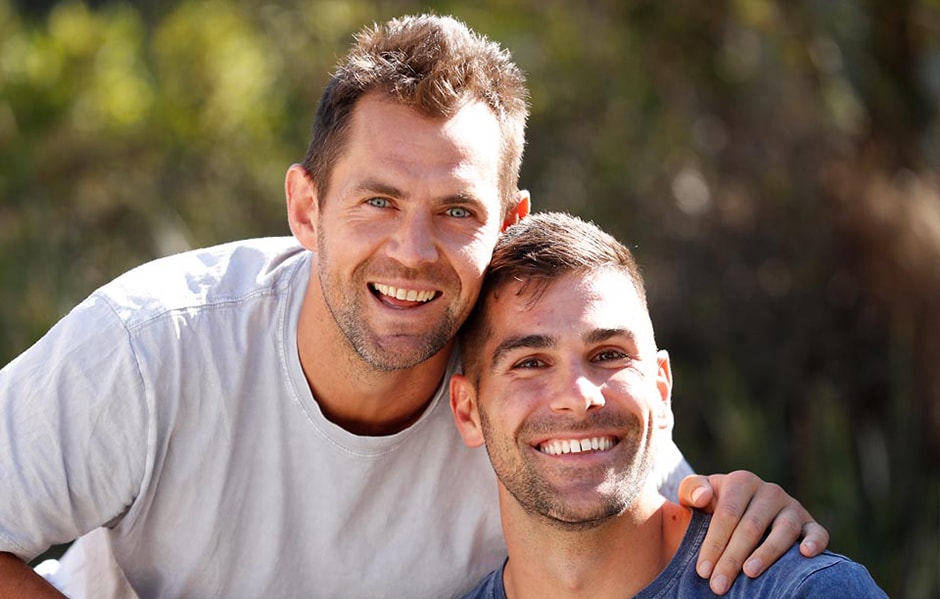 In 2007 at the AFL Grand Final a shy 14-year-old kid from Perth, who'd travelled to the MCG with his family for the Big Dance, can remember spotting Luke Hodge in the crowd, watching the game with some of his Hawthorn teammates.
His mum encouraged him to go up and ask for a photograph. Pretty nervous, he went up and approached him. 'Hodgey' was more than happy to oblige.
Fast forward 12 years later and the kid with a broad goofy smile can now call Hodgey 'his teammate'.
The kid was Marcus Adams, who joined the Lions via the Western Bulldogs in the 2018 trade period.
"I remember being pretty nervous to go up and get it and Mum sort of told me to do it," Adams told lions.com.au.
"I can remember it, he can't remember it.
"It's funny to think 10 years ago he was someone that he idolized so much I got a photo with him.
"11 or 12 years later I'm potentially going to be running around with him."
'Hodgey', on the other hand, doesn't have as clear a recollection of the photo being taken.
"When he got traded I sent him a message saying 'Congratulations, welcome to the Club,' and something like 'Looking forward to meeting you,'" he said.
"And he replied with 'We already have, about ten years ago.' With that picture.
"I think we've both changed a little bit.
"I've gotten a bit older and he's turned into a machine. It was good to see."
Since arriving at the Gabba and seeing 'Hodgey' almost on a daily basis, not much has changed since that day in 2007.
"I'm still a little bit like in awe of him, to be honest," he said.
"But, I don't want to be like that little school kid pestering him."
Now in his third month with the Lions, Adams has started to find his feet.
At training sessions, he's often seen talking with the high-performance team about the programs they run.
"The training has been really good," he said.
"Dirk [Spits] and Selwyn [Griffith] and Dimma [Damien Austin], the program that they run and their involvement and their ability to be flexible.
"You see a lot of guys running PBs and lifting PBs weekly so they're doing something right.
"I've found it's been a privilege working with them."
The 25-year-old has always been inquisitive about the human body and is studying nutrition online with the University of South Australia.
He has also become friends with the King of the Gym, Stefan Martin, and Tom Cutler, who are interested in the same things.
They share a love of the gym and reading books. He's currently reading Sapians by Yuval Noah Harari and has just finished Pyschobabble by Dr Stephen Briers.
"I think it's a unique sort of thing to find in other football players," Adams said.
"As unique as it is, no one begrudges it.
"Everyone accepts and embraces everyone for what they are out here."
The views in this article are those of the author and not necessarily those of the AFL or its clubs