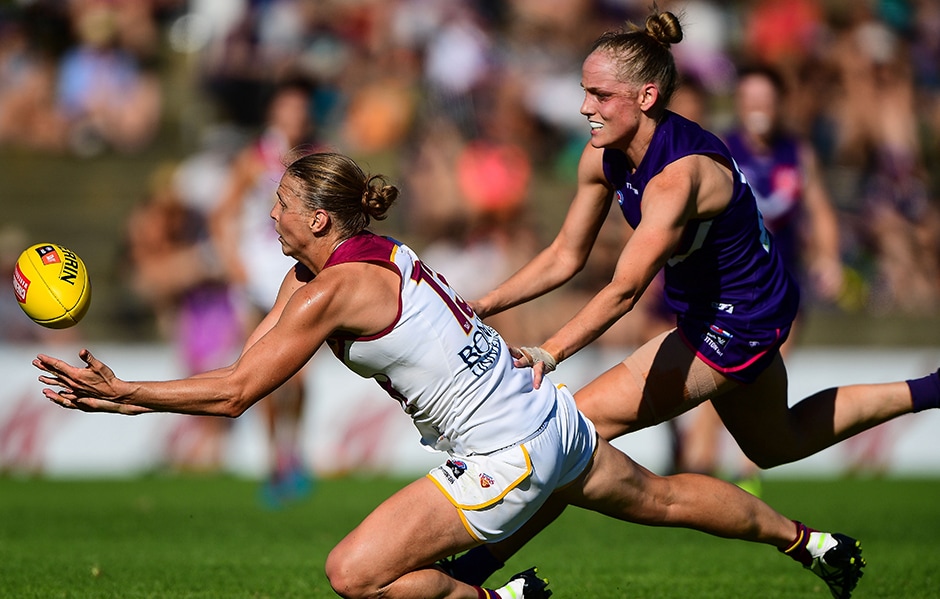 Fremantle secured their first-ever win against the Lions on Sunday, defeating the away side by 27 points at Fremantle Oval.
Freo's 10.7 (67) to 6.4 (40) victory moves them to third spot in Conference A – equal on points with North Melbourne and the Western Bulldogs.
The Lions remain on top of Conference B by percentage over Geelong, the only other team to notch a victory after two rounds.
The Lions came out firing with a three-goal opening term, but a goal-less second quarter saw the Dockers take charge.
Inspired by Gabby O'Sullivan (two goals), who kicked one major and then set up young gun Sabreena Duffy with a superb tap into space, the home side kicked three goals and went into half-time 10 points in front after holding Brisbane scoreless.
Brisbane needed to make the most of its opportunities in the third stanza and looked dangerous when star forward Jess Wuetschner (two goals) had the ball in her hands.
However, a scything two-bounce run and goal by Ashley Sharp against the pattern of play broke Brisbane hearts.
Sharp was involved again moments later, forcing a spillage in the goalsquare for Ebony Antonio to crumb and goal, and the Dockers were never threatened after taking a 14-point lead into the final change.
Brisbane couldn't keep up, with powerhouse Sabrina Frederick-Traub held scoreless from 12 disposals by Alex Williams and Tayla Bresland.
Ally Anderson (25 disposals, one goal), Nat Exon (17, two) and Wuetschner (nine, two) tried their best for the visitors but Freo had a spread of contributors.
Running machine Dana Hooker (24 disposals) starred for Fremantle, with strong midfield support from skipper Kara Donnellan (14) and Kiara Bowers (13).
FREMANTLE 1.2 4.5 6.5 10.7 (67)
BRISBANE 3.1 3.1 4.3 6.4 (40)
GOALS

Fremantle: O'Sullivan 2, Duffy 2, Sharp 2, Atkins, Houghton, Antonio, Gooch
Brisbane: Wuetschner 2, Exon 2, Anderson, McCarthy
BEST
Fremantle: Hooker, Sharp, Duffy, O'Sullivan, Donnellan, Williams
Brisbane: Anderson, Wuetschner, Exon, Bates, Bella
INJURIES 

Fremantle: Nil
Brisbane: Nil
Reports: Nil
Umpires: Bryce, Johanson, McPhee
Official crowd: 6007 at Fremantle Oval
Did you see that?
Gabby O'Sullivan might not receive as much limelight as some of Freo's biggest names but the 24-year-old forward had a huge impact on Sunday. The Dockers struggled to convert in the first term before O'Sullivan stepped up, nailing a set shot from the pocket and then executing a quick-thinking double-handed tap to set up Sabreena Duffy for a team-lifting major just before half-time.
One to watch
Lifelong Dockers fan Sabreena Duffy arrived at the club with big wraps after captaining the under-18s state team last year, and her impressive start to the AFLW season hasn't surprised coach Trent Cooper. Duffy has enjoyed the faster game and cleaner skills at the top level, and has booted three goals and picked up 20 disposals as a pressure forward. Cooper was quick to pump up the 18-year-old post-match, declaring "she's been playing for a long time and has real footy smarts. She's actually probably a more natural footballer than a lot of the girls in the AFLW already".
The game changer
The Lions needed to make the third quarter count with the wind and had all the play, however Freo needed only one chance to break the contest open. Counter-attacking from the backline, Dockers skipper Kara Donnellan won a crucial contest in the centre and fired a handpass to Ashley Sharp, who took off, burning past Kate Lutkins, taking two bounces and splitting the middle from 35m. It gave the home side a nine-point buffer and Sharp was involved again moments later creating a spillage in the goalsquare for Ebony Antonio to shark and hand Freo enough breathing space for a crucial win.
The ladder now
There is a clear divide between a strong and fiercely contested Conference A and Conference B. The Dockers sit third in Conference A behind North Melbourne and reigning premiers the Western Bulldogs, despite winning two games, while the Lions are on top of Conference B with one win and a percentage of just 73.4, with Geelong the only other team in that group to win a game.
Say what?
"Our forwards have been fantastic in both games. We've had seven goalkickers both weeks. We think we can be a hard forward line to match up because we have so many options and they're working really well together." - Fremantle coach Trent Cooper
"We probably couldn't match their intensity, I don't think. They were terrific after quarter-time. Full credit to them, they got the three goals in the second quarter and made it really hard for us when we had our chance and we didn't capitalise." - Brisbane coach Craig Starcevich.
What's next?
The Dockers have a six-day turnaround before hosting winless Collingwood in round three back at Fremantle Oval on Saturday, while the Lions return home for a clash with Melbourne at Hickey Park next Sunday.
The views in this article are those of the author and not necessarily those of the AFL or its clubs