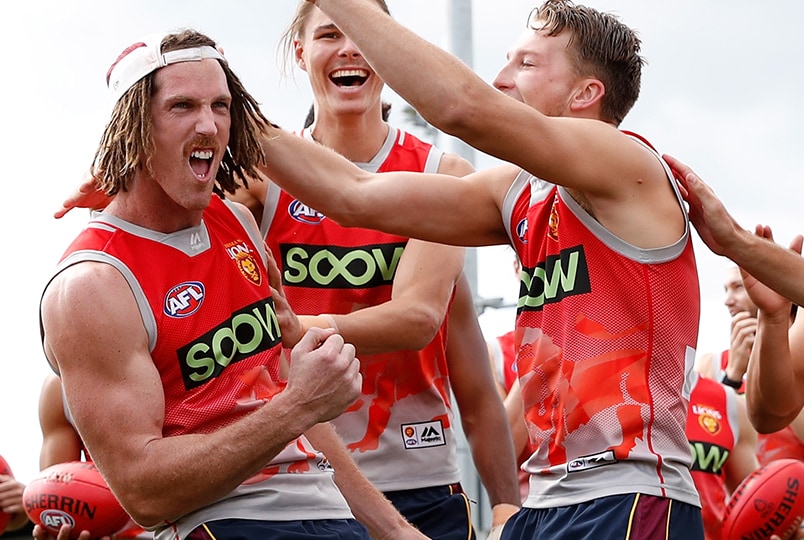 If Matt Eagles' first season of playing at Senior level in 2018 was going to script as he kicked the first goal of his career in Round 9's big win against Hawthorn, he was hardly to know he was about to be written out of his starring role.
Eagles, recruited as a Category B Rookie from the TV show 'The Recruit' at the end of the 2016 season, was elevated off the Rookie List for his debut in Round 7 against Collingwood, but was struck down with a season-ending injury just three games later against Sydney.
"I went to snap kick it out of the 50 and got tackled as I kicked it, so when I landed, I did the splits. Doing the splits for me normally is bad, but you put somebody on top of me, I felt it then I was like, 'oh it's pretty bad'," Eagles told lions.com.au.
"I was struggling to walk but my teammates were yelling at me because my guy went to get the ball. I just said, 'I can't'. I had to gut run over to get the ball and luckily enough I got a stoppage, so I just went off."
What Eagles knew to be bad ended up being a torn abductor tendon, which eventually put the defender out for the remainder of the 2018 season.
From reality television, to winning a NEAFL premiership and making his AFL debut all within 18 months, the injury gave him the chance to slow down and reflect on his debut season at AFL level.
Matt Eagles celebrates his first win as a Lion, Round 9, 2018 against Hawthorn at the Gabba.

"It was definitely an amazing year, but it had its lows as well," Eagles said
"I debuted, then had a bit of a stinker in the Bulldogs game going in too confident, then in the Hawks game we got the win and I got my first goal, and the Sydney game I felt like I was building into a really good game then that happened.
"I played AFL, I want to play more. It's been crazy, it's been good, I will look back at it always."
It was almost the year that never was, as he went into an end of season meeting in 2017 thinking he was going to be delisted.
"I went into the meeting after a few of the other boys and they told me in the car park 'I just got delisted' I thought, oh that's not good," Eagles said.
"It was the day after we won the NEAFL flag so we had Mad Monday, a big night Monday and Tuesday morning 'Fages' rings up in the morning and says 'Can you come in?'
"I spoke to the lads in the car park who said they were getting delisted. I thought oh no, well it was a good year while it lasted.
"I went in there and sat down and told them not to beat around the bush just tell me, I'm fine with it you don't have to sugar coat it.
"They said no, we're actually really happy with the year and want to keep you on. We're really excited about what you bring to the Club, after that I was just went silent, like ok, you guys can keep talking," Eagles joked.
"It was a big relief and good to get something out of the hard work for the year."
The energetic and bubbly big man has never been short on confidence, but he now looks back on a conversation with Chris Fagan in his first season which he may have gone in over-confident.
"I went up to Fages in my first year and said can I play in one of the JLT games? and he said, 'To be serious, you're not ready for it'," Eagles said.
"I thought I was ready back then, but now I'm really glad he did that because I would have made an arse out of myself.
"I had to put my trust in everyone, the coaches and all, but it worked out well. Fages is straight down the line with me.
"At the time I was a bit pissed off, I thought, 'Oh whatever', but I didn't come to the Club with an arrogance or have expectations, I just thought I'd worked my arse off."
That hard work is currently being channelled into the gym and rehab as he looks to break back into the team for 2019.
"I want to get my body right first, which has been a struggle this pre-season and off-season, but the medical team are really confident I'll be there," Eagles said.
"The backline is looking good, we added Marcus Adams. Jack Payne should be right too, there's a lot of competition for spots.
"It puts everyone under the pump for spots, I like that.
"It just shows that if you're playing, you've worked really hard."
And while he may lack experience on-field, the soon to be 29-year-old has quickly become a veteran voice for a young playing list, having recently lived with young defender Jack Payne and rookie Ely Smith.
"It was good living with the young fellas, I got something out of it because I like to help people," Eagles said.
View this post on Instagram
"I felt like they were my little brothers, just to help them out. I didn't have Ely for long, but he's a good lad, a country lad," Eagles said.
Little did he know, despite their near 11-year age difference, Eagles had faced his new housemate on-field two years earlier.
"Ely actually played a game on 'The Recruit' against me," Eagles said.
"He was a top up for the GWS team, he played in their academy. I didn't know that and then when I went to introduce myself he said, 'Oh we played a game on 'The Recruit'."
While being on the comeback trail to full fitness, purchasing a new home, and trying to cement himself a spot in a much-improved Lions backline, the former labourer knows these are only small concerns.
If he's ever asked if he has to still pinch himself that he's playing AFL football, Eagles says he is simply "Living the dream".
The views in this article are those of the author and not necessarily those of the AFL or its clubs