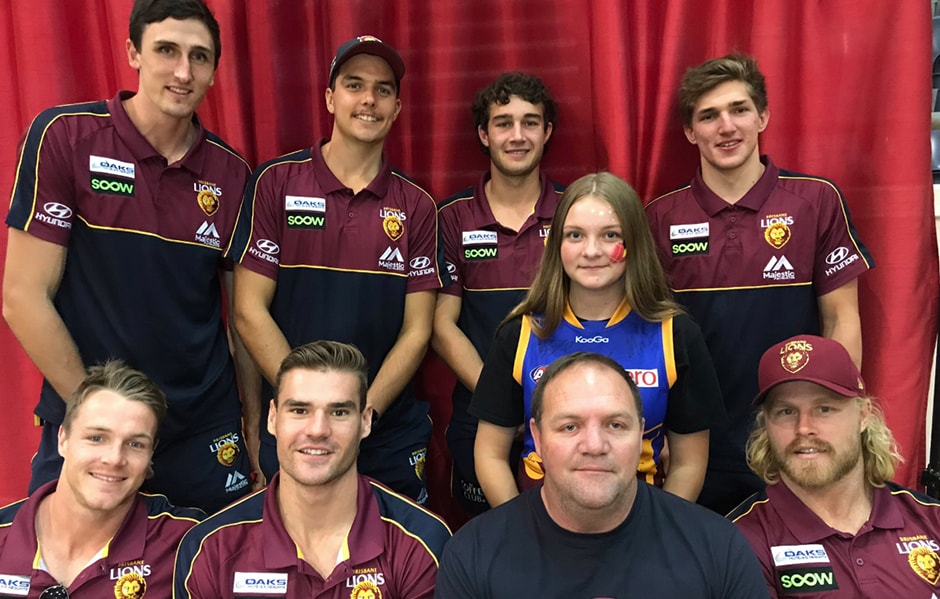 What a weekend it was in Melbourne!
The past three days saw the Brisbane Lions takeover Melbourne with a Fan Forum, doubler-header of Men's football, VIC Family Fun Day and Lions AFLW match.
The Lions would like to thank all of our passionate Victorian members and fans for your support this weekend.
We will be back very soon!
Saturday: NEAFL and JLT at Casey Fields
Go @brisbanelions! #allforone 🦁🦁🦁 pic.twitter.com/zFsbSPvArU

— Kate Coombes 🌸 (@KateCoombes13) March 9, 2019
Never giving up @brisbanelions #gottalovethat #withstandthepressure #goal #Uncaged #JLTSeries

— Dianne Collins🦁 (@LionsDi) March 9, 2019
Lincoln McCarthy is going to be a jet for the @brisbanelions

— Beads (@BignoseStu) March 9, 2019
FT: Two wins from two in our #JLTSeries campaign!

Lions: 104 - Demons: 97#Uncaged pic.twitter.com/gaqInFOM2R

— Brisbane Lions (@brisbanelions) March 9, 2019
Today we took a few snaps at the footy!! @brisbanelions @AFL pic.twitter.com/7co45t5Qt4

— Decaf Photog (@DecafPhotog) March 9, 2019
Great to put on an exciting performance for our VIC fans! Thanks for your support today. #Uncaged #JLTSeries pic.twitter.com/5MMxsXxO9P

— Brisbane Lions (@brisbanelions) March 9, 2019
Sunday, 10 March: VIC Family Fun Day
My 82 year old Mum saw the great Kevin Murray play his first game for @Fitzroy_FC in 1955.
She seen him play most of his 333 games.
She is his biggest fan.
Today she got to chat with him for the first time in many years at the @brisbanelions Family Day.
She was rapt!!!#uncagedpic.twitter.com/5Qxd4UXIVu

— David Leydon (@DavidLeydon1) March 10, 2019
Brilliant day @brisbanelions family day in Melbourne #Uncaged pic.twitter.com/bMTTUuD7wy

— John Selway (@johnselway74) March 10, 2019
Had an awesome time as MC @brisbanelions Vic family day with the whole squad. @slord81 Sam, you and the crew killed it today. Well done, as usual, mate. Thanks to @DayneZorko and all the boys and supporters. pic.twitter.com/x4QqklEisi

— Craig Huggins (@CraigHuggy) March 10, 2019
Well done to @brisbanelions and especially the incomparable @slord81 for a great weekend of Lions action - capped off by the best Family Day we have ever experienced in Victoria.

— The Ultimate Brisbane Lions Fan Page (@UBLfp) March 10, 2019
Victoria is #Uncaged pic.twitter.com/TbXTjpRruH

— Brisbane Lions (@brisbanelions) March 10, 2019
It was great to meet Lachie Neale at the @brisbanelions Vic Family Day yesterday. #uncaged #allforone @lachieneale pic.twitter.com/1luy0xpVIu

— Mark Opolion (@onthemarkafl) March 10, 2019
Went to @brisbanelions family day today & from what I saw, I'd be giving Harris Andrews the "Alastair Lynch contract" tomorrow! Superstar player & first class with kids

— AJ (@OntheHunterHunt) March 10, 2019
Thanks to the @brisbanelions and @slord81 for hosting such a fantastic Vic Family Day. Certainly the best I have been to.

— Mahesh Balakrishnan (@balak_m) March 10, 2019
Sunday, 10 March: AFLW Round 6 v Carlton
@lionsaflw @brisbanelions #Uncaged #GoLions pic.twitter.com/hn5GzNPqnu

— Emily Lonsdale (@Emily_Lonsdale) March 10, 2019
View this post on Instagram
Majority of the Brisbane men's team out in force to support last year's grand finalists. It's must-win for the @lionsaflw today. #AFLWBluesLions @superfooty pic.twitter.com/d5RXANIykm

— Lauren Wood (@LaurenHeraldSun) March 10, 2019
Princes Park looking an absolute 👌🏼 picture this afternoon! Great to see the whole men's squad here to support the @lionsaflw, too. 💪🏼🦁 #Uncaged #AFLWBluesLions pic.twitter.com/sTj3zeoxjt

— Jessica Currie🌈 (@Jess_M_Currie) March 10, 2019
One Club 🦁 pic.twitter.com/ahKDOfZPmd

— Brisbane Lions (@brisbanelions) March 10, 2019
3 seasons and every Melbourne game attended and I finally was on the right side of the oval to meet the superstar @JessicaWoochnar thanks for sticking around to chat to the fans 👏 @lionsaflw pic.twitter.com/AICV703CgZ

— Nicole Chapman (@chaps6548) March 10, 2019
Full time at Ikon Park and Carlton take the four points. #AFLWBluesLions pic.twitter.com/GkzvebzXla

— Brisbane Lions AFLW (@lionsaflw) March 10, 2019
The views in this article are those of the author and not necessarily those of the AFL or its clubs