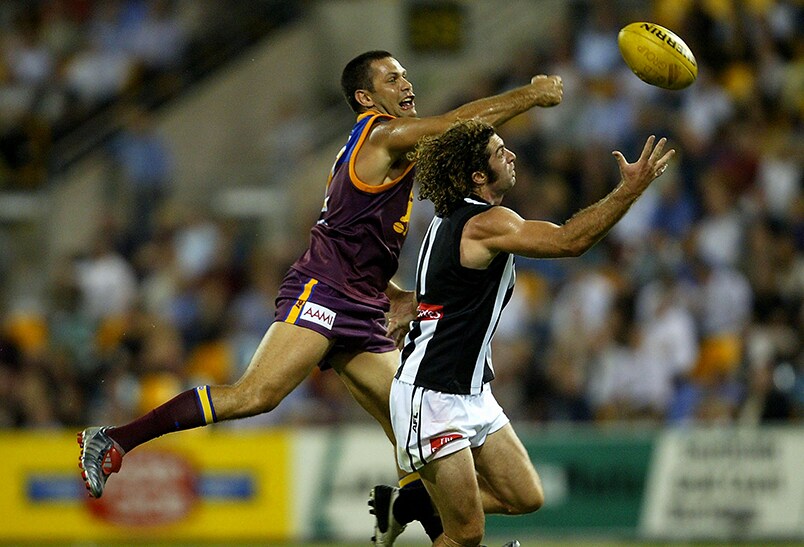 Want a special occasion at the Gabba? Two ingredients are sure-fire winners. Collingwood and Easter Thursday.
And so it was 15 years ago in Round 3 of 2004.
The Brisbane Lions hosted Collingwood at the Gabba on Thursday night 8 April on an occasion memorable for all Lions fans but especially memorable for the Fitzroy connection.
Chris Johnson, the last survivor of the so-called 'Chosen Eight' who headed from Fitzroy to Brisbane via the 1997 merger, played his 200th AFL game.
What a celebration! The Lions, victors over Collingwood in the 2002 and 2003 grand finals, beat the Magpies by 60 points in front of a bumper and sell-out crowd of 36,467.
In their sixth season under coach Leigh Matthews, the home side trailed by four points at quarter-time but worked hard to take a nine-point lead to halftime and added 13-6 to 5-3 in the second half to win 21-11 (137) to 12-5 (77).
Alastair Lynch kicked seven goals while Jason Akermanis (27), Simon Black (23) and Nigel Lappin (23) led the possession count. Luke Power, with 17 disposals and two goals, received three Brownlow Medal votes from Lynch (2) and, curiously, Ash McGrath, who picked up one vote for eight disposals and a goal.
Scott Burns (28), Nathan Buckley (24) and Paul Licuria (20) led the possession count for Collingwood, while Anthony Rocca and Matthew Lokan kicked three goals.
It was the second time the AFL had scheduled a stand-alone Easter Thursday blockbuster against Collingwood at the Gabba, following a 14-point Lions win in front of 36,803 in Round 4 2003.
The Lions went on to play on Easter Thursday at the Gabba against St. Kilda in 2005-07-11, Carlton in 2010-12 and Richmond in 2014, and also played two Thursday night games at Marvel Stadium against St. Kilda in 2006 and Carlton in 2010.
After four years without a real drawcard home game against a big Melbourne-based club the Lions are eagerly awaiting the return of the long weekend fixture against Collingwood this week.
If it is anything like the Johnson 200th game of 2004 it'll be a beauty.
Remarkably, it was a night in which Johnson became the seventh 200-gamer in the Lions side alongside Lynch (294), Shaun Hart (256), Darryl White (246), Michael Voss (226), Nigel Lappin (219) and Martin Pike (216).
The Collingwood side the same night had only one (Buckley), and the Lions side that beat North Melbourne last weekend had just one (Luke Hodge).
Johnson had carried the hearts of life-long Fitzroy fans when he joined Brad Boyd, John Barker, Jarrod Molloy, Shane Clayton, Scott Bamford, Nick Carter and Simon Hawking in Brisbane via the merger.
He was a massive favourite with Lions fans in both cities and was given a monstrous ovation from the Gabba faithful after he'd had 16 disposals in his milestone game.
With Molloy, Johnson had played in the first port-merger game in Round 1 1997. He was followed by Bamford (Round 2), Barker (Round 6), Carter and Clayton (Round 7) and Boyd (Round 9), leaving the injury-prone Hawking never to play for the merger club.
Barker was the first of the Chosen Eight to play his last Brisbane game in 1997 before heading to Hawthorn, and was followed in 1998 by Clayton, who went North, Carter, who went to Melbourne, and Bamford, who went to Geelong in 1998.
Boyd, so sadly denied a free run, played his last game in 1999 before an injury-forced retirement.
When Molloy exited the Lions after the 2000 semi-final against Carlton to join Collingwood and ultimately play against Brisbane in the 2002 grand final, left Johnson as the last direct link to the last Fitzroy side of 1996. He stretched it out until the end of the 2007 season.
After Brisbane's win over Collingwood in the 2004 Easter Thursday game the Pies went on to finish 13th with an 8-14 record. The Lions finished second on the home-and-away ladder at 16-6, a game behind Port Adelaide.
The Lions side that night was Jason Akermanis, Simon Black, Jonathan Brown, Blake Caracella, Jamie Charman, Robert Copeland, Richard Hadley, Shaun Hart, Chris Johnson, Nigel Lappin, Justin Leppitsch, Alastair Lynch, Ash McGrath, Dylan McLaren, Craig McRae, Mal Michael, Tim Notting, Martin Pike, Luke Power, Brad Scott, Michael Voss, Darryl White.
The Collingwood side, coached by Mick Malthouse, was Nathan Buckley, Scott Burns, James Clement, Jason Cloke, Richard Cole, Alan Didak, Josh Fraser, Brodie Holland, Ben Johnson, Paul Licuria, Matthew Lokan, Ryan Lonie, Bo Nixon, Shane O'Bree, Simon Prestigiacomo, Guy Richards, Anthony Rocca, Rhyce Shaw, Dane Swan, Chris Tarrant, Shane Wakelin, Shane Woewodin.
The views in this article are those of the author and not necessarily those of the AFL or its clubs