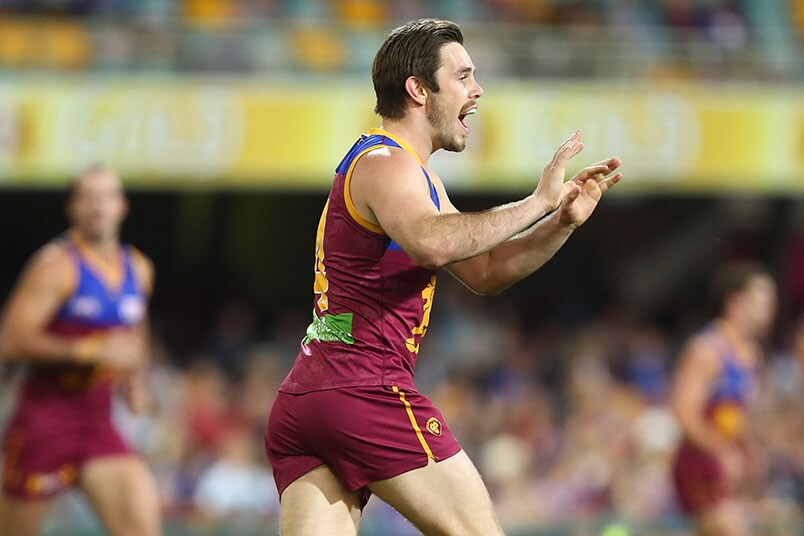 The Brisbane Lions have continued their formidable start to the 2019 season with a 48-point win over the Aspley Hornets at Voxson Oval on Friday afternoon.
Lead ably by Ryan Bastinac (29 disposals, six tackles, three goals), Tom Cutler (24 disposals, five marks) and Lewis Taylor (25 disposals, four tackles) in their pushes for senior selection, the Lions proved too clean for the Hornets as the rain increasingly impacted the contest.
Young key forward Toby Wooller shone through the wet conditions, winning 23 disposals, seven marks, six tackles and kicking four goals, while former basketballer Tom Fullarton demonstrated his impressive groundball skills amongst his four goals.
Coach Mitch Hahn was once again delighted by the collective effort of his team.
"A really pleasing part of our form at the moment is that we've been able to have 22 or 23 contributors each week and that was no different today," he told neafl.com.au
"We need to continue to put pressure on to our AFL team with our 21 listed players today. Obviously, there's a couple injuries up at senior level, so the guys knew there was an opportunity for a couple of them to go up."
The Lions take their strong form down the M1 next week for a curtain raiser against the SUNS, and Hahn is looking forward to the contest.
"It's a whole club next week for us, it's not just about the NEAFL, it's about the AFL as well," he said.
"We get the first opportunity as a football club so we'll certainly be trying to make the most of that opportunity. It's going to be a tough contest, it always is against Gold Coast. We go down there with good form but that doesn't guarantee anything."
The Lions only played one non-listed player, with 19-year-old Keidean Coleman kicking 3.1 from his 13 touches.
"Keidean's been really good. He's played a variety of positions from half-back to half-forward, and every time we've changed him he's really adapted to the role and bought into that process," Hahn said of Coleman.
For the Hornets, veteran Matt Payne stayed true to form, starring for the Hornets with 38 touches, six marks and five tackles.
Defender Jackson Allen also had a solid performance in his 100th NEAFL match, attaining 21 disposals, five tackles and 11 rebound 50s.
The Hornets will have a chance to rest and reflect over their bye next weekend, while the Lions will look to go 4-0 as they head down the M1 to take on the Gold Coast SUNS.
Three from three for the boys after a 48-point win over Aspley! #NEAFL #Uncaged pic.twitter.com/PDgvLalJt2

— Lions NEAFL (@LionsNEAFL) April 19, 2019
NEAFL ROUND 3
Aspley Hornets v Brisbane Lions at Voxson Oval
BRISBANE 3.4 8.6 12.9 17.10 (112)
ASPLEY 0.4 2.7 5.7 9.10 (64)
GOALS – Brisbane: T Wooller 4 T Fullarton 4 R Bastinac 3 K Coleman 3 B Keays 2 C Ballenden. Aspley: W Murphy 2 J Freeman 2 T Templeton 2 T Baulch L Dawson C Stackelberg.
BEST – Brisbane: J Allison R Bastinac T Wooller M Eagles B Keays T Fullarton. Aspley: M Payne J Arnold G Grose L Dawson J Craven.
The views in this article are those of the author and not necessarily those of the AFL or its clubs