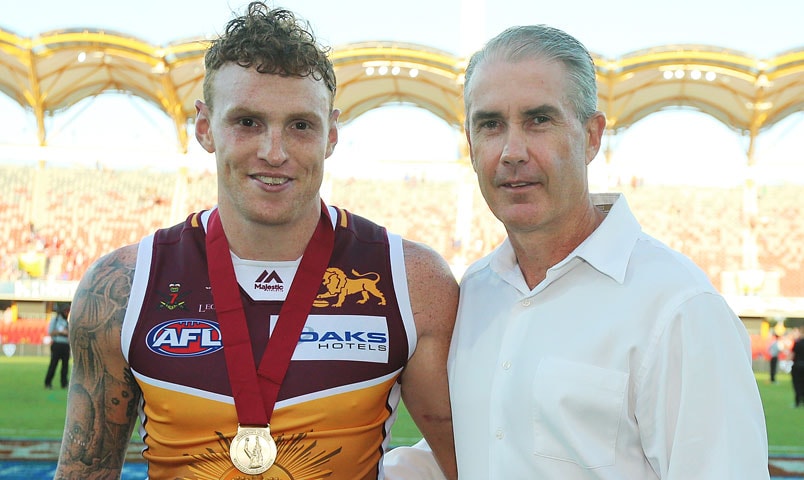 Imagine flying interstate 155 times for work. It's more than most people will fly in a lifetime. Marcus Ashcroft did that and more.
Add on pre-season games and a few incidentals and it was probably more like 200 interstate trips for the former Brisbane Lions champion during a career that holds a special place in AFL history.
On one such trip in his final season in 2003 he became not just the first Queenslander to player 300 AFL games but the first non-Victorian.
It was Round 7. The Lions flew to Sydney to play the Swans at the SCG as the then 32-year-old celebrated a milestone which, on top of everything else, was a massive triumph for durability.
In a competition which went national in 1987, two years before Ashcroft had arrived on the scene, he became the first player to conquer not just the daily rigors of training and competition but the burden of repeat interstate travel.
Being based first on the Gold Coast and later in Brisbane his regular flying challenge was a little less taxing than Perth-based players who had joined the competition in 1987, but more so than players based in Sydney or Adelaide.
At a time when training regimes and recovery programs were nothing like as scientific as they are today, it was a remarkable effort for Ashcroft to maintain such a high level of performance for so long.
In 15 years and 318 games in the AFL Ashcroft played at 15 different grounds, including 136 games at the Gabba and 27 games at Carrara for 163 in Queensland.
He played 113 games in Victoria, 17 in WA, 15 in SA and 10 in NSW. Total 155 interstate.
Playing in the days before the occasional AFL game is played in Darwin, Canberra, Alice Springs, Cairns, Ballarat, Hobart, Launceston and even China, he visited nine different grounds in Victoria – MCG (38), Princes Park (22), Waverley Park (16), Marvel Stadium (13), Kardinia Park (9), Whitten Oval (8), Victoria Park (4), Moorabbin (2) and Windy Hill (1).
He also played at Subiaco (14) and the WACA (3) in Perth, Football Park (15) in Adelaide and the SCG (10) in Sydney.
In further additions to his career special moments, he played in the last AFL game at Essendon's old home at Windy Hill in 1991, the last game at Collingwood's Victoria Park in 1999, the fourth-last game at the Bulldogs' Western Oval in 1996 and the eighth-last at Waverley in 1999. And he missed the fifth-last game at St.Kilda's Moorabbin in 1992 through injury.
And, he played in the second AFL game at the Gabba in 1991, which was behind only the exhibition game between Hawthorn and Essendon in 1981, and the third game at what is now Marvel Stadium in 2000.
Sixteen years on from his retirement at the end of 2003 as a triple premiership player only 13 more players based outside Melbourne have cracked the 300-game barrier. And there have been none from West Coast, who joined the competition with Brisbane in 1987.
It was 2014, 11 years after Ashcroft had retired, that finally a Perth-based player reached 300 games. It was Fremantle great Matthew Pavlich. And not until last weekend, when David Mundy posted his 300th for the Dockers, did another player based in the WA capital reach this mark.
In between there were two other Brisbane favorites who reached 300 games – Simon Black in 2012 and, 16 weeks later, Luke Power. And Power had moved to GWS in his final season, thereby lessening slightly the travel burden.
In chronological order, the frequent flyer platinum-plus five-star members of the AFL 300 Club are:-
2003 – Marcus Ashcroft (Brisbane)
2006 – Ben Hart (Adelaide)
2006 – Mark Riccuito (Adelaide)
2008 – Andrew McLeod (Adelaide)
2009 – Tyson Edwards (Adelaide)
2019 – Michael O'Loughlin (Sydney)
2011 – Adam Goodes (Sydney)
2012 – Simon Black (Brisbane)
2012 – Luke Power (Brisbane/GWS)
2012 – Jude Bolton (Sydney)
2014 – Matthew Pavlich (Fremantle)
2015 – Kane Cornes (Port Adelaide)
2017 – Jarrad McVeigh (Sydney)
2019 – David Mundy (Fremantle)
Of the West Coast players whose careers ran largely parallel to Ashcroft the closest to the 300-game mark was Dean Cox, He retired aged 33 on 290 games in 2014. Glen Jakovich, who started two years after Ashcroft in 1991, played 276 games before retiring at 31 in 2004.
Ashcroft, born in Melbourne (despite what his Wikipedia page says), moved to the Gold Coast aged three and is a product of Merrimac High School, Surfers Paradise juniors and later Southport Sharks.
He made his QAFL debut at 16, kicking six goals against Western Districts in his "second or third senior game – I'm note sure which," he confirmed today (but not in his senior QAFL debut as the Wikipedia page says).
He debuted in the AFL aged 17 years 243 days in Round 17 1989 against North Melbourne at the MCG, sharing his first game with Chris O'Sullivan. Mark Zanotti, former a West Coast Eagle and later a Fitzroy Lion, played his first game for the Bears, and Phillip Walsh, the Bears' inaugural club champion, his 50th game for the club.
It was hardly a memorable introduction – North won by 94 points. Six weeks later coach Peter Knights was sacked to give the shy young Gold Coaster an early lesson on the occasional brutality of League football.
Ashcroft remains one of nine 17-year-olds to have played for the combined Bears/Lions. He ranks fourth behind Michael Voss (17 years 11 days), Matthew AhMat (17/44) and Justin Leppitsch (17/177), and ahead of Daniel Bradshaw (17/257), Nigel Lappin (17/292), Nathan Chapman (17/324), Chris Scott (17/328) and Ray Windsor (17/338).
Amazingly, it's a group that includes six premiership players in Ashcroft, Voss, Leppitsch, Bradshaw, Lappin and Scott. And three future AFL coaches in Voss, Leppitsch and Scott.
Thirty years on Ashcroft maintains a good association with the Lions despite a 10-year stint with the Gold Coast Suns, where he helped to establish the club from scratch and served as football chief for 10 years until the end of 2017.
He was on hand last week to present the #43 jumper to Noah Answerth, who debuted for the Lions in Q-Clash #17 at Metricon Stadium, formerly known just as Carrara, where Ashcroft had begun his AFL career.
Why? Because the man who has played more games in jumper #10 than anyone in AFL history played the first 10 games of his career with the Brisbane Bears in #43.
Further, the annual award for the Lions' Most Professional Player is named in his honour, a fitting recognition given the professionalism he required to survive at the highest level for so long.
Also, in recognition of his shared contribution to the two Queensland clubs, the Ashcroft Medal is presented to the player judged best afield whenever the clubs meet.
Oddly, 16 years after Ashcroft's 300th game against Sydney in Round 7 2003, another significant milestone in AFL history will occur on Saturday when Sydney visits the Gabba. In the Swans camp.
Swans coach John Longmire, a former North Melbourne champion who would have played in Ashcroft's debut but for injury, will coach Sydney for the 203rd time, bettering Paul Roos' all-time Swans record for most games at the helm.
When Ashcroft posted his triple century Longmire was in his second season as an assistant-coach at the Swans still nine years from taking on a senior job that has seen nine years in charge.
The Lions, unbeaten on top of the ladder with five wins and a draw in pursuit of the premiership hat-trick which came in Ashcroft's last game, faced a Swans side that was seventh with three wins.
Sadly, though, the milestone game finished in defeat. Sydney won 15-8 (98) to 11-13 (79).
In statistics which show how much the game has changed, Daryn Cresswell, Ben Mathews and Paul Williams topped the Swans possession count with 22 while O'Loughlin, in his 169th game, kicked five goals.
Fittingly, Brad Scott, one of Ashcroft's best mates in football, was Brisbane's leading possession-winner with 24, while Black had 22 and Power had 22.
O'Loughlin, Black, Power .. it was almost as if the 300-gamers in waiting were paying tribute too.
Adam Goodes and Jude Bolton, later to reach 300 games, were also in the Swans side. Jarryd McVeigh, the Swans other 300-gamer who is still playing but will miss this weekend's game through injury, had not even debuted.
Eventually, time caught up with even Ashcroft. He retired following the 2003 grand final and not too long afterwards he had a hip replacement that had beckoned for a while.
Today, having left the Suns at the end of 2017, he is based in Melbourne and since February 2018 has worked at the AFL and carried a title almost as long as his career. He is the National Talent Competitions and Operations Manager.
The views in this article are those of the author and not necessarily those of the AFL or its clubs