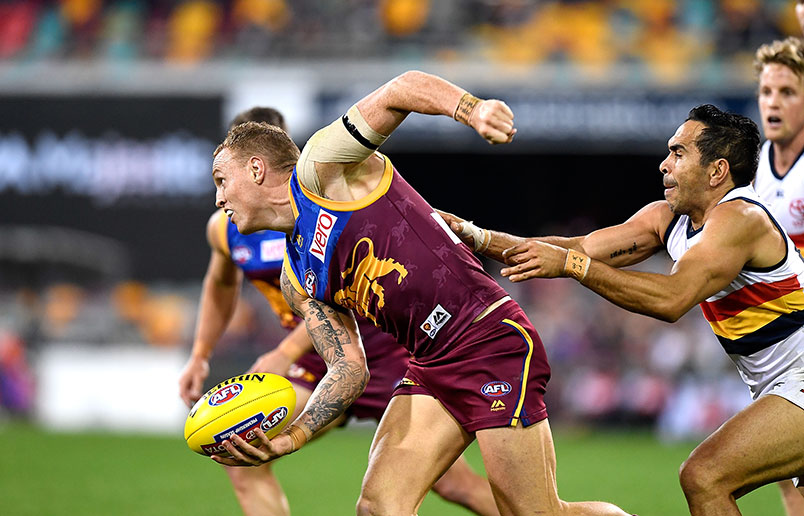 2019 AFL Premiership Season: Round 9
Brisbane Lions v Adelaide Crows
Saturday, 18 May at 2.10pm AEST
The Gabba

Bounce at 2:10pm
Lion Park
Located outside Gate 2, this is the ultimate match day kids hub. Here's what's happening in Lion Park:
Lions Shop
MemberHQ
Roy's Rookies
DJ Diggler on the decks
Mechanical Football
Inflatable speccy mat
Roar-some free face painting
Triple M
Captain Cino
Catch Basti and Lewy signing their New Era Player Caps!
Head to Lions shop Marquee in Lion Park from 12:45-1:30pm on Saturday, grab a hat and get it signed.
Make sure you say a big G'day to Roy and the #uncaged squad, collect your Roy banner and share a photo to social media using #SpottedWithRoy.
Lions Shop
Head in-store to the Lions Shop at Gate 2 to secure the (soon to be revealed) 2019 Indigenous Guernsey available from Friday 17 May.
Match worn & player Issued guernseys available for auction 1 June 7:20pm.
The Lions Shop has all you need to kit yourself out in the latest Lions merch.
The Coffee Club - Meet You on the Boundary Line
Get your pre-game footy fix live from our sideline couch. Each home game we'll chat to a Brisbane Lions coach, player and a special guest, all taking place approx. an hour before bounce!
Laneway Bar
Head on over to one of the best spots the Gabba has to offer at the top of Gate 7. The Laneway Bar located outside Section 52 will be open and will feature a live musician.
The Bar is FREE to enter.
Brisbane Lions Social Club
All game entry members have FREE access to the Match Day Social Club - entry via Gate 6 or via the lift at Section 51.
Proof of 2019 membership must be shown upon entry.
Brisbane Lions Members Bar
Premium season reserved seat members and September Members have FREE entry to the bar located in Section 62.
Entry to the bar is subject to capacity and proof of 2019 membership must be shown upon entry.
Autograph Book Giveaway
Members can collect an exclusive 2019 Autograph Book this Saturday from the MemberHQ Marquee, Match Office 7 & 9 or the Match Day Social Club! Simply flash your 2019 membership card to receive your copy!
*Limited quantities available, one per member per membership card.
50-50 Raffle
Support Little Stars Kids - a charity dedicated to creating a better life for children in long-term foster care, to help heal little hearts through their various programs. Tickets are available from only $5! With your support, Little Stars Kids can continue to support children in long-term foster care to build positive relationships, learn to trust and believe in themselves, and start to heal from abuse and neglect. Buy your ticket for a chance to win!
The Verandah
We are pine-ing for you…
Tropic Like It's Hot on the Verandah with The Brisbane Lions! Be seen at the city's hottest social event. It's the most scenic Verandah in Brisbane - the view is second-to-none, we're not Lion.
The Brisbane Lions are bringing the footy to you in the most authentic Queensland way – The Verandah! It's going to take your footy experience to the next level, literally.
Get your tickets and find out more here.
Hyundai Hot Seat
Do you fancy yourself as a quiz master? Test your skills on match day for your chance to win 2 x Area VIP tickets for a future Lions home game. If you stumble or need help with a question, our dedicated Hyundai Sales Manager Kylie Osborne will be on hand to assist you. Kylie is here to help with more than just trivia though, if you need help buying your next car, contact Kylie first to ensure you get the best deal.
For you chance to play the Hyundai Hot Seat on match day, register at the Hyundai display in Lion Park between 1:00pm – 2:00pm this Saturday.
PUMP it up! Dance Cam
Pump up the Lions and you could be dancing your way on to our Big Screens.
We'll be doing an array of dances around the ground so make sure you sharpen up on your moves so you can cut some shapes when we cut to the PUMP it up! Dance Cam!
Oaks Golden Goals
With thanks to our Major Partner Oaks Hotels & Resorts, you could be kicking your way to a $1,000 Oaks stay! Simply register your details and we could be calling on you to take the field at quarter time.
Macca's Kick 2 Kick
Stick around after the siren and have a kick on the ground, thanks to Macca's Kick 2 Kick.
Upload a photo of yourself having a kick and upload it using #maccasK2K for your chance to win a one-on-one kick with Lions superstar Cam Rayner in your own backyard!
For details visit www.afl.com.au/kick-to-kick
The Coffee Club Bonus Brew
Thanks to the Brisbane Lions Coaches Partner, The Coffee Club, on match day or the day after any Brisbane Lions home games, you can receive a FREE small hot beverage from participating stores across Brisbane.
Simply present your match day ticket or membership card to redeem on Saturday 18 May and Sunday 19 May, 2019.
Click here for more information.
Jack Links Running with the Bulls
Do you want a chance to run with the bulls on game day and go in the draw to win $5,000 cash thanks to Jack Links?
There are weekly prizes up for grabs and a major prize of $5,000 cash to be given away at our final game of the season.
Enter online for your chance to be on-field at three-quarter time to run with the bulls.
Hyundai Park Inside 50
Forget about public transport, drive your car right up to the Gabba and stroll across the road to the game. Thanks to Hyundai, 2019 Brisbane Lions Members can park at The Gabba, just metres from the stadium, no matter what kind of car you drive!
20 lucky Brisbane Lions Members will be chosen and notified before each home game. For your chance to park in the Hyundai Car Park.
Member of the Round
Do you know someone that lives and breathes maroon, blue and gold, never misses a chance to watch the Brisbane Lions and is just an all-round passionate supporter? We want to know about it. Nominate someone you know (or even yourself) for Member of the Round! (Nominate Now: brislions.com/2K4d9s7)
Member Attendance
Get rewarded for doing what you love!
Attend all your eligible games to go in the draw to win tickets to the 2019 Toyota AFL Grand Final. Can't make it to a game? Give your membership card to a friend to stay in the running.
Rocketman
To celebrate the release of ROCKETMAN, we are giving you the chance to win free tickets.
All you need to do is dress up in Rocketman theme for your chance to win tickets to see the film in cinemas for free!
Look out for yourself on the big screen as well at half time as we sing-a-long with crowd karaoke to celebrate some of the classic songs featured in the film.
ROCKETMAN is an epic musical fantasy about the incredible human story of Elton John's breakthrough years. The film follows the fantastical journey of transformation from shy piano prodigy Reginald Dwight into international superstar Elton John. This inspirational story - set to Elton John's most beloved songs and performed by star Taron Egerton - tells the universally relatable story of how a small-town boy became one of the most iconic figures in pop culture.
ROCKETMAN in cinemas MAY 30
Public Transport
Did you know you get FREE public transport to and from the game? Show your Brisbane Lions member card or ticket when getting on and off the Train or Bus and you're set.
Please call TransLink on 13 12 30 or visit translink.com.au to use their journey planner or view and print their maps and timetables.
Hyundai Park Inside 50
Thanks to Hyundai, 2019 Brisbane Lions Members can park at The Gabba, just metres from the stadium, no matter what kind of car you drive! 20 lucky Brisbane Lions Members will be chosen and notified before each home game. For your chance to park in the Hyundai Car Park.
For all the latest updates on everything Brisbane Lions follow us on Instagram, Twitter and Facebook.
Join the Game Day conversations with #AFLLionsCrows and join the Facebook Event.
The views in this article are those of the author and not necessarily those of the AFL or its clubs