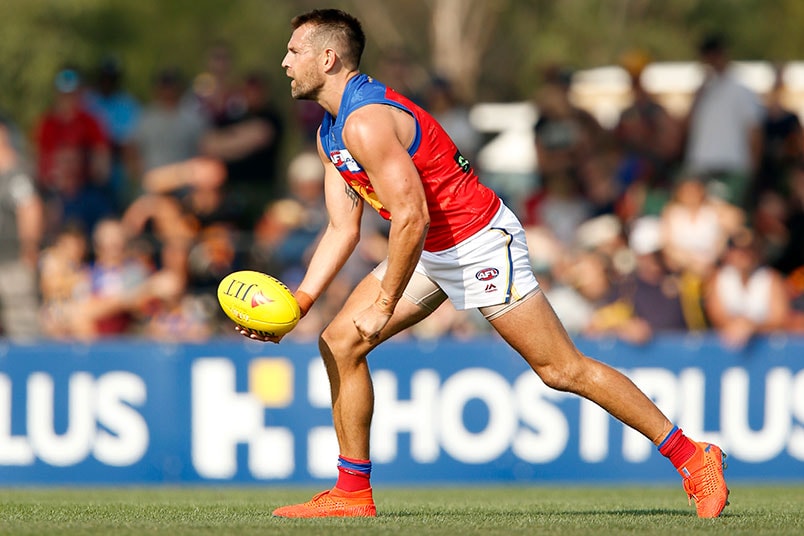 Only three players remain from the 2001 draft class, with Brisbane Lions defender Luke Hodge being one of them. aflplayers.com.au looks back at the 'super draft' of 2001, and his journey to Brisbane.
There's an aura about Luke Hodge – you know when he's nearby.
Even walking through a subdued Pullman Hotel lobby on a chilly Saturday evening, Hodge, kitted out in his Brisbane gear, is stopped for photos by a couple of suit-wearing party-goers, who are probably old enough to know better.
Hodge cheerfully obliges. For an individual who has accomplished so much in the nation's biggest sport, he's still charming and grounded. That might be rare for one of the most well-known faces in the AFL but Hodge isn't one to forget his roots – he's still that knockabout kid from Colac.
But there was a time when that aura didn't exist.
Long before he played 300 games, captained the most successful club in the modern era to three consecutive premierships, playing in four, and was judged best afield in two of them, Hodge was the aforementioned 17-year-old from country Victoria, who was regarded as the best underage player available when Hawthorn selected him with its first pick in the 2001 national draft.
The recruiters didn't know it at the time but Hodge was top of a draft class that would dominate the elite level and lift the expectations on young, highly touted AFL footballers from that time on.
Now, more than 18 years on, Hodge along with Gary Ablett and Aaron Sandilands are the three remaining players from the 2001 crop – a draft that changed the AFL forever, and for more reasons than one.
DIFFERENT ROUTES, DIFFERENT STORIES
The 2001 draft produced seven Brownlow Medals, 51 All-Australians, 30 club best and fairest awards, six Norm Smith Medals and 40 premierships.
Twenty-two players played more than 200 games – including five from the rookie draft – and of those, six played more than 300. The average amount of AFL games from each pick the national and rookie drafts was 132.
The Hodge, Luke Ball and Chris Judd comparison would dominate discussions for years but the early triumphs were also coupled with some late gems – namely Dane Swan (pick 58), Adam Schnieder (60) and Brian Lake (71).
And now only three individuals remain.
The trio have written their own unique stories. Hodge the superstar youngster, tough, skilful, uncompromising and a true leader who, through injuries and a laidback approach, took a while to find his feet while Judd won a Brownlow Medal in only his third season.
Ablett, the son of arguably the best player of all time, carried the weight of expectation through his youth. Undoubtedly talented, Ablett was challenged to be better by senior figures at Geelong and responded to become the best player in the modern era.
Sandilands is perhaps the most unique of all. Currently the second oldest AFL player, the 36-year-old came through the road less travelled in 2001, as a rookie selection, following some time with East Fremantle in the WAFL. There were 105 players taken in the national and rookie drafts before the Dockers took a chance on the raw ruckman.
Hodge remembers parts of draft day. He recalls sitting next to Jimmy Bartel at the packed Melbourne Park Function Centre as the picks were read out and feeling an overriding sense of nervousness. In footage from the day, you can see the relief in his face as the Hawks call his name out.
But the prevailing recollection was the celebration afterwards – a function at a local footy club with friends, teammates and family.
"It's weird," Hodge told AFLPlayers.com.au. "I had dinner with a mate the other day, he met his wife 18 years ago and he feels like it was a long time ago but, for me, it's gone so fast.
"There are times when it dragged on. There were times when we weren't going well at Hawthorn and you'd want the season to finish and it'd only be Round 10.
"Like any job, you get sick of it at different stages but I still love it just as much as I did when I got drafted."
Sandilands' experience was stark in contrast. There wasn't much interest in him pre-draft but he believed his best chance would be via a rookie selection.
And, unlike Hodge, he was in a more familiar setting as Fremantle made the call.
"I remember being on the lawnmower," Sandilands said to AFLPlayers.com.au. "I didn't have a mobile phone at that point but Dad had one through the business and Phil Smart from the Dockers rang him up to tell him the news.
"It was pretty exciting to receive that phone call but I had to be at the club pretty much the next day so I didn't even give the old man two weeks' notice and it was a busy time mowing lawns given it was leading into Christmas."
THE YEAR HODGE NEEDED TO HAVE
Longevity is dependent on many aspects of an athlete's career – injuries, motivation, success or perceiving incoming success, work-life balance, commitment, professionalism and form are only a handful that spring to mind.
When Hodge, who turns 35 in June, talks about the key to his durability, he mentions some of the above and adds one aspect that every athlete can't control – luck.
"With footy, you just don't know," Hodge said.
"You look at guys whose careers were cut short through injury and that could've been me."
It nearly was.
Others from the adequately termed 2001 'super draft' such as Ball, Judd, Xavier Clarke and Matt McGuire, suffered long term injuries, with Judd's storied career coming to an end due to a poorly timed ACL tear in 2015.
Had that on-field incident occurred only a couple of years earlier, Judd may still be galloping down the wings of the MCG today.
Hodge had his own injury downfall in 2012 and admits he was in all sorts of trouble.
Following a delayed start to the season, the then Hawthorn skipper returned in Round 5, playing one game before hurting his PCL and missing a large chunk of the season. Returning in Round 18, he eventually led his side to the 2012 Grand Final but, banged up, his impact was low as his Hawks went down by 10 points.
Pundits questioned his longevity. And, at the age of 28, he was doing his own internal enquiring.
"2012 was when it really hit me because I was only getting through games," Hodge said.
"I was getting through because my durability was good but when I was getting calves and knees, that's when it hit me that if I wanted to keep going, I had to smarten up with every facet of my professionalism."
That season was a big one for the now Brisbane defender and it's one he references regularly. He realised the need to put more into his recovery and that meant enlisting the help of Mark McGrath, a body balance specialist who Hodge credits as improving a lot of his physical ailments.
If there was a positive to his troubles, though, it was that the injuries were impact based and not the soft tissue plights that have curtailed many careers.
We know the results. Captaining the next three flags, another Norm Smith Medal and consistently taking the field each week.
After that vital 2012 season, he also sought the advice of then Hawthorn assistant coach Adam Simpson, another who played into his mid-30s.
Simpson's advice was to drop 1kg every year after the age of 30 and, given he played more than 300 games for North Melbourne, Hodge didn't need much convincing.
"I actually dropped a few more," he added.
"I reckon I was 91kg in 2012 and I played at 89kg in 2013, 88kg in '14 and 87kg in '15.
"That advice helped. Then I started to understand my body, especially since coming up here where my gym program has changed, and I think I'm a bit heavier through muscle now but my fat is down.
"I definitely felt better, especially when recovering from the knee operation in 2012. My knee and body felt good and I was recovering better."
Incredibly, despite his age, Hodge is arguably in the best physical condition of his career but physicality is only one aspect of the story for Hodge, albeit a strong one.
The opportunity to go north and play a role he had done successfully at Hawthorn in the latter part of his career was significant, given he retired from the game in 2017.
Another important piece is motivation. Some past players talk of being physically fine but mentally and emotionally drained towards the end of the football journey.
While Hodge's motivation hasn't waned as extremely as others, and he's often referred to as one of the most competitive players to have played the game, he's had his own uncertainties.
"I've had times where mentally I'd had enough but then you get back to training with the boys and love the place again and there have been times where physically I'd had enough but then you get a week off and think 'I'm feeling right to go again'."
Hodge's memory over the years is remarkably detailed given he's been playing for almost two decades.
He admits the reason he's still playing is because of Chris Fagan and David Noble and it won't be long until the Lions' defenders are in a position the Hawks' youngsters were at the end of 2017.
The end is near but how near will depend on how the immediate future goes.
"The end of the season is a long way away. If I can get through the first half of the season without injury for starters, I'd be happy and whatever happens after that we'll discuss when the time's right."
BACK IN MY DAY
The lifestyle of an AFL footballer was vastly different in 2001 than it is in 2019.
Professionalism has now reached new heights as the commitments of playing at the top level steadily became all-consuming over time.
Ablett can recall how different things were in the initial stages of his career.
"The game has definitely become more time-consuming," Ablett said. "There's a lot more expected of a player these days than when I first started.
"Early days, we were probably training two or three times per week and some of those sessions would only be half a day so we had a lot of downtime.
"Then around 2005 and 2006, an extra day of training was added and those training sessions started to become full day things.
"I think that came about because the clubs were trying to outdo each other and if players started earlier and spent more time at the club then they could get that edge over their opponents.
"So it's a full on job but we like it that way as players because it gives us that time to really invest in ourselves as athletes and the clubs are awesome at giving us everything we need to get the best out of ourselves."
Sandilands echoed those sentiments and believes it's for the better, especially for those taken as rookie selections.
"I was still doing 20 hours or so per week working outside of the game to make ends meet because I was on a rookie wage but still needed to get through the year," Sandilands said.
"The time you spend at a footy club is a lot more now than it was back then. But as the professionalism has increased so has the financial rewards as well."
Things have changed – mostly for the better – but the all-consuming nature of the AFL industry can take its toll, particularly on younger players who come in with high expectations.
The 2001 draft could well be considered a turning point in its role in setting the bar higher for those coming into the system since.
There are always going to be tales of successes, steals and blunders at the draft table but the overriding advice from the three that remain is that patience is key.
"I'm a big believer in everyone develops differently," Hodge said. "Physically, mentally, emotionally, everyone develops at different rates and that will be reflected in how they play.
"You feel for the ones coming through now because it would be hard but that's the business we're in."
THE END OF AN ERA IS NEARING
The Geelong Falcons played a significant role in the 2001 draft.
They won a premiership in 2000, which featured some of the crop that drafted into the AFL a year later.
Seven players were selected from the Falcons, including Hodge, Ablett, Bartel and McGuire. Hodge remembers Ablett as early as primary school and his family gave him a lift to representative trials in Melbourne on occasions.
"He was a short fella, who had long hair, didn't say much and didn't run much," Hodge said.
The two are now fathers, with Ablett's wife giving birth to a boy, Levi, in January and Hodge having already established a three-boy clan with childhood sweetheart Lauren.
Sandilands, too, has a family of his own – three daughters with wife Jenny.
The trio are no longer just footballers. They're family people, who juggle the elite athlete lifestyle with outside ventures and family commitments.
They entered the competition as teenagers, barely out of high school, and have now spent half of their lives running, lifting weights, eating the right food, watching vision, in team meetings, sitting in ice baths and having honest and tough conversations, all to chase a leather ball around an oval and expose themselves to the trials and tribulations of playing the nation's favourite sport.
It seems more likely than not that the three will retire at the end of 2019 and enter into the next phase of their lives, ending the era of the most successful AFL draft.
Hodge will still work in the industry in a coaching or media capacity, or perhaps both. Ablett has fingers in a number of different pies, including his role as a founder of athlete story-telling platform Exclusive Insight, while Sandilands will almost certainly take on a greater role in his landscaping business.
But we still have four months of enjoying everything Hodge, Ablett and, hopefully, Sandilands have to offer on the field.
Luke Hodge has praised young midfielder Hugh McCluggage on his development this season.

Watch more: https://t.co/k39mbIce9c pic.twitter.com/Ql1TDBSj4n

— Brisbane Lions (@brisbanelions) May 14, 2019
Hodge's interview at the Pullman Hotel was interrupted by a Brisbane team meeting, where the last player to enter has to stand out the front of the room and entertain the other players, coaches and staff and he was desperate not to be the last inside.
Despite everything he's achieved, there are still things that make the boy from Colac uncomfortable.
"I'll play footy in front of as many people as you want every week before getting up the front and telling jokes or dancing."
The views in this article are those of the author and not necessarily those of the AFL or its clubs