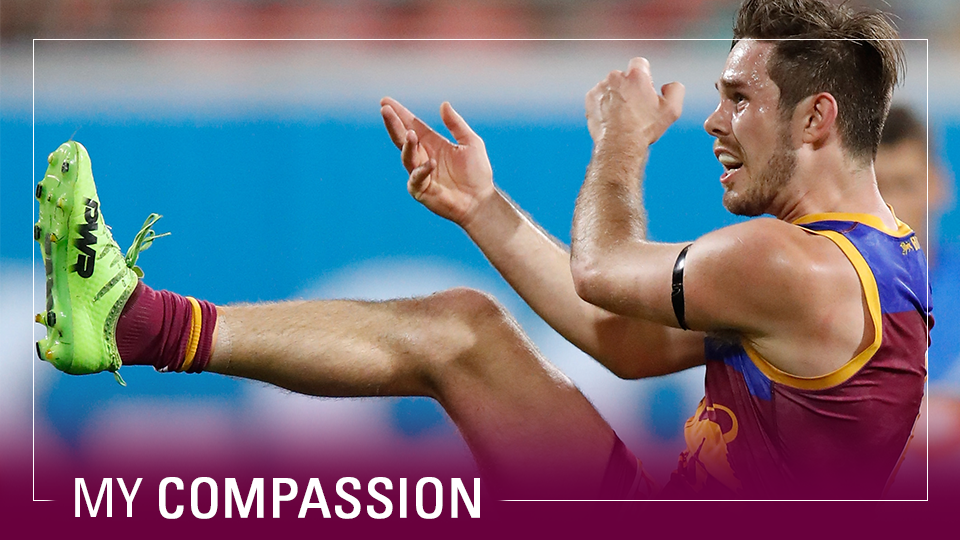 "Yeah I'm a footballer, but I think I'm more than that."
Ryan Bastinac
People have gathered at the Brisbane Relief Hub in Fortitude Valley for a community meal served each Wednesday night. It's one of the coldest nights the city has experienced this year.
A middle-aged man sits at one of the tables talking to friends, when suddenly he jumps up after recognizing one of the community volunteers.
"Come here, sit down!" He says excitedly to the young man walking past. The pair start talking, you hear "how've you been?" amongst lots of laughter and chatter.
The young volunteer is Ryan Bastinac. A Brisbane Lions player with 164 AFL games to his name. But to this man tonight, he's just his mate Ryan.
Ten Lions players attended the Relief Hub to help serve a community meal on Wednesday. It was their day off; not an AFL appearance and they were all encouraged to go by 'Basti.'
Most weeks you will find Bastinac giving back to the community on his day off. This year he has visited children in hospitals, served community meals, made sandwiches for lunch packs and worked alongside the employees at MailpaQ, a printing, packaging and warehouse service which provides meaningful employment to people with a disability.
Bastinac said his desire to be more hands-on in the community started 18 months ago when he was considering his future. 2018 had also been a challenging year for him personally.
"The biggest thing is putting things in perspective. Sometimes you get down and flat. Last year I went through a bit of a hard patch and where I was flat a lot," he told lions.com.au.
"I've always liked helping people, but I've never known what I was going to do after footy.
"I went to the hospitals last year a few times and thought this is something I want to do post-footy."
The more he started doing community work, the better and luckier he felt.
Paul Reis, the Lions' Chaplain and Fundraising Manager for the Wesley Mission Queensland advises Bastinac of opportunities within the community, including MailpaQ and Brisbane Relief Hub. They've had a friendship for the past three years.
"There's a passion within him to give back," Reis said.
"He's really been open to new experiences and been really accepting of the clients within our programs.
"He's visited MailpaQ and worked alongside the employees. He engaged with them and listened to their stories."
The people that the Brisbane Relief Hub serve community meals to come from a variety of backgrounds including domestic violence situations, drug and alcohol addictions and homelessness.
"Some of these situations can be confrontational for some people but he was brilliant," Reis said.
"He's actually become an advocate to volunteering and connecting. He's really shown some leadership in the group."
Bastinac started his career at North Melbourne as an 18-year-old in 2009, before he came to Brisbane in 2015 via a trade deal.
Over this time he's matured and now has the confidence within the group at the Lions to lead the charge for players to give back in the community.
"As you get older, you do become more of a leader," he said.
"If you do it, the younger boys might follow you.
"I think a lot of players should do this stuff outside of footy because often you don't know when you're helping someone.
"People come up to you later…and you don't even remember doing it. It obviously sticks with them."
Although he recognizes the power an AFL player has in spreading a message, often he prefers not to wear Lions branded clothing when he does his community work.
"I just want to be there as myself," he said.
"Yeah I'm a footballer, but I think I'm more than that.
"They get excited that you're a footballer but that will only last for so long. As you get further down the track, hopefully people see you more as a person."
Bastinac's ambition is to one day work in the player wellbeing space. He is inspired by the work the Wellbeing staff at the Lions do.
"Especially with all the mental health that's going on in footy and outside… I don't like seeing it, if I can help them then I will," he said.
"Through experiences I've had and friends as well, I'd like to help them…you see so many players struggling."
Bastinac said he is in a much healthier headspace than he was this time last year. His work in the community space has provided a lot of perspective.
"I had a good think over the off-season and just thought control what you can control and the rest will take care of itself," he said.
The views in this article are those of the author and not necessarily those of the AFL or its clubs