This Saturday night, Brisbane Lions Hall of Famer Michael Voss will return to the ground he reigned as Club conqueror for 15 seasons. This time, however, he will return as Port Adelaide's assistant coach.
Regarded as Queensland's greatest AFL player, Voss was known to be fearless on the field, taking unimaginable marks, and a true, inspirational leader who wore his heart on his sleeve.
He had the knack to turn a game around, giving his fans hope, making them roar every time he struck his notorious pose of flexing his bicep.
Playing 289 games in the number three guernsey, Voss achieved countless accolades.
Individually Voss was the first Brisbane player to receive the AFL's highest individual honour, the Brownlow medal, in 1996.
He also was awarded the Lions Best & Fairest five times, was an All Australian five times, inducted as a Lions life member and named the Lions team of the decade Captain.
Named Captain at just 21, Voss remains the youngest and longest serving leader in Lions history. Under his decade long leadership, Voss skippered the Lions towards four consecutive AFL Grand Finals, and their famous three-peat of premierships in 2001, 2002 and 2003.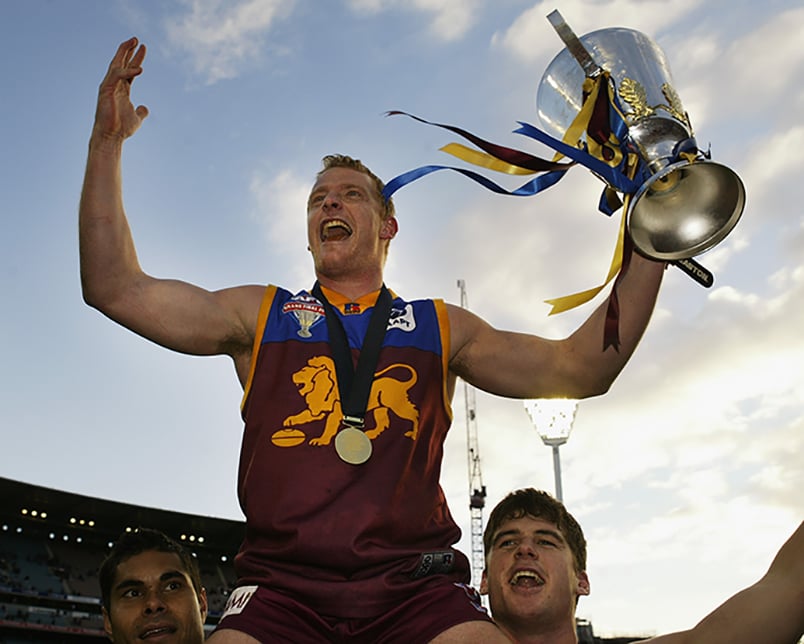 Voss was just 17 when he debuted for the Brisbane Bears, the youngest player at the time, to enter the field at a senior level for the Club. The Lions had high prospects for the young gun, with much hype surrounding his natural flare and hard-hitting contests, many knew that this was just the beginning.
Michael Voss retired at the end of 2006, finishing with a career best of 245 goals from 289 games. His last game was against St. Kilda in Round 22 at the Gabba, where he gathered 34 possessions.
But even the raw statistics, impressive as they are, don't do justice to the Voss phenomenon. Over and above his pure football capabilities, he was a leader.

On the field he had a remarkable capacity to lift his team when it was needed most, nurturing and fostering a team-first ethos of the highest order. Near enough was never good enough. And off the field he set a standard second to none for character, culture and class.
No matter what, Voss will always be considered one of the game's greatest players, which is evident from his induction into the Australian Football Hall of Fame in 2011.
The Voss legacy lives on here at the lions, respected as a great and remembered as a valiant victor.
Captain Voss holds the Premiership Cup to the crowd in 2003 at the MCG.