It could have been a frantically exciting time on the Brisbane Lion's table at the Brownlow Medal dinner last night…if only they started the vote-count at Round 9.
And, then, if by extreme measures the AFL had been able to introduce a football version of the old pub raffle rules late in the count whereby you must be present to claim your prize, it would have been perfect.
Melbourne's Angus Brayshaw would have been 'timed out' as he was not present on the night and Dayne Beams would have walked away a winner.
It's totally fictitious, of course. Beams polled 18 votes to finish equal 8th. And Brayshaw was a surprise third with 21 votes behind Hawthorn's Tom Mitchell (28) and Collingwood's Steele Sidebottom (24).
In any season, Beams' effort was outstanding. Even more so in a side that won only five games.
But the enormity of exactly what the 28-year-old midfielder achieved is only fully appreciated if it is put into context, albeit in a make-believe sense.
From Round 9, after Beams stood down as captain amid enormous personal turmoil, he polled more votes than every player in the competition except Brayshaw, who didn't even receive an invitation to the black-tie dinner.
At Round 8 Beams had one vote. Brayshaw, who was watching the count on television after he spent the first three weeks of the season in the VFL, had two votes.
Thereafter it was a fierce battle…if only it was real.
As they shared the Round 14 bye it was six votes apiece. Beams went 3-2-2 in Rounds 15-16-17 and Brayshaw matched him with 2-3-2.
Beams would slip one vote ahead in the fictitious head-to-head battle in Round 19, before Brayshaw countered with two votes in Round 20.
Neither player polled in Round 21, leaving Brayshaw with a one-vote edge.
Both polled three votes in Round 22. Can you imagine the pandemonium on the Lions' table now if the count had come down to this?
And how about Brayshaw! He was at home watching the count on TV.
You can just about hear AFL chief Gil McLachlan calling the Round 23 votes.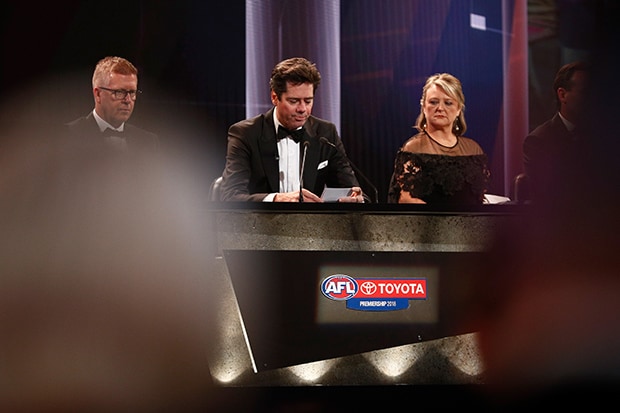 Building the tension, he'd call the other seven games first. Then it'd be the Lions against West Coast at the Gabba. One vote to Beams.
It would all come down to the last game. Melbourne against GWS. And the helmet-wearing Demons youngster would edge out the Lions ace by two.
But under the time-out rule Brayshaw is discounted on the basis that he is not in the room. And the fairytale medal is awarded to Beams.
All good theatre, of course. And then reality would hit, and we'd all realise it was just a dream.
What is not a dream is the fact that Beams polled 16 or more votes for the fourth time in his career after 19 in 2012, 16 in 2014 and 17 in 2017.
He claimed his fourth top 10 finish in the game's highest individual award after he was equal 7th in 2012, equal 9th in 2014 and 10th in 2017.
It was a wonderful achievement by a player who went through such personal angst early in the season. Amazing.
In the actual vote it was Mitchell (28), Sidebottom (24) and Brayshaw (21). Melbourne's Max Gawn (20) and Carlton's Patrick Cripps (20) shared fourth spot one vote ahead of Adelaide's Rory Laird (19) and Richmond's Dustin Martin (19), while Beams (18) and St Kilda's Jack Steven (18) shared eighth spot.
Beams polled nine times including best afield votes three times.
After two votes in his first game under replacement captain Dayne Zorko in the breakthrough win over Hawthorn at the Gabba he polled maximum votes. In Round 10 against Sydney, when he had 38 possessions, one goal and nine clearances in a hard-fought 18-point loss.
He earned three votes in the 55-point Round 15 win over Fremantle in Perth, when he had 33 possessions and 12 clearances, and three votes in the four-point QClash win at the Gold Coast in Round 22, when he had 38 possessions and a goal.
Oddly, he only received two votes for a season-high 40 possessions and a goal in the Round 16 Gabba win over Carlton, when he was voted best afield by the coaches.
Dayne Beams finished equal 8th in the 2018 #Brownlow Medal count with 18 votes.

Congratulations, Beamsy #AllForOne pic.twitter.com/bznnEhMXBp

— Brisbane Lions (@brisbanelions) September 24, 2018
Eric Hipwood twice received three votes after he kicked four goals in the first win over Hawthorn and six goals against Carlton.
Zorko polled three votes in the heart-breaking Round 20 loss to North Melbourne, when he had 35 possessions, two goals and 10 tackles.
Stef Martin earned three votes in the last-gasp Round 3 loss to Port Adelaide in Adelaide, when he had 30 disposals and 48 hit-outs.
And Cam Rayner picked up a surprise first three-vote haul in the Round 17 Launceston win over Hawthorn after he had not featured in the Coaches Votes.
Hugh McCluggage picked up his first Brownlow vote in the Round 20 loss to North after strong recognition from the coaches in Round 9 and Round 17 failed to turn into votes, and Jarrod Berry earned his first vote in the Round 15 Fremantle win.
Alex Witherden earned his first vote in the QClash at the Gabba in Round 5, and Tom Cutler his first vote in Round 16 against Carlton.
Surprisingly, Luke Hodge missed the votes in Round 14 against GWS at the Gabba despite a season-high 30 possessions and an equal game-high eight Coaches Votes.
The full Lions vote list was Beams (18), Zorko (6), Hipwood (6), Martin (5), Rayner (3), Andrews (2), Mitch Robinson (1), Witherden (1), Berry (1), Cutler (1) and McCluggage (1).