For anyone entering the Gabba the last month, speculation and curiosity had been building around the construction happening near the eastern goals.
Over the course of a month, the former Pool Deck for the cricket had been transformed into The Verandah presented by Hyundai.
It boasted a fully stocked Heineken Bar, comfy lounge chairs and front row seats for all the footy action.
The Brisbane Lions wanted to give punters a new way to attend a game. The Verandah feels more like a marquee at the races, where everyone gets a little dressed up, enjoys a catch up over some drinks and watch live sport together.
For the Lions' first home game of the season against the Melbourne Demons an invite-only guest list enjoyed the first taste of the Verandah. It did not disappoint.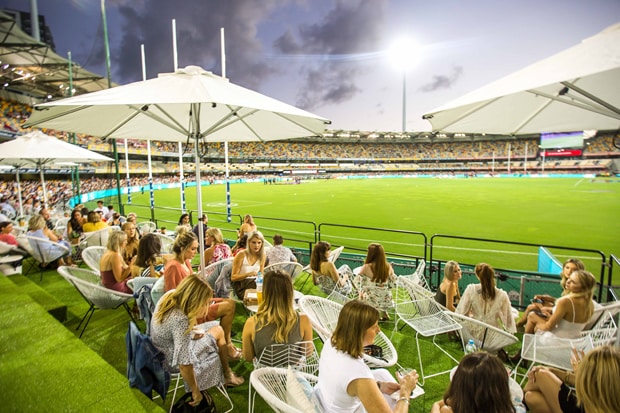 Seven News journalist Alex Hart, who was up in Queensland to cover the Commonwealth Games, made the trip up the M1 for the game.
Hart is a lifelong AFL fan.
"What a set up! What a view!" Hart said.
"I've never experienced footy like being on the Verandah before! It was my first time at the Gabba and I can't wait to be back."
Lions number one ticket holder and international cricket star Chris Lynn was also there for opening night.
"I had a fair idea of what to expect on the Verandah. I knew for them to turn the Pool Deck into a Verandah that something fun and exciting was about to happen," Lynn said.
"It covers everything from the social side of the event to the entertainment side and for the die-hard fans you can't get a better seat in the house as the goalposts are right in front!
"As you know I love going to live sports and rarely do I get to watch sport at the Gabba from the stands, so to sit back and enjoy the atmosphere in a familiar environment is always great fun."
Tickets are now on sale for all remaining home games at the Gabba.
With an ice-cold Heineken or Daiquiri in hand you can relax on a deck chair and watch the Lions go to battle.
The Verandah is the place you want to be seen when you got to the footy.
See social pictures from the Verandah's debut!