Allen Christensen says two years ago Brisbane was not a great club for indigenous players.
However, after an 18-month process culminated in their Reconciliation Action Plan, the clever half-forward now says the Lions are a "destination" club for Aboriginal and Torres Strait Island players.
"I felt like we got to indigenous round and would put out a jumper and that was it," Christensen said.
"I'd get wheeled out or someone would get wheeled out (to do a press conference) … it was alright but we could do so much more as a club."
After breaking his collarbone for the fourth time early in 2017, Christensen says he went in "heated" to see the Club's Head of Consumer, Angela King.
The 27-year-old now had extra time on his hands and wanted to use it to improve how the Lions dealt with the indigenous community.
"She copped the full brunt of that, but from that moment on we've headed in the same direction as a football club in the indigenous area," he said.
"I'm super proud of what the club's been able to do."
The RAP was launched in Brisbane on Thursday with 25 current players, including indigenous trio Christensen, Charlie Cameron, Cedric Cox and Lions AFLW's Ally Anderson. Former premiership players Darryl White, Chris Johnson and Ash McGrath were also on hand.
Players Cedric Cox, Allen Christensen , Ally Anderson and Charlie Cameron at the RAP launch.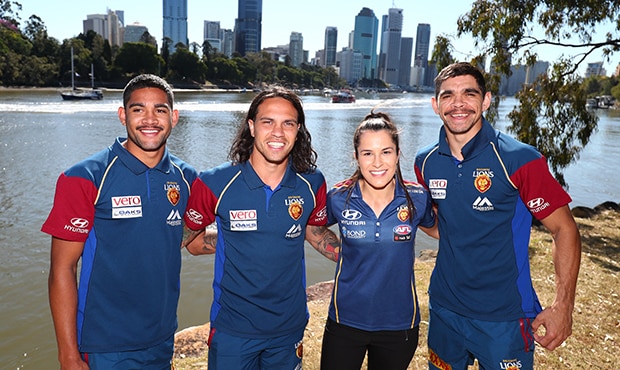 Christensen, the RAP co-chairperson, said the document would keep the Lions accountable to learning, engaging and investing with Aboriginal and Torres Strait Island communities.
He said he was now proud to spruik the Club to respective players.
"Two-and-a-half years ago I would have said it's a good place to come and play footy but in terms of off-field stuff it might not have been the greatest.
"To have this now I feel like we've got the support and framework to support a player like Cedric who's come from a remote community.
"I feel like it's a really attractive destination for an indigenous player to come here.
"As a club we've taken a huge step forward today, but the real work starts now."