Brisbane Lions Senior Coach Chris Fagan and General Manager of Football David Noble are two football heads with unrivalled experience in the industry.
During their twelve months at the Lions, spectators and staff alike noticed how they would gravitate towards each other after a game to dissect the afternoon's play.
This might be the first time the pair have worked together, but their careers have paralleled. Both have coached TAC Cup teams, both have been assistant coaches at AFL Clubs and both have been General Managers of Football.
Both are also proud Tasmanians. Fagan's family comes from Queenstown on the west coast, while Noble is from Hobart. Their friendship actually began when they were rivals playing against each other in the Tasmanian Football League in the 1980s.
Fagan played for three Clubs – the Hobart Tigers, Devonport and Sandy Bay, where he won two flags, played 263 senior games and kicked 430 career goals.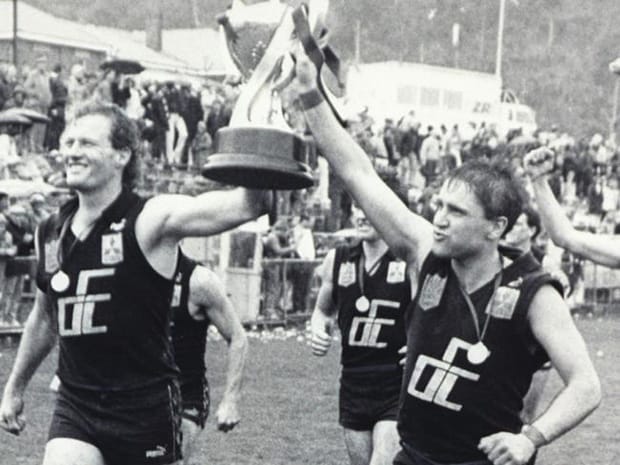 Chris Fagan, on the right, back in his playing days.
According to Noble, who played for North Hobart, Fagan was an "elusive midfielder."
Fagan says Noble, also a midfielder, was hard to miss on the field.
"You'd always notice him because he had a shock of blonde hair when he was a young fella. That's why he'd always get votes on the medal, because the umpires noticed him with his blonde hair," Fagan said.
"He was a bit younger than me and he played a good, hard brand of footy."
Growing up in Tassie, aspiring footy players all wanted to represent their patch in the state league. Only few would head to the mainland and play VFL in Victoria.
"You wanted to play in the State League in Tassie. It was quite a prestigious competition to be involved with," Fagan said.
He can remember 8 to 10,000 passionate Aussie Rules fans coming to every home and away match.
"It was very tribal. If you changed clubs, which I did a couple of times, you'd cop a bit of stick," he said.
Noble agreed: "Tribal is the right way to describe it…there were lots of great players from all of those regions in Tassie, so that passion was built really early on."

David Noble in his time at Fitzroy.
The passion on field was also something else.
"We'd all go out Saturday night. We'd all tried to kill each other on Saturday afternoon and by midnight Saturday night we were great mates. It was a great time," Fagan said.
It has been special for the pair to bring their team, the Lions, to their state this past week for a pre-season training camp in Launceston.
"I suppose in a funny sort of way you get a bit of a sense of pride that you know we are bringing the team down here that Nobes is the General Manager and I'm the Coach of," Fagan said.
"It brings back fond memories of times you've played at the ground and how it was and how it has advanced," Noble said.
It's been twelve months since the pair took the reins of the Club and brought their team down to Tassie for their first pre-season camp this time last year.
"It's probably been one of my most enjoyable years I think," Noble said.
"I think it's been really refreshing, to come into an environment like that, that was really hungry to get better and to have success."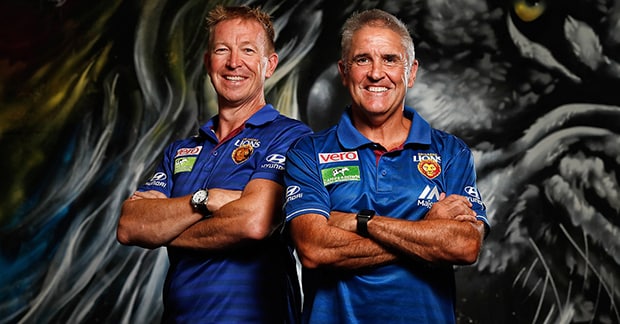 Noble and Fagan prior to the 2017 season.
For Fagan, it's the improvement he's seen in his men, that's made it all worthwhile.
"I see it in their attitude towards the team now. They own it now."
The pair both hope that the improvements seen in 2017 will only be improved upon in 2018.
"I think we feel like some good foundations have been laid," Fagan said.
"Whether Nobes and I are here or not, we just want to leave that legacy and hopefully we can be a part of real success but if we can't be, we want to make sure that the Lions are successful in the future."