Anyone in the know at the Brisbane Lions will tell you that votes for the Merrett-Murray Medal are cast after each game, sealed in an envelope, and stored in a locked bottom drawer somewhere. Or some such place.
It's a bit like Brownlow Medal night without the theatre of the security guards carrying the votes into the Crown Palladium and handing them over to AFL chief Gill McLachlan to start official proceedings.
It's a very secure process.
But if there was a little man in the locked bottom drawer at the Gabba who could add up and recount what it all meant he would tell a fantastic story of a remarkable 2018 Merrett-Murray Medal count.
If the little man was only on Twitter and only had 140 characters he'd find a way to tell us Dayne Zorko won his fourth medal by a vote from Dayne Beams, with Stefan Martin third.
But with unlimited time to make a forensic analysis of the votes and unlimited space to tell of the stories behind the 1-2-3 finish the little man – let's call him "Rev" out of respect to Roger Merrett and Kevin Murray - it'd make fascinating reading.
First, Rev would explain the voting system whereby after each game senior coach Chris Fagan and Assistant Coaches Jed Adcock, Murray Davis, Danny Daly, Dale Tapping and Ben Hudson each awarded each player a 0-4 ranking.
So, the maximum votes any one player can get in any one game is 24. And there is no limit on how many players can poll in each game.
Under the guidelines, the benchmark for votes are as follows:
4 Votes: Elite Performance – the player delivered on all team criteria and executed the team trade mark to the highest level.
3 Votes: Outstanding Performance – the player delivered on all team criteria and executed the team trade mark to a high level.
2 Votes: The player delivered on all team criteria and executed the team trademark and beating his opponent.
1 Vote: The player delivered on all team criteria and executed the team trademark, breaking even with his opponent.
Once 'Rev' had had a chance to collate the round-by-round votes and make sense of it all he'd tell us the back story of the count.
He'd tell us how, if there was a top 10 Merrett-Murray Medal leader board it would have had 15 different names on it during the count.
Significantly, it'd show that Zorko did not hit the front until Round 20 after Stefan Martin had led after a total of 12 rounds in different blocks - at Round 1, from Rounds 3-10 and from Rounds 15-17.
Charlie Cameron led after Round 2, Harris Andrews after Rounds 11-12-14 (remembering that Round 13 was a bye), and Darcy Gardiner led after Rounds 18-19.
And Dayne Beams, despite finishing second by a vote, didn't lead at any stage.
He'd tell us of three hard-luck stories. How Cameron, Andrews and Darcy Gardiner may have finished higher in the count but for injury.
He'd identify the magnificent winning hat-trick against Fremantle in Perth, Carlton at the Gabba and Hawthorn in Launceston in Rounds 15-16-17 as the highest-voting games of the season with 256, 262 and 267.
And he'd point to the exciting future underpinned by the fact that six youngsters – Alex Witherden (19), Jarrod Berry (20), Hugh McCluggage (20), Andrews (21), Darcy Gardiner (22) and Nick Robertson (23) – finished in the top 10 with Zorko, Beams, Martin and Luke Hodge.
And he'd finish up with the remarkable story of Zorko's fourth consecutive club championship, which earned him a significant place in the Club's split history.
Not only did Zorko's four-peat put him on the second line of consecutive wins behind the extraordinary five in a row Club Champions of the great Murray from 1960-64 during the Fitzroy days, but it put him one win behind the 1995-96-2000-01-03 career total of the incomparable Michael Voss of more recent times.
It was a terrific count.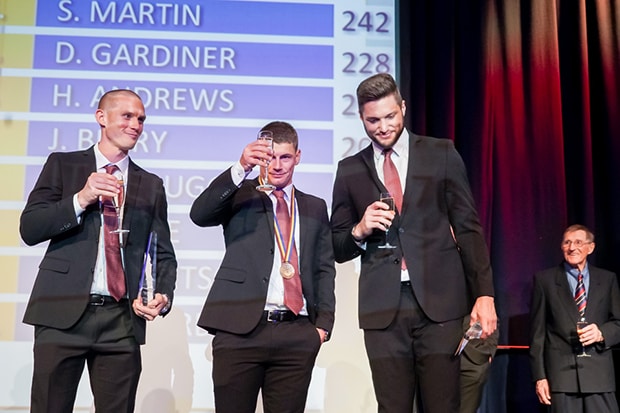 To set a benchmark, with a total of 3979 votes awarded over 22 rounds the average votes per player per game was 8.22.
There were only 12 scores of 19+ and a total of 37 scores of 16+.
Cameron, who proudly declared himself a Queenslander after being traded from Adelaide to Brisbane over the summer, started 17-18-13 to confirm just why the Club had pushed so hard to bring him home.
Martin, who had finished 1st-3rd-4th in the past three years, was also out of the blocks quickly with 18-13-19 to hit the front.
At Round 6 Martin had 76 votes. And who do you think was equal 12th with 37 votes? Zorko and Beams. The double-Dayne quinella that was coming had a lot of work to do.
At Round 9 Cameron was second with 102 votes – six behind Martin. That was it for the livewire forward. An injury in Round 11 ended his season. But if you doubled his vote tally he would have finished seventh.
Gardiner, one of the League's most improved players this year, was charging. He polled 10-18-8-11-12-20 from Rounds 5-10 to climb to second, two votes behind Martin.
And then it was Andrews, the other half of the Lions key defensive duo that looks set for such a bright future together.
The No.1 defender in the competition in the middle stages of the season and rightfully rewarded with a spot in the All Australian squad, Andrews polled 18-14-12-12- 20-16-16-22 from Rounds 5-12.
At the halfway mark it was Andrews (130) from Gardiner (127), Martin (126), Zorko (118), Cameron (102), Beams (99), Hodge (93), McCluggage and Berry (92) and Mitch Robinson (87).
At Round 12 Andrews had the biggest lead of the count – 14 votes.
But in the first few minutes of the next game in Round 14 he was ko'd by GWS' Jeremy Cameron in an incident which cost Cameron a five-week suspension and effectively torpedoed Andrews' Merrett-Murray Medal hopes.
Officially, Andrews played only 13 minutes of the GWS game, and part of that was spent on the stretcher as the medical staff carefully took him off the ground. But still, he polled one vote.
Clearly one judge thought his extraordinary courage, going back with the flight of the ball, was worth some sort of recognition.
Andrews' loss was Martin's gain in the Merrett-Murray Medal count. Having been 11 votes clear at Round 7 and never outside the top three, the big ruckman polled 18-12-13 from Round 15 to find himself back at the top of the leader board at Round 17.
But Gardiner, eighth and equal 10th in the Merrett-Murray Medal in the past two years, was growing in confidence with every week. He went 17-14-19-18 from Round 16 to hit the front.
At Round 19 it was Gardiner (220), Zorko (207), Martin (201) and Beams (195).
The resilient Zorko had polled 22-18-18 in Rounds 7-8-9 to drag himself back into contention, and after formally assuming the captaincy in Round 10 went 11-14-17-14-12-12 from Round 11.
Beams, too, flourished through the mid-season. He polled 13 votes in his last game as skipper against Hawthorn at the Gabba, and followed up with 17-20 in Rounds 10-11. And from Round 14 he added 18-22-18.
In the three-point loss to North Melbourne in Round 20 at the Gabba, Zorko was best afield with 35 possessions, two goals and 10 tackles for 20 votes.
The 2015-16-17 champion had hit the front. It was Zorko (227) by one from Gardiner (226), Martin (209 and Beams (208).
Andrews, in his second game back, had polled 15 against North to get to 170 but he'd given the leaders too much start. He was locked in a battle with Berry (177) and McCluggage (177) for fifth after the best mates from Ballarat had polled 15 and 16 respectively against North.
In Round 21, when the Lions jumped Collingwood early at Etihad before going down by 31 points, Andrews (14) topped the votes from Beams (13) and Martin (11).
With two rounds to play it was Zorko (232) from Gardiner (228), Beams (221) and Martin (219), but Gardiner was done. A shoulder problem early against the Pies ended his season.
Round 22 was the Q-Clash against the Gold Coast at Metricon. The Lions got home by four points after late goals from Christensen, Beams and Taylor.
Beams, with 38 possessions and a goal plus his third Marcus Ashcroft Medal, topped the Merrett-Murray Medal votes with 18, while Andrews picked up 15 and Martin, who out-pointed well-performed Suns ruckman Jarrod Witts, earned 14.
Christensen, relishing a move to defence, and Rich earned 13 apiece, but all eyes were on the Zorko ranking after his second tangle of the season with Suns tagger Touk Miller.
Miller polled two votes from one coach in the AFL Coach's Player of the Year award – we presume it was the Suns' Stuart Dew – but Zorko picked up 12 Merrett-Murray Medal votes.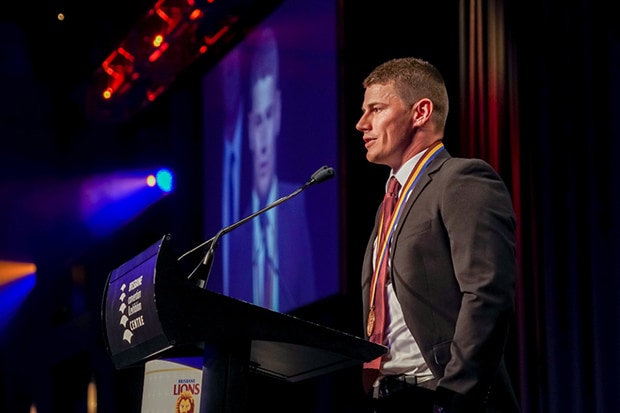 So, going into the last game against West Coast at the Gabba, only three players could win. It was Zorko (244) from Beams (239) and Martin (233).
The team vote of 150 was fourth-lowest as the Lions fell well behind after a goalless second quarter but fought on bravely and went down by 26 points.
Zac Bailey topped the votes with 14 after a career-best 20 disposals and a career-best two goals in his 12th game. He also picked up one vote in the AFLCA award, while fast-finishing Christensen, who would ultimately finish 11th, earned 12 Merrett-Murray Medal votes.
Martin had 19 disposals, a game-high 37 hit-outs, five tackles and eight clearances. Nine votes. Season total of 242. Third place was a lock but he could not win.
Beams had a game-high 32 disposals and two goals and was the only other Lions player to feature in the AFLCA votes. He received five.
In the Merrett-Murray Medal he received 10 votes. Season total 249. So Zorko needed five to tie and six to win.
Closely checked by Eagles tagger Mark Hutchings, the skipper had 16 disposals and nine tackles. Six votes. The winner by one. A fourth Merrett-Murray Medal. And a place prominent in the Club history.
Only Voss, a five-time Brisbane Club Champion, has more wins in the Brisbane era, as Zorko finds himself one ahead of champions Simon Black and Jonathan Brown, each with three.
And among 1156 Fitzroy players only five players won the Club Champion title more often – Brownlow Medallists Murray (9) and Allan Ruthven (5), plus John Murphy (5), Garry Wilson (5) and Paul Roos (5).
What else did Rev discover in his forensic analysis of the votes?
Beams was voted the Lions' best player five times, ahead of Andrews (4), Gardiner and Zorko (3), Jarrod Berry and Martin (2), Cameron, Allen Christensen, Hugh McCluggage, Luke Hodge, Cam Rayner, Josh Walker and Zac Bailey (1). This includes ties.
Beams and Andrews polled in the best three players 11 times, ahead of Berry (8), Martin and Zorko (7), Gardiner (6), McCluggage and Witherden (4), Cameron, and Christensen (3), Rayner, Mitch Robinson, Oscar McInerney, Dan McStay, Daniel Rich, and Nick Robertson (2), Hodge, Bailey, Walker, Eric Hipwood and Lewis Taylor (1).
Zorko and Andrews polled 12 or more votes 11 times, ahead of Beams (10), Martin (9), Gardiner (8), Berry and Hodge (7), McCluggage and Witherden (6).
On a votes-per-game basis, it was unbelievably close. Beams (11.9) just got the nod ahead of Andrews (11.6), Zorko and Gardiner (11.4) and Martin (11.0), with Berry (9.8), Hodge (9.7), Cameron (9.3), McCluggage (9.1) and Robinson (8.3) closing out the top 10.
And the best individual performances of the season?
22 votes – Dayne Zorko – Round 7 v Collingwood (Gabba). In the shoot-out against the Pies, when the brave Lions fell seven points short, he had 34 possessions (16 contested), four goals and 10 tackles to be best afield in a losing side. He also received maximum votes in the AFLCA award.
22 votes – Harris Andrews - Round 12 v Essendon (Gabba). He had a career-best 24 possessions, an equal career-best 12 marks and 20 one-percenters to be best afield in the 22-point loss. He earned nine AFLCA votes.
22 votes – Dayne Beams – Round 16 v Carlton (Gabba). In the middle leg of the winning hat-trick he had 40 possessions and a goal, including 20 contested possessions, in the biggest win of the Fagan era. Ten AFLCA votes.
21 votes – Luke Hodge – Round 14 v GWS (Gabba). In his 317th game and his first as a 34-year-old the champion put aside the early devastating injury to Harris Andrews to turn back the club with 30 possessions and his first goal for the Lions. And a 'hanger' which was a contender for mark of the week.
20 votes – Harris Andrews – Round 9 v Hawthorn (Gabba). In the Lions' first win of the season he did a superb job in defence in a game equally memorable for the breakout performance of Hugh McCluggage, who had 27 possessions (16 contested).
20 votes – Darcy Gardiner – Round 10 v Sydney (Gabba). He did a superb job n Buddy Franklin, holding the Swans champion to just one goal in Sydney's 22-point win.
20 votes – Dayne Beams – Round 11 v North (Etihad). A 54-point loss he became only the third player in Brisbane history behind Mark Williams (1987) and Jason Akermanis (2005) to post a 30/5 double. He had 32 possessions and five goals. And he missed a late long shot for a sixth major.
20 votes – Dayne Zorko – Round 20 v North Melbourne (Gabba). He was best afield in a losing side with 35 possessions, two goals and 10 tackles.
19 votes – Stefan Martin – Round 3 v Port Adelaide (Adelaide Oval) – Had a season-high 30 possessions and 49 hit-outs in a five-point loss in Adelaide.
19 votes – Eric Hipwood – Round 16 v Carlton (Gabba). Kicked a career-best six goals in a career-best performance in the biggest win of his career. And he had two goals assists.
19 votes – Darcy Gardiner – Round 18 v Adelaide (Gabba). Stepping up superbly in the absence of the injured Andrews, he had 21 possessions and 11 marks and was near-impassable against the 2017 grand finalists, who were still in the finals picture at the time,

19 votes – Dayne Beams – Round 19 v Geelong (Kardinia Park). Had his seventh 30-possession game of the season with 37 and was also team high in clearances, contested possessions and goal assists.
Most Team Votes

266 – Round 17 v Hawthorn (Launceston). No less than 15 players polled double-figure votes in a magnificent performance in which the Lions kicked 10 of the last 12 goals to come from 17 points down early in the third quarter to win by 33. Josh Walker, making a new home for himself in defence, earned a season-high 18 votes to share the best player ranking with Dayne Beams (18). Nick Robertson (17), Cam Rayner (16) and Rhys Mathieson (11) also posted season highs, while Dan Rich (16), and Mitch Robinson (14) earned equal season highs. Others to poll prominently included Hugh McCluggage (16), Darcy Gardiner (14), Eric Hipwood (14), Alex Witherden (14), Dayne Zorko (14), Jarrod Berry (13), Stefan Martin (13) and Ryan Lester (12).
Next best in team performance rankings were the 65-point Round 16 Gabba win over Carlton, when the total vote was 262, and the Round 15 win over Fremantle in Perth that earned a total of 256 votes.
Odd Spot?
The lowest team score was 112 votes in the 93-point Round 4 loss to Richmond at the MCG. Cam Rayner, with a season-high 22 disposals and a goal in just his fourth game and his first at headquarters, was the only player in double-figures in the Merrett-Murray Medal vote-count. He had 15.