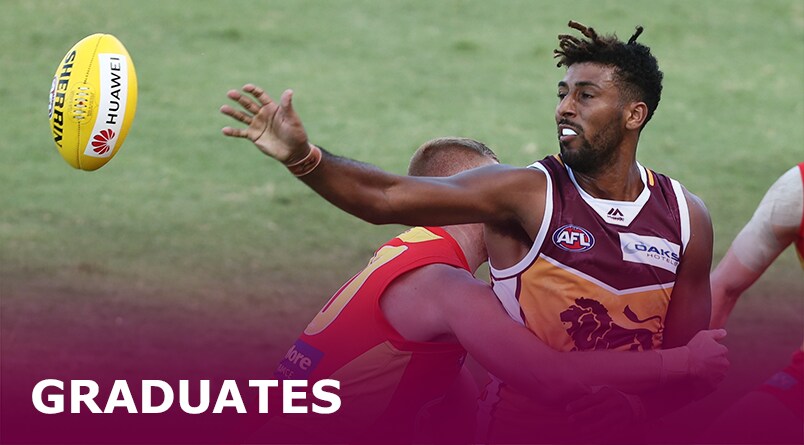 CURRENT ACADMEY GRADUATES:
Archie Smith
Archie Smith was poached from a promising basketball career to play Aussie Rules at the mature age of 17. Lions recruits spotted him at the Under 18 State Basketball Classics in 2012 and were impressed by his athleticism.
When he came to the Academy his ability with a different kind of ball game was obvious and he was quickly placed in the ruck position.
In 2013 he was drafted to the Lions with Pick No. 69 at the 2013 AFL Rookie Draft.
In his third season at the Club, he made his AFL debut in Round 19, 2016 against Port Adelaide.
Harris Andrews
Harris Andrews grew up in Brisbane, played his junior football for the Aspley Hornets, joined the Lions Academy and is now the Club's Vice-Captain.
He impressed as a youngster with his endurance, especially at 201cm. He was also competitive and versatile on field, having played most of his junior footy in the forward line.
He was selected by the Lions with Pick No. 61 at the 2014 AFL Draft.
Andrews is now one of the most respected defenders in the competition and his fast approaching 100 AFL games.
Eric Hipwood
Eric Hipwood has been touted as one of the most exciting forwards of the AFL competition. He started his footballing journey on the Sunshine Coast.
As a teenager, he and his family would commute from the Coast to Brisbane for training sessions at the Lions Academy.
Hipwood is tall at 204cm and incredibly fast and agile for his size.
He made his AFL debut in Round 13, 2016 and kicked a goal. In his second season he booted 30 goals and was named Rookie of the Year at the Lions' Club Champion event.
Jacob Allison
Jacob Allison grew up playing his junior footy in Brisbane for the Aspley Hornets. He is athletic and fast, standing tall at 195cm.
He was named an All Australian in 2015 as an under-ager after a promising National Championships Carnival for Queensland.
In 2016 the Lions selected him with Pick No. 55 at the draft.
The following year, he made his debut against West Coast in Round 19 in Perth.
Connor Ballenden
Connor Ballenden joined the Lions Academy as a 12-year-old and in 2017 at the AFL combine had the most accurate kick in the league. In fact, he is the only player to kick a perfect score.
He played in the Lions' NEAFL team's 2017 premiership before he was drafted.
He is respected for his size, marketing ability and prowess around the goal.
The Lions selected Ballenden with Pick No. 43 at the 2017 NAB AFL Draft. He is still to make his debut.
Jack Payne
Jack Payne was a promising discus thrower and rugby union player before he pursued Aussie Rules on the Sunshine Coast.
He was a great fit for footy, being fast, strong and agile with an imposing frame.
The big-bodied back played in the Lions NEAFL premiership side, while still a member of the Lions
Academy.
The Lions selected him with Pick No. 54 at the 2017 NAB AFL Draft.
Tom Fullarton
Tom Fullarton's association relationship with the Brisbane Lions came full circle in 2018 when the Club selected him as a Category B Rookie from the NBL club, the Brisbane Bullets.
Fullarton had been with the Lions Academy as a teenager but decided to pursue a basketball career at 15 years old.
As a teenager he was respected for his clean hands, athleticism and strong marking skills, while standing at 200cm.
Connor McFadyen
Connor McFadyen was a member of the Lions Academy since he was 11 years old and was selected with Pick No. 42 at the 2018 AFL Draft by the Lions.
He is a strong ball winner and can play in the midfield or forward pocket. As an 18-year-old he was named an All Australian after an outstanding campaign for the Allies at the Under 18 National Championships.
Sophie Conway
Sophie Conway was equally talented at hockey and Aussie Rules, but decided to follow her brother Isaac in a career of footy.
Isaac was also a member of the Lions Academy, which made Conway want to join in the fun. She is one of the original female members.
Conway tore the competition apart in her first season in 2018 and received a Rising Star nomination.
In 2019 she did not play any AFLW due to an ACL injury.
Gabby Collingwood
Gabby Collingwood had an incredible rise through the ranks in her first AFLW season in 2018. Originally on the Club's rookie list she was elevated to the senior list the week of Round 1 and went on to be named in that game.
Collingwood is known for her football smarts, slinky skills and is often found on the wing or midfield.
Nat Grider
Natalie Grider was selected with the Pick No. 22 at the 2018 AFLW Draft. The defender started her footy career with the Jindalee Jags before going on to Captain Queensland at the Under 18 National
She played two games for the Lions in the 2019 AFLW season.
Jesse Wardlaw
Jesse Wardlaw is an incredible example of an Academy success story. She is from New Zealand, where Rugby Union is part of everyone's blood.
Since she arrived at the Lions Academy Wardlaw has shown great potential.
In her first season in 2019 she played all seven games for the Lions and looked mature beyond her years in the ruck and forward line.
Jade Ellenger
Jade Ellenger had an unforgettable debut in Round 6, 2019 against Carlton, kicking a goal with her first touch.
She played two AFLW games in her first season and was respected for her aggression, enthusiasm and pace around the ball.
Lily Postlethwaite
Lily Postlethwaite, a Moreton Bay junior, captained Queensland team at the 2019 NAB Under 18 AFL Women's National Championships in June. The same year, she was also named All-Australian, for the second time in her young career.
Postlethwaite played for Marcoochydore in the QAFLW competition and in a further show of her talent, she was awarded the 2019 QAFLW Rising Star.
Belle Dawes
Belle Dawes is a dynamic inside midfielder, who played one game for the Lions undefeated QW Winter Series team in 2019.
The 18-year-old played for Queensland at the 2019 NAB Under 18 AFL Women's National Championships in June and is a NAB AFL Women's Academy graduate.
In the QAFLW Dawes played for Maroochydore, who finished fourth in 2019.
Tahlia Hickie
Tahlia Hickie who stands at 182cm, played as a ruck or key position player for premiers Coorparoo in the QAFLW. She played two games in the ruck for the Lions undefeated QW Winter Series team.
At the recent combine Hickie finished equal fifth in the two-kilometre time trial and fourth in the standing vertical jump.
She can take a strong mark; has a powerful long right foot kick and is quick and agile for her size.
Former Academy players on other clubs' lists:
Adelaide – Elliott Himmelberg
Geelong – Wylie Buzza
Melbourne – Corey Wagner
North Melbourne – Declan Watson
Richmond – Mabior Chol
Gold Coast – Jacqui Yorston
St. Kilda - Tarni White
Former AFL players who came through the Academy:
Lions - Jordon Bourke, Isaac Conway, Liam Dawson, Jono Freeman, Matt Hammelman, Reuben William, Ben Keays