Brisbane Lion Blake Grewar is certainly no stranger to the odd NEAFL milestone.
Since making his debut in 2012 as a crafty wing-forward for Redland, Grewar's career already boasts two selections in the NEAFL Team of the Year, two top-five finishes in the league MVP votes and a club best-and-fairest win.
This week, he adds another, and in doing so, will own his share of NEAFL history.
When the Brisbane Lions take on the GIANTS on Saturday, he'll notch a milestone ton of NEAFL matches, becoming the first AFL-listed player in history to achieve the feat.
Grewar has featured 17 times this season for the Lions after being nominated as a Queensland zone selection in last year's rookie draft; reaching the 100-game barrier in conjunction with the 82 games in five seasons as a Bomber.
While the milestone is something Grewar is undoubtedly proud of, stating, "it's a good achievement. Not many players play 100 games in any competition, so I'm quite privileged," it's no secret he has bigger fish to fry.
At 23, Grewar's journey to football's top flight came to him later than for most of his teammates. At times, it seemed like he'd never even get there.
He entered 2016 on the verge of his mid-20s, deciding to give the AFL dream one last roll of the dice.
"When I was 19, I thought that was probably my best opportunity but it sort of dipped away a few years after that."
"(2016) was my last year where, I was 23, I had given everything and if it didn't happen, I would be happy. I gave it a good effort and it is what it is."
That season was ultimately the tipping point.
With AFL clubs interested, Grewar went on to produce perhaps his best campaign yet, averaging an even 30 disposals for Redland, while adding NEAFL Team of the Year honours, a Dowling Medal and a fifth-place finish in the MVP vote.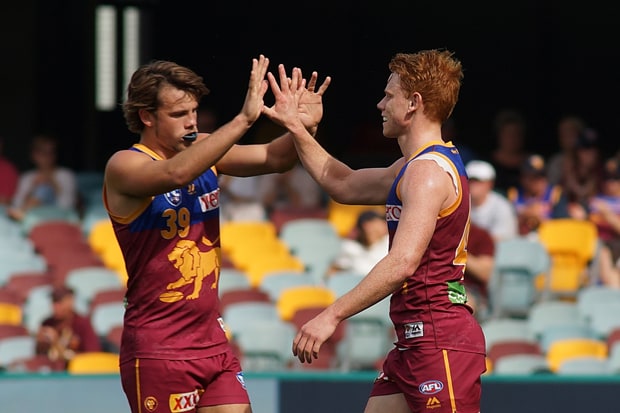 On the back of his strong season, Brisbane was the team to finally offer the opportunity Grewar had been working so hard for, selecting the midfielder in last season's rookie draft.
The Lions, nor anyone at Redland, had not told Grewar he was going to be drafted. Instead, a quick search on the AFL website to see the Lions had committed a pick for him, changed his life forever.
"It was a bit surreal – not being told by anyone and then just reading it online. It was a special moment."
"It (being already nominated) took a heap of pressure off. I could sit back and enjoy it instead of sweating on the different picks."
In being drafted, Grewar became the third consecutive reigning Redland best-and-fairest winner to be selected, joining Collingwood's Josh Smith and Adelaide's Paul Hunter.
Smith and Hunter's foray into the AFL fraternity started a year earlier than their former teammate, offering Grewar the perfect insight into what life is like as an elite footballer.
"I still keep in contact with those boys. Keeping in contact with them kept the desire alive.
"They were some the first people to say, 'well done'. We might call each other once a month and talk about what's going on.
"If I ever had any questions, I'd call Paul or Josh and see what they did in their past experiences. They've definitely been helpful."
Long before the AFL beckoned, Grewar began emerging through the ranks as a Redland junior. His talents surfaced early, spending most of the 2011 season with the Bombers reserve team.
The Bombers beat Southport in the Grand Final, although Grewar was omitted for the big game.
"It was heartbreaking to be honest. We obviously won but it was a bit hard to watch," he said.
"I came back in the pre-season and I did put my head down because I knew I probably wanted to be playing senior footy."
His misfortune soon turned to opportunity, making his senior NEAFL debut in Round 1 of the following season – an eight-disposal effort in a losing team.
It was until 2014 though, when Grewar started to make a mark on the competition. Despite a delayed preseason, it was the beckoning of a breakout season for the midfielder.
Having spent the early months of 2014 travelling across Europe, it took a while for Grewar to return to full fitness.
"I didn't think I would make the Round 1 team and it still took me a few weeks to get going," he said.
It wasn't ideal preparation, Grewar admits the time spent off left him refreshed for the run home.
"Maybe that's what I needed – a bit of a break. It was a slow start, but I really built upon that."
It wasn't long thereafter when Grewar became the poster boy for the league.
Distinct on the field with his noticeable ginger hair and temperament around the contest, if you knew about the NEAFL, you knew about Blake Grewar.
Much of his time this season at the Lions has been spent as a small forward – a far cry from his midfield heroics at Redland.
The move came as a result of a pre-season chat with Lions head coach Chris Fagan.
"He (Fagan) said he'd like to see me play as a small forward because we have a strong midfield and if I were to push for an opportunity, it'd be best as a small forward.
"It's something I've never really done before. It did take me a while to get my head around.
"At first it took me some time to get my head around it. Now, I'm enjoying it."
An AFL debut still beckons for Grewar, who remains adamant the opportunity may come sooner than later.
But while that dream at the Lions – his childhood club – ferments, Grewar still takes time to reflect on his five seasons at his old club.
"Thinking back now, playing for Redland definitely meant something, more than just playing for any other club," he said.
"It's the only club I've ever played for, so it did mean more than just a jumper as well."