When Sam Virgo answered the phone, she'd been attempting to crack a Rubik's cube.
The Brisbane Lions small defender is virtually housebound after tearing the ACL in her right knee in the dying stages of Yeronga South Brisbane's premiership win over Coorparoo in the QWAFL Grand Final in late August, and describes herself as "the sort of person who needs something to do".
"I've been trying to work out how to do this Rubik's cube, (and) I've been learning Auslan [sign language], as well," Virgo said.
"I quit my job [managing several cafes in Brisbane] just three weeks before I did my knee, so it actually turned out fairly well in terms of timing.
"After being in hospitality for 12 years, I thought it was time to try something new, so I've just started my own coaching business. It's exciting and a bit scary, but I love coaching, it's probably my favourite part of footy."
Virgo had an excellent first AFLW season, often playing as a loose defender and impressing with her ability to intercept opposition forward-50 entries and then kick-start the Lions' rebound.
She was named on the interchange bench of the All-Australian team, finished fourth in the Lions' best and fairest, and also won the 'All for One' award as the player who best demonstrates the club's values.
The 30-year-old has been incredibly durable over her football career at state level, with this ACL tear – which will rule her out of the 2018 AFLW season – her first major injury.
With Yeronga atoning for last year's Grand Final defeat, Virgo finished the match with a prized premiership medal, but a badly injured knee.
"It was a sweet and sour day. I struggled to enjoy the win for about a week afterwards, because it was linked with something so devastating," she said.
"I put my premiership medal right next to my bed, and it was the first thing I'd see when I woke up in the morning, to remind me of what we'd actually achieved."
Virgo is passionate about coaching, especially filling gaps in the knowledge of girls who haven't necessarily had access to quality coaching or have crossed to footy from other sports in their late teens.
"It's really cool to be able to build your own programs from the knowledge I've acquired over time. Girls do learn differently to boys, so it's a bit of a challenge in creating suitable drills.
"I'm really interested in injury prevention and teaching girls how to protect themselves when going into contests.
"I was watching an under-15 club side recently, and they were just barging in like bulls, heads down, into contests. That's where the teaching needs to start. We need to teach them there's better and safer ways to get the ball."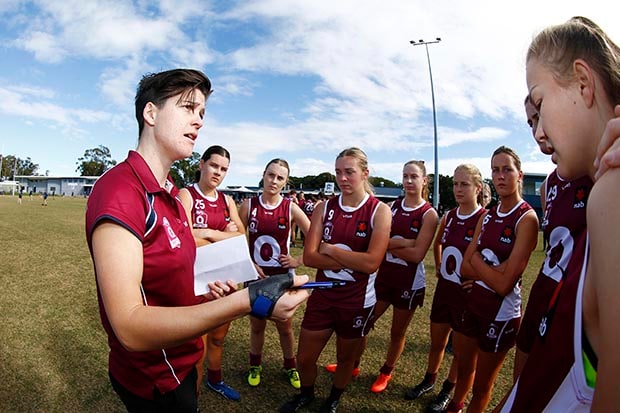 The passion in Virgo's voice is evident when she speaks about coaching. Her mum, Annette, returned to university to study teaching after being a stay-at-home mum to four girls (Sam is the oldest). While Virgo is not going to follow her path, the love of teaching has clearly carried to the next generation.
"I really enjoy reading a group and working out the best way to communicate with them. There are different types of learners, like visual and oral, and girls also often need to know why they are completing a certain drill, rather than just how to do it."
Lions AFLW midfield coach David Lake is someone Virgo tries to emulate.
"I really like the way he communicates. He has a knack of connecting with people and finding the best way to engage with them," she said.
"He's definitely a mentor for me. I enjoy the way he speaks to and sees people."
Virgo is due to undergo a traditional ACL reconstruction in coming weeks, and is spending up to three hours a day doing "pre-hab" in preparation.
"I've spent a lot of time over the years on exercises for injury prevention, and it's comforting in a way that this particular incident could not have been avoided.
"It was a perfect storm of a knock to the knee while I was changing direction and landing awkwardly. My meniscus is a bit of a mess, as well.
"Pre-hab makes the recovery time after surgery shorter, so you get the full range of movement [straightening and bending] back faster, and there's less wastage of muscles around the knee.
"I've always been a bit of a teacher's pet doing what I'm told, so I've been following my plan to the absolute letter [which includes stretches and swimming]."
Virgo will be team manager for the Lions next season, and is looking forward to the challenge of a different role.
"The Lions have wrapped their arms around me. It's a great opportunity to get a different string under my bow, it's more administrative than the nuts and bolts of coaching.
"I may have a role on the interchange bench on match day, but we haven't locked that in yet.
"I'll also be able to help out some of the younger girls with extra skill work, which will be good."