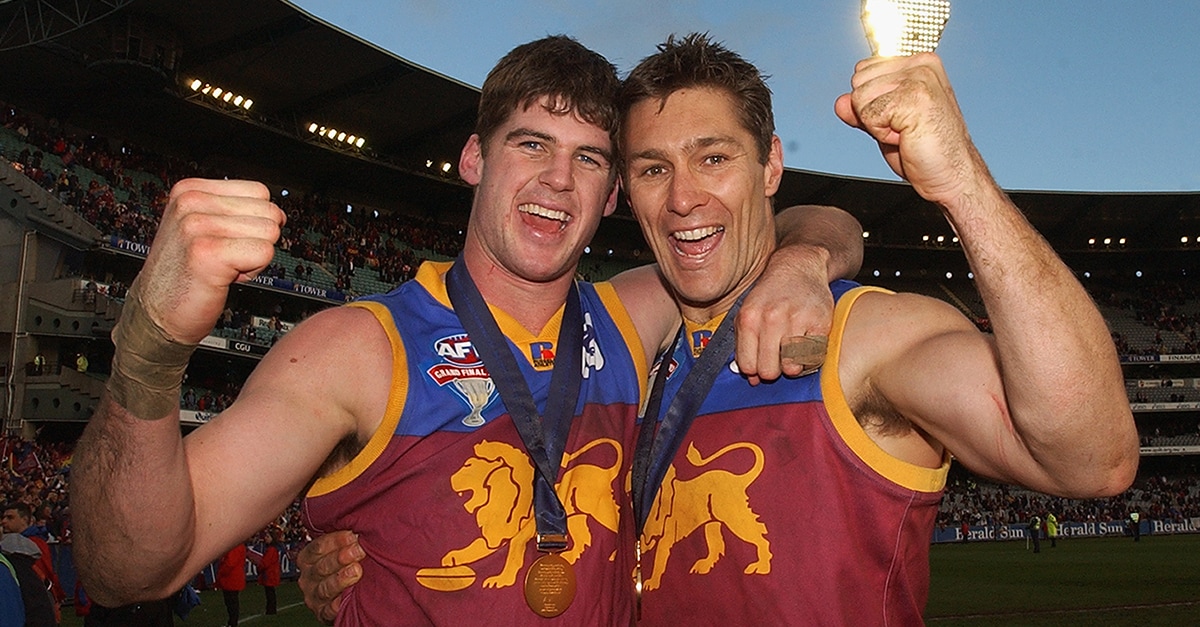 Iconic Brisbane Lions forwards Jonathan Brown and Alastair Lynch celebrated their first premiership together in 2001. Lynch was a veteran at 33 years of age and a former Fitzroy and Bears legend. While Brown was the young cub coming through, only 19 years old and in just his second season of AFL.
But unbeknownst to most Lions fans, the duo's relationship had been forged years before in the Fitzroy sheds of all places.
"I used to get this man's autograph and had his number on my back when he played at Fitzroy, the number 11," Brown revealed on Browny's Premiership Reunion.
Lynch remembered the young kid when Brown was selected by the Lions in the 1999 AFL Draft under the Father-Son Rule.
"We were pretty happy to have Browny come into the Club but it was demoralising that this little Lego-headed kid used to come in as a six-year-old and get your autograph," Lynch said.
Lynch or "Grandad" as Brown called him, played in four grand finals with his "lego-headed" accomplice and they returned to Brisbane with three flags.
In their 2002 Grand Final against Collingwood, Lynch booted the goal in the final term that put the Lions in front.
"I'm mentally fragile. I'm telling myself 'don't miss this, for God's sake don't miss it,'" Lynch said.
It was his fourth for the afternoon, an impressive feat considering the wet, heavy conditions at the MCG.
Lynch can still remember the feeling once the siren sounded.
"It was just exhaustion and relief," he said.
"Exhausting, tiring, relief more than absolute joy."
Moments and tough wins like this created an unbreakable bond between Lynch, Brown and the rest of their teammates.
Each year around Grand Final Week the team try to catch up.
"You have an enormous amount of respect for what that person helped you achieve and be a part of. It's a great bond that I'm sure that will last forever," Lynch said.
The views in this article are those of the author and not necessarily those of the AFL or its clubs