Saturday's Grand Final may signal the end of the season for most AFL fans, but for list managers and recruiters across the country, their work is only just heating up. November's NAB AFL Draft is just around the corner.
Two days after either Richmond or Adelaide are crowned 2017 Premiers, the nation's most promising 85 players will gather for the AFL Combine at Etihad Stadium.
For Brisbane fans unfamiliar with the tradition of Combine, the Lions' National Recruiting Manager Stephen Conole broke it down.
The Combine runs in Melbourne from October 3rd- 6th with athletes undergoing a series of fitness and medical assessments in front of recruiters, list managers and Senior Coaches from all 18 AFL clubs.
"In rugby, you pick them and you sign them up," Conole says.
"For us, it's very different. Most of the boys have been around the system for three or four years."
Conole says most of the work has been done well before October's Combine. The athletes have been watched from as early as the NAB AFL Under 16 Championships.
Most of the group have attended a series of camps in Australian and overseas and played in national championships, where their results and performances were monitored.
The four day Combine schedule is their final chance to show why they are worthy of an AFL contract.
"The climax of a two, three, four-year program is ending now," Conole says.
"For all the competitive kids, they love to challenge themselves against the better boys."
From the recruiter's perspective, the Combine is less about the player's results and more about observing a young man in this environment.
"All of them have different emotions," Conole says.
With his team of recruiters, Conole will observe the way they behave in this unique situation "how do they mix, how do they handle themselves?"
For most there, Year 12 exams are not far away. The 85 young men have a lot on their plate. So Conole and his team look at an athlete's resilience, as they come to the end of an unrelenting journey.
One of the more important aspects of the Combine is the potential draftee's conversation with the Club's Senior Coach, General Manager of Football and other staff.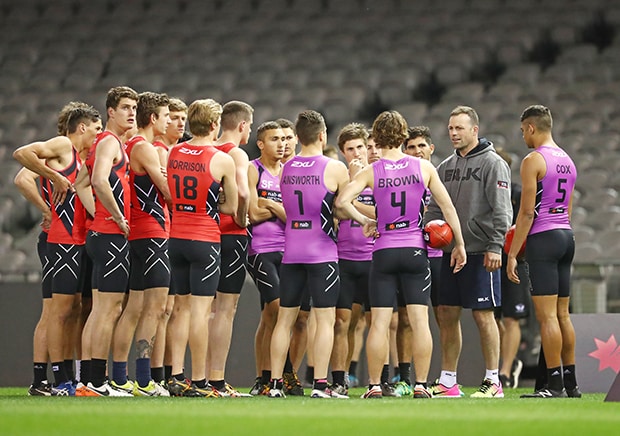 Jarrod Berry, who the Lions chose at pick 17 in last year's draft, had been in Brisbane's sights in the lead-up to the Combine that year.
But at his interview with Club staff, Berry gained a "greater respect." The Lions were then determined to draft him to Brisbane.
Once the Combine wraps up, each Club has until Friday November 24th, the 2017 NAB AFL Draft to devise their strategy on who to pick.
That's not before they ring everyone from the players' local footy coach, to teachers and employers, just to make sure there are "no surprises" at the last minute.
Click here for all the 2017 AFL Draft and Trade dates.