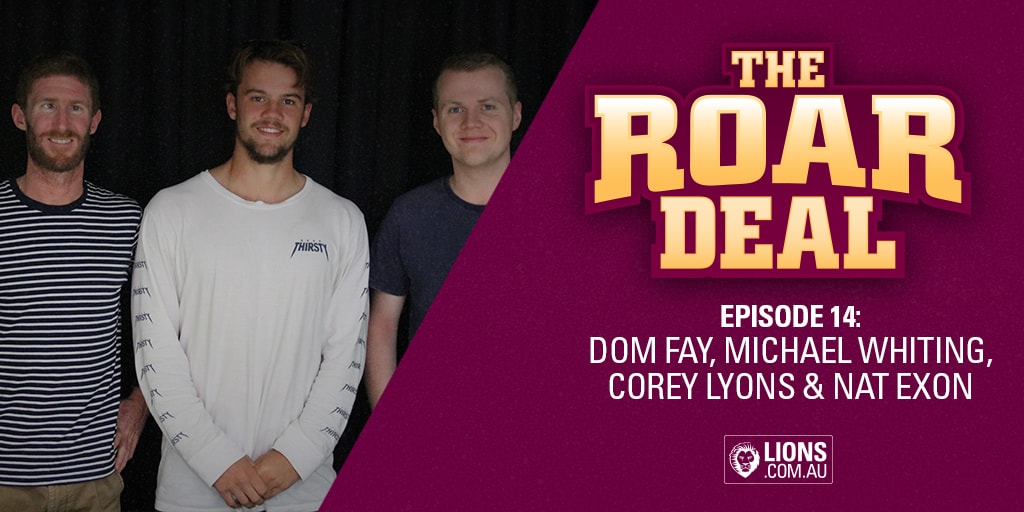 Fresh off his strong performance in the Brisbane Lions' AFLX success on the weekend, emerging player Corey Lyons joined Michael Whiting and Dom Fay on this week's episode of The Roar Deal.
Lyons, who was drafted to the Lions at the end of 2016, was impressive in his debut season for the Club and went close to making his Senior debut on a couple of occasions.
The Sandringham Dragons junior enjoyed the AFLX tournament and was happy to go through it undefeated.
"It was something different. We had a lot of fun with it. We wanted to see what we could do and at the end of the day we walked away with the trophy which was exciting for an emerging group," Lyons said.
"Bundy [Allen Christensen], our Captain, said to us before the first game, 'we want to try and win every game we play as a Club. Every time you pull on that jumper you are representing the Club and that means you go out there with an expectation to win'."
Following Chris Fagan's thoughts on potential changes to AFLX going forward, Lyons also offered his ideas on improvements that could be made to the format.
"As a player, it's pretty exciting because you are always in the game and it's over so quickly. I do think there needs to be a tinker of some sort to get a little bit more fan engagement," Lyons said.
Possessing one of the best mullets seen on the sporting field in recent times, speedy AFLW midfielder Nat Exon also joined The Roar Deal to discuss the Lions' victory over her previous team Carlton on the weekend.
"I know no one was very happy with how we played against the Bulldogs. All week we were very focused on trying to redeem ourselves and show how we can really play," Exon said.
"[After the win over Carlton] Craig was really keen to stress not to celebrate too much - enjoy the win but keep that focus that we had through to next week and keep building."
Naturally, Whiting and Fay had to ask Exon about her hairstyle.
"It was back before Christmas Kate McCarthy said, 'can I give you a really bad haircut?'. And I said 'yeah, why not!'" Exon said.
"I'm doing the world's greatest shave in a couple of weeks so to be able to promote that through the mullet has been an unexpected benefit."
How's the mullet game from @lionsaflw's Nat Exon?!

Absolutely brilliant! 👏#AFLWBluesLions pic.twitter.com/OyU1Y8nVcI

— AFL on 7 (@7AFL) February 17, 2018
The views in this article are those of the author and not necessarily those of the AFL or its clubs