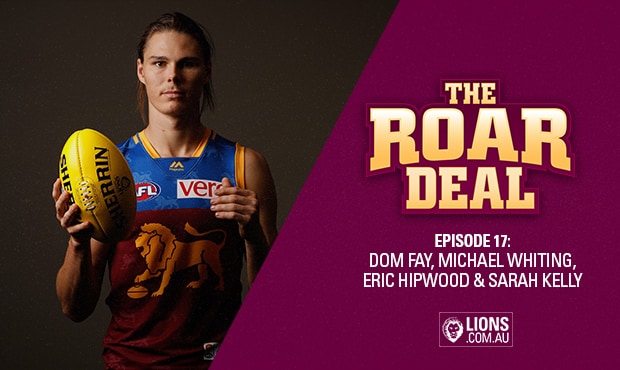 With the Brisbane Lions' pre-season matches wrapped up for 2018, there's much to look forward as the season gets underway in just 11 days time.
Despite falling seven-points short to the Suns during the final JLT match on Sunday, The Roar Deal podcast hosts, Dom Fay and Michael Whiting believe there were plenty of positives to take away from the loss.
"I got there about two hours before the game started and you could see as soon as you got out of the car just how water-logged the field was," Whiting said.
"But, I think overall we saw much improvement from the Lions."
Eric Hipwood joined the podcast to reflect upon the match.
"I was excited for the game, even though it was wet weather you can still get a lot out of the game," he said.
For Hipwood, playing alongside new recruits Charlie Cameron and Cameron Rayner was a new experience, but one he thoroughly enjoyed.
"Just their intensity and the aggression that they have," Hipwood said.
"Cam had nine tackles and he certainly surprised me for a first year.
"He attacks the ball so hard and their aggression will be something to watch this year."
Whiting shared that he was quite impressed by the tough slog the Lions put on following the Suns early lead in the first half.
"The Lions did really well after being four goals down early in the second quarter to crawl their way back," Whiting said.
"They'd be happy with their 60 inside 50s, that's a really good number and it shows that the Lions had it locked in there.
"There's obviously a lot to work on in terms of converting those opportunities to goals, but there are improved signs definitely."
While on the podcast Hipwood shared a bit of insight into what it's like living with fellow teammates, Alex Witherden and Corey Lyons.
There's been plenty of talk on The Roar Deal about Witherden's snoring antics and Fay was curious to settle how bad he really is.
"In terms of worst player to roommate with on an away trip, it seems like Alex Witherden does come up often for his snoring." Fay prodded.
Hipwood guaranteed that Witherden's snoring is as bad as it sounds, saying: "My bedroom is about 15 metres from his and I can hear him every night."
"Corey went to Europe with him and said he struggled sleeping next to him.
"We need soundproof walls."
Newly appointed Deputy Chairman, Sarah Kelly, also joined the podcast to share some of the latest news from the boardroom.
Fay and Whiting were curious to know what the pressing matters were that the board handles when all seems to be 'pretty stable' around the Club.
"First up, I think it's a good thing when you don't hear about the board in the press or media," Kelly responded.
"But I don't think our pressing issue is any secret [referring to The Reserve at Springfield].
"We don't have a boutique stadium with 10,000 to 15,000 capacity and we urgently need one as everyone who follows the sport in the South-East community knows.
"It's looking very positive and it's something we're very excited about."
The views in this article are those of the author and not necessarily those of the AFL or its clubs