Draftee Toby Wooller says he cannot wait to repay the faith the Brisbane Lions have shown in him, after today extending his contract with the Club for an extra year.
"The Club took a chance on draft night to pick me up and I just want to repay that faith. I'm really fortunate to sign for another year," Wooller said.
The mobile forward says he did not hesitate to put pen to paper until the end of 2020.
"I think the Club's heading in the right direction and I definitely want to be a part of the future."
The 19-year-old came to the Lions with pick number 41 at the 2017 AFL Draft and is yet to play an official game in either the NEAFL or AFL after injuring his left hand just before the season started.
Wooller's rehabilitation is tracking along well, since having surgery in March.
"Hopefully in this second half of the year, when I finish my rehab, I get to run out with the boys and hopefully get some wins," he said.
"I'm feeling fitter than ever and raring to go for the second half of the year."
Wooller fights off Sam Mayes earlier this year in training.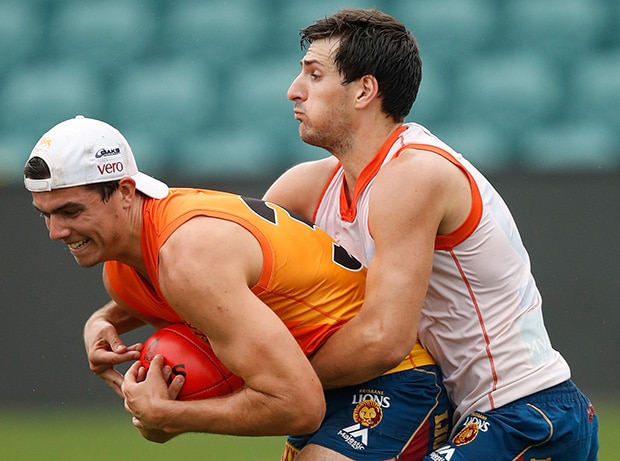 General Manager of Football David Noble said the former Oakleigh Chargers Captain's attitude has stood out.
"We were happy to extend Toby after a strong pre-season. We believe he fits into the culture we are building here. We are encouraged by his skill set and what we have seen him do on the field in NEAFL practice matches," Noble said.
"Although disappointed to injure his hand just before the start of the season, Toby's personal values reflect our trademark and Club values. We look forward to seeing him get back on the park soon."
Wooller's signature follows good friend Cameron Rayner's extension earlier this year, with the two of them currently living together with Tom Bell.
Key defender Jack Payne is another draftee who has also extended his contract with the Club.
His famous grandfather Fred Wooller, a Geelong great, is also starting to feel the difference at the Lions.
"Grandpa is a full supporter of the Lions now, he loves it. Hopefully, he can get up to a couple of games later in the year," Wooller said.
"I know he'll be wearing a Lions scarf or cap now, he's very proud."
Woller is expected to return to the field in just over a months time.