Archie Smith has heard the jungle drums beating.
The word around the traps is the sixth-year ruckman – son of former NBA forward Andre Moore and once a junior basketball star himself – is primed to assume Brisbane's No.1 ruck spot.
Smith spent last season plying his trade in the NEAFL as 32-year-old Stefan Martin and 205cm beanpole Oscar McInerney formed the Lions' senior ruck combination.
At 23, he wants to rattle the cage a bit more.
"I kind of keep it in perspective. My goal is to sort of mirror what the Club's trying to do and take a step forward. Each year I try to do that," Smith told AFL.com.au.
"I'm getting to that age now where I'm ready to start competing.
"I'm getting hungry and I'm a very competitive-type person, so any chance I get I'm going to try and give it my best and I'm really looking forward to the massive opportunity (on Saturday) against the best ruckman in the AFL."
That ruckman Smith refers to is Melbourne's dual All Australian Max Gawn, a 208cm giant of the game.
There is no bigger challenge for an AFL big man – although some will argue Magpie Brodie Grundy is Gawn's equal – as the ambitious, athletic and studious Lion is well aware of.
"This is my first time (playing against Gawn), but I can see it only as a positive thing," Smith said.
"He's the best there is and it will be a massive learning experience. I'm someone who loves being thrown in the deep end and he's about as deep as it gets.
"I have a lot of respect for him as a player and do a lot of research on him as well (and) you can only get better by playing the best, so I'm really looking forward to the challenge.
"Everyone sees it as daunting, but I see it as really exciting."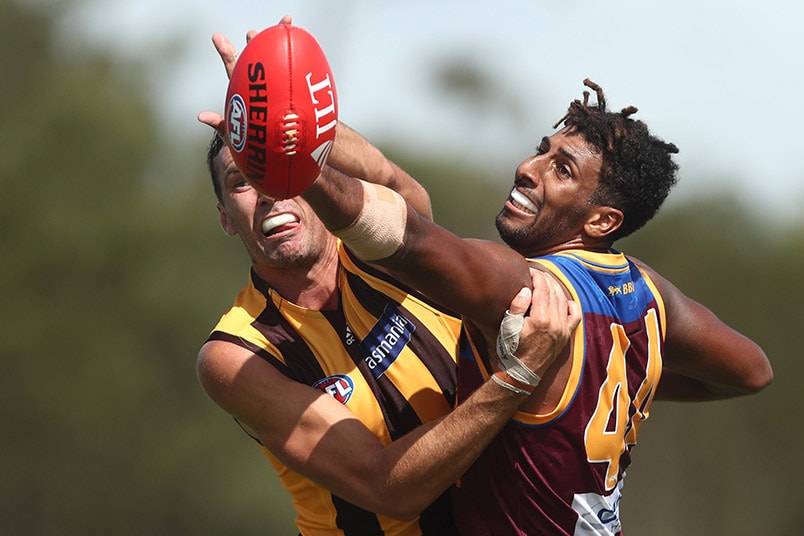 All three of Smith, Martin and McInerney are playing against the Demons, so the race to Round 1 is definitely on.
However, it hasn't changed the trio's dynamic, according to Smith.
"It's funny. Me and Oscar won a flag together in the NEAFL (in 2017) and we were a great combination – we work incredibly well together," he said.
"I've played games with Stef before as well and I've been with him for five years now.
"We're great mates, but we don't really talk about it in a competitive sense. Then when we go out there, we're trying to get the best out of each other."
Smith's decision to cut his off-season short to return to training early was made with the hope of being in this position on season eve.
He learned the art of patience while scattering only nine games across five previous seasons – the most recent of which was Round 16, 2017 – so he will resist the temptation to skip ahead to round one.
"It's two weeks away. I've got to focus on (playing Melbourne) first. If I can come out a better player than I was then I'd be happy," Smith said.
"But playing in Round 1 would be an amazing achievement and it's obviously something I want to strive for and hope happens."