Designing the Brisbane Lions' ANZAC guernsey filled Senior Graphic Designer Jacob Brewer with so much pride.
"We are most recognisable through our guernseys so it's a huge honour," Brewer told lions.com.au.
"My family has always had a deep tradition in ANZAC Day and we always all go to dawn service out at Sandgate. It's something that has always been engrained in me."
Brewer is the first staff member to design the ANZAC guernsey, which the Lions will wear this Sunday afternoon in QClash 15. Head of Consumer, Angela King, asked Brewer last year.
"I started looking at what we had done in the past and what other clubs had done in the past as well. And then I also did a bit of research on what are some signifying elements that are iconic or meaningful to ANZAC Day and the 7th Brigade," Brewer said.
Stef Martin wearing the 2018 ANZAC Guernsey, designed by Jacob Brewer (R).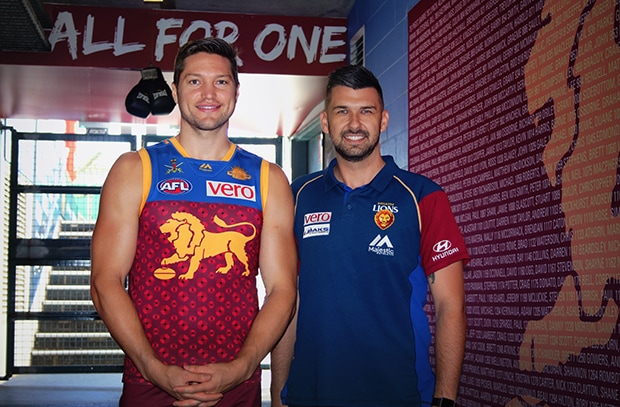 During his design process, Brewer reflected on iconic symbols of the defence force for inspiration.
"The main sort of items I came back to were soldiers, poppies and then I just went from there."
"I started off by replacing the BBFFC pattern on the guernsey with the poppies. Just to create a subtle pattern.
"Then I got a silhouette of a soldier from the 7th brigade. Then wrote "Lest We Forget" within the silhouette."
The Club has had a strong relationship with the 7th Brigade since 2014 and Brewer was keen for them to feature prominently in his design.
"It reinforces the relationship we have with 7th Brigade. We've had a partnership with them for five years, so it's been good to incorporate them into our actual guernsey, in addition to their logo on the front of the guernsey," he said.
Today at a press conference Stefan Martin and Ben Keays unveiled the design to the 7th Brigade at the Gallipoli Barracks.
Brigadier Anthony Rawlins from the 7th Brigade was delighted to see the guernsey's design.
"ANZAC day is a very important and iconic event for all of us that allows us to recognise the sacrifices of our forebearers," said.
"It's a good looking guernsey. Hopefully it provides that little bit of extra motivation for the team."
Watching the Lions run out in the guernsey this weekend will be an unforgettable moment for Brewer.
"I will be super proud that that is my work."
The Lions' 2018 ANZAC guernsey will only be available via auction from www.lionsshop.com.au/auctions. Bids are open from bounce on Sunday afternoon. Proceeds from the auction will be donated to 7th Brigade's chosen partner, Legacy Brisbane.