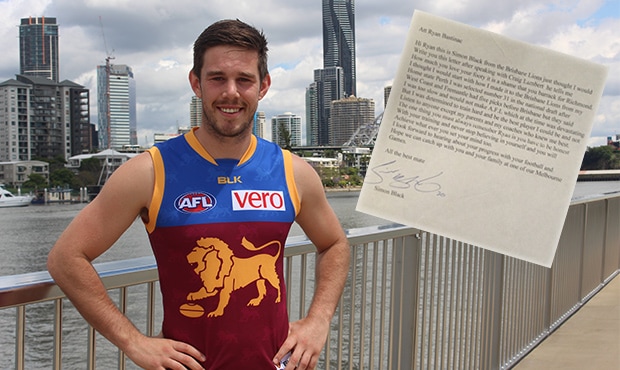 I always loved Blackie, he was just my idol, and I wanted to be like him when I grew up
Ryan Bastinac
It was the letter that inspired a kid to become the best he could be, and one day play AFL at the Club where his hero became a legend.
Ryan Bastinac was a 12-year-old when he received the note from Lions champion and now assistant coach Simon Black.
Bastinac was pageboy at the wedding of Craig and Melissa Lambert and it was the Lions' welfare boss who told the Brownlow medallist about his little mate who loved his footy.
Black decided to write a letter and it is still a prized possession stored safely in a Bastinac family photo album.
"I always loved Blacky, he was just my idol, and I wanted to be like him when I grew up,'' he told The Courier-Mail.
"The letter really got me going with my footy.
"Over the years I have gone back and looked at it a few times, for one of the greats of the game to do that for me, I will cherish that forever.''
Bastinac, now 24 and a veteran of 122 games, said another encounter with Black, four years later, was the catalyst for his rise into the AFL ranks.
He had just been cut from the Victorian Under 16s side and feared for his draft prospects having been told by some he was too slow. It was the exact feedback a 16-year-old Black had received.
Lambert mentioned to Black that Bastinac was struggling with his footy and once again the triple premiership star reached out to help.
"I was pretty cut with it all,'' Bastinac said. "I was leading into a grand final and my confidence was a bit down when Blacky rang me.
"Recruiters had said he was slow and I had that knock on me as well, and I talked to him about that.
"He just said to work on the things I could control, work constantly on my pace and not just accept it, he said I could improve.
"And the best piece of advice was to always listen to the people who know you best — coaches, family and friends. It was really the turning point for my whole career.''
TRENDING NEWS:
The views in this article are those of the author and not necessarily those of the AFL or its clubs