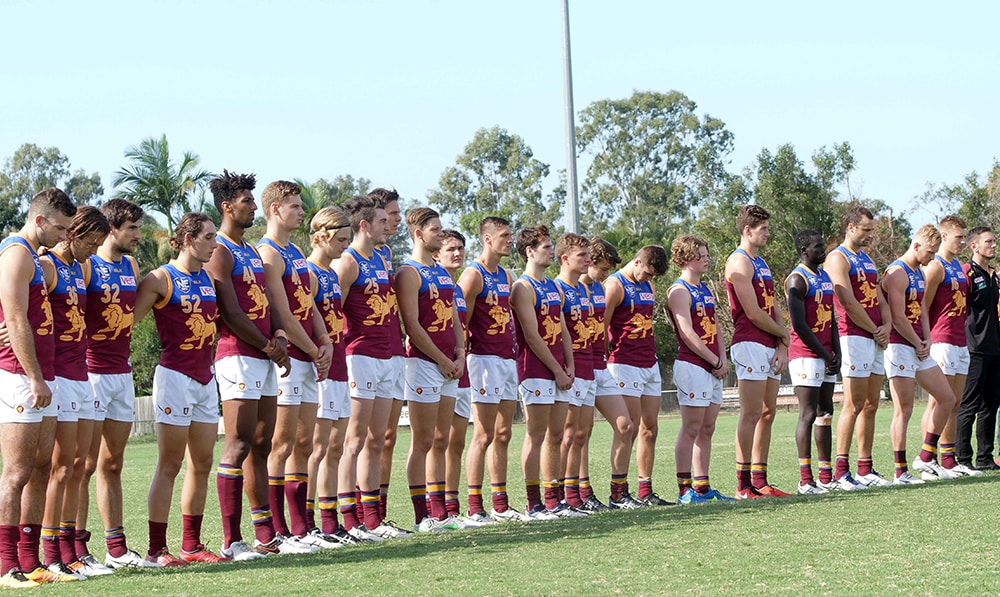 Aspley and Brisbane produced an Anzac Round thriller on Saturday when the Hornets snatched a three point win at Graham Rd.
No more than nine points separated the sides all match in a classic arm wrestle, finishing in Aspley triumphing 11.7 (73) to 9.16 (70).
Reserves Coach Shane Woewodin gives his appraisal of each of the listed Lions who played against the Hornets below.
Rucks:
| | |
| --- | --- |
| Archie Smith | Ruck/key forward like Westy. He certainly dominated hit-outs on the day. We probably didn't get enough bang for our buck particularly around centre square bounce – we were -6 on the day and need some improvement from our ground level players and midfielders. He made a couple of errors Arch, particularly in defensive 50. We're still working on his game around the ground in transition to be able to hit on the spread, get back in defence to help our defenders but to also be able to impact forward too when he's resting as a forward. |
| Trent West | Ruck/Key forward on the day. Probably Westy's best game for the year – he had a bit more confidence with his ability to jump at centre bounce. He found more ball and took a few marks around the ground – giving us first use. He impacted on his marks – took 7 for the day. Three of them were contested so he certainly had more impact. He probably let himself down with his field kicking I think he had 5-6 ineffective kicks so he needs to tidy them up. |
Forwards:
| | |
| --- | --- |
| Ben Keays | Played more as a high forward this week – probably just to give himself a chance to play senior footy in another role and develop himself in another position. He's probably highly unlikely to play as a mid just yet early in his career at senior level but we're giving him the opportunity to get another position. He knew the role, played the role really well. He had it about 20 times, he kicked 3.1. He impacted the scoreboard, laid his 4-5 tackles. His work rate with his GPS was high, top 3 on the day. Like Jackson Paine he has been one of our most consistent performers over the first 4 rounds. |
| Reuben William | Reub played more as a high forward this week. He probably would have been playing a bit more as a fifth but with the help of Keaysey we had Reuben playing more as a forward rather than come up through midfield. He had the 10 touches, again impacted the scoreboard really well. He kicked 1.1 but could have kicked more. We're focusing with Reuben on his smash in, getting ground balls inside forward 50, his inside 50 possessions which he was able to complete. He didn't get his 6 tackles, he only had 3 for the day but we've certainly seen more impact forward of centre from Reuben at the moment. He's still got to work on his patterns when we have the ball. |
| Eric Hipwood | Pushed him forward this week. He's been playing back all year so we just swapped him and Hamma just to give Eric a chance again to play as a key forward at senior level if given the opportunity. He kicked one goal for the day. He didn't have the impact in the air as we would've liked. He missed a lot of marks, only took two for the day. We're looking for Eric to make sure he's impacting aerial contests, he's showing his physicality, he's working on his second efforts at ground level and his defensive pressure as a key forward. He's shown he can run and have good agility so it's important for him to be able to impact in those other areas. We're hoping for him to bounce back against quality opposition in Sydney this week. |
| Jono Freeman | Second week in a row Jono Freeman has played again as a key forward. He only had the 4 possessions, had a really quiet first half. Didn't have the impact aerially. He only took the one mark on the day. Like Eric our tall forwards didn't have the impact. They lacked the physicality and intent in that area. They got a bit of a rev-up at half time and his third quarter he started really well. We probably need to see Jono work harder up the ground to get him involved in the play rather than the last person on the line which we've spoken about. We're hoping to see some improvement in Jono this week. |
Midfielders
| | |
| --- | --- |
| Sam Mayes | Returned after being dropped from the seniors. He had a terrific attitude when he came back – played as an inside mid working on his contested ground balls and his tackling in and around contest which was his goal for the game. Certainly his tackling has improved. I think he laid 6-8 tackles in the game as an inside mid which was a great result. There is still room for improvement there. He missed a couple of ground balls he could have taken but was certainly one of our best on the day. |
| Rhys Mathieson | He returned after an extended lay off with injury (cheekbone). He had a really good balance of contested and uncontested football. He was still short of a gallop. He played as an inside mid, won some ball in and around the contest, tackled well, drew a lot of free kicks that certainly helps our contested footy. He might spend a couple of weeks with us just in terms of his match fitness and get his run up before he is in line for selection. He's added some depth around our midfield with Keaysy and Jansen and the likes. |
| Jarrad Jansen | Again played as an inside mid. Rested forward at times, particularly in the second half of the game. We're starting to see some real improvement in Jarrad. He's getting used to the game style at how we play here at Brisbane, but also getting to know his teammates, getting into the swing of things. His tackling has been a real hallmark of his game the past couple of weeks, he laid another 8 again on the weekend. He was strong in the contest, found a bit more of the ball which was really good for Jarrad. We'll probably need him to impact a little more when he's forward because we know the strength of his marking. He had a really good balance of contested footy. In the first couple of weeks he wasn't finding much or working hard enough but we're now starting to see the signs as to why we got him. |
| Nick Robertson | Again, Nick Robbo blew the GPS up on the weekend. He missed a couple of ground balls which is a key focus of his at the moment to be able to have composure in that area of the game. In his skill efficiency he missed a few kicks also, which he needs to be able to tidy up and make sure his field kicking improves. He has been working on that along with his handballs. He hit the scoreboard which was really good and gave away a couple of silly free kicks on the day which was again a concentration thing. His work rate and ability to cover the ground is really important for us, he's certainly ticking all boxes there. |
Backs:
| | |
| --- | --- |
| Dan McStay | Returned from a week of illness and played as a key back for us. He was probably best on ground – playing on one of Aspley's keys. Again, like Sammy Mayes he had a terrific attitude was up and about early. A big goal of his was to take intercept marks, which he did. He took 14 marks on the day, seven of them from opposition kicks. He was able to set himself and position himself really well in the contest to be able to win the ball back for us. He probably let himself down a little by his ball use by foot in the back half. He probably wasn't as composed in the back half and turned the ball over. That's an area for him to be able to work on throughout the week. |
| Josh McGuinness | Played as a small back. He's been focusing a lot on the defensive aspects of his game and hitting smaller opponents and then when we win the ball back to be able to give us some run and drive and handball receives off half back. We've pushed him down back of late just to be able to give us a bit more listed stability. He'd been training and playing the majority as a wingman continuing his development as a small back has been good for him. |
| Jackson Paine | Jackson was the skipper and like Dan McStay he was really solid down back. He's been in really good form Jackson. I think like Dan he took 7 marks from opposition kicks, and rebounded the ball pretty well. Like Dan, a couple of times with his composure by hand he played on when he probably shouldn't have and put others into trouble. But, certainly his presence, communication, leadership, voice and all those things – he's been a bit of a rock for us down back and led the team really well. |
| Josh Clayton | Josh played as a small back again. He was probably not as efficient with the ball as in previous weeks – he didn't find as much of it, only the two contested possessions. He needs to be using his good run to get some handball receives and work off half back. A big focus for Josh is a couple of defensive aspects of his game, learning to hit opponents, particularly as a small back and not give your small forwards any opportunities. He only had one rebound 50 so we'll look to get Josh's run up and going. He'll have some big tasks this week against Sydney. |
| Matt Hammelmann | From initial discussions throughout the week we decided to throw him down back. He'd spent the first 3-4 weeks up forward. Because we're so tall up front it's good for these young keys to be able to play both ends of the ground and give their string another bow. We did it last year with Hamma and we'll probably do it for a couple more weeks. I thought he provided some really good run for us off half back, kicked 1.2 which was really good for us. He took 4 marks, but missed three body spoils on the day – that's one for Hamma to be able to continue to work on. In the contest he's got to be able to bring the ball to ground, hit bodies, rather than try and swing and hit the footy. |
Trending Articles
The views in this article are those of the author and not necessarily those of the AFL or its clubs