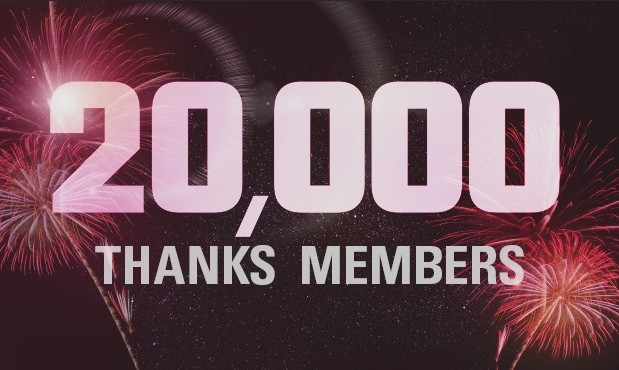 There's been plenty of news hitting headlines of late, including Trump manning the White Office, Cyclone Debbie ripping her path of destruction through the Sunshine State, and Stadiums Queensland ruling out an AFL Women's Grand Final to be played on home soil at the Gabba. But in breaking news for the Brisbane Lions, we are delighted to announce an impressive milestone; the Club has just hit the 20,000 mark on the membership tally ahead of our first home game this weekend against Essendon at the Gabba.
Off the back of a season which saw the reinstatement of a new Coach, new GM of Football Operations, a number of list changes, and a fledgling AFLW team who surpassed all expectations in not losing a single game of the season until they made it to the Grand Final, there's plenty of good news to be talking about at the Club, and none of it could be possible without the support of our 20,000+ members.
The Club is determined to see their latest membership milestone continue to build throughout the season.
Lions fans can get great value out of a number of membership options to suit anyone; with the choice of any three home games in 2017 from just $80, or for the ultimate footy fans, seasonal memberships (11 home games) from $185.
The Club is also boasting a strong Victorian fixture, with 6 games in Melbourne at Etihad Stadium and the MCG for our loyal Southern state fans to sign up as Victorian members.
In 2017, the Club also made Women's Team memberships available for the first time to support our AFLW side. Whilst a successful Women's season saw the Club completely sell out of the 500 available Foundation Memberships available, fans can still sign up as regular Women's Team members for just $50, or $30 to add as an upgrade to existing Brisbane Lions memberships.
Just like the team song, we are 'All For One'; it's the sum of all our parts, and we can't thank our loyal members enough for their unwavering faith in the team and the Club.
#AllForOne
The views in this article are those of the author and not necessarily those of the AFL or its clubs