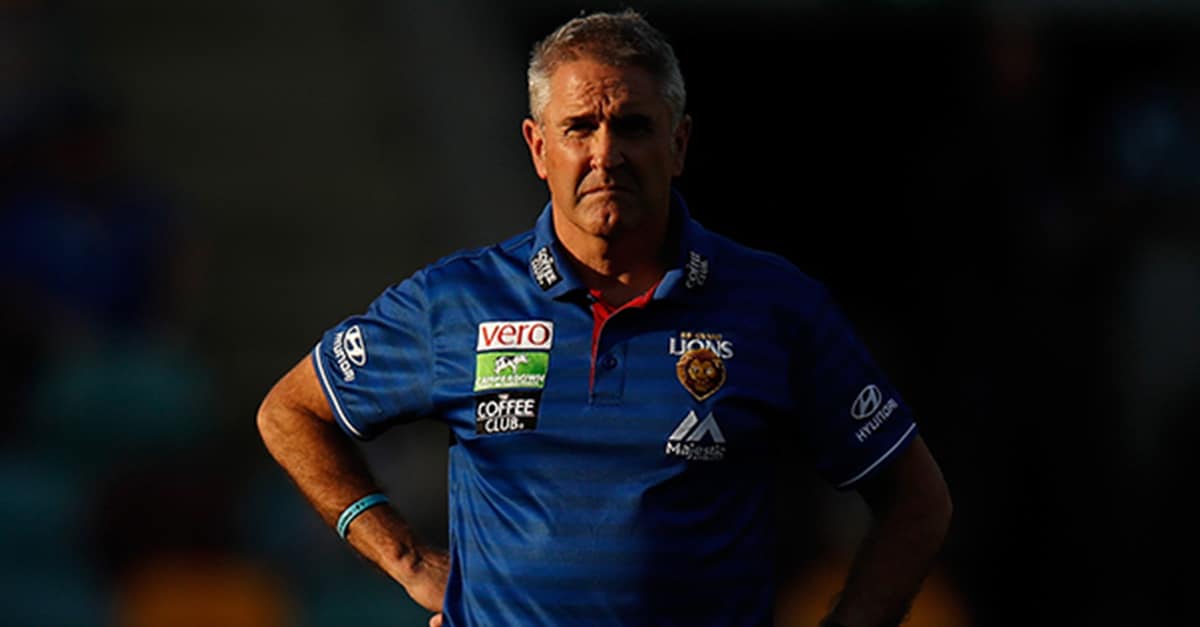 Chris Fagan sits down at a Woolloongabba café, enjoying a cup of tea and slice of carrot cake; relaxed after making it through his first season as an AFL Senior Coach alive.
Out of the blue, a businessman comes over and says, "Congrats man on a great year."
Fagan's a little taken aback but returns the man's well wishes with his trademark grin.
Brisbane Lions fans can feel a change in the air and believe Fagan's influence as Coach is to thank.
Now that the 2017 season has come to an end, he's started to personally reflect.
"It's been a great year, I've learned so much about the group," Fagan says.
"I think right now, I'm in a good position to know what's required. And now the other challenge is to execute it to the nth degree and improve next year."
Walking through the Brisbane doors in October last year he wasn't sure what to expect. Fagan didn't know the players or coaching staff and had never lived in a city where AFL plays second fiddle.
He knew the Club were bitterly disappointed after the 2016 season, and the other challenging years before. So in his first year, he kept his goals simple for the Club. All he asked for was improvement.
"I think individual players' have improved. I think some had their best seasons. They're the sort of things you look at," Fagan says.
"We're probably somewhere around the numbers a four or five goal better team…in the latter half of the year it would be a six-goal improvement."
Fagan's first trade was as a school teacher in his local Tasmania. He says the skills you learn as a teacher are integral to success in coaching.
"Teaching is about managing people. It's about building relationships. It's about taking a person from one point and getting them to the next point."
But he emphasises, it must be kept simple.
The only decoration in his office is a framed quote that says, "the average teacher explains complexity, the gifted teacher reveals simplicity."
It's this philosophy he swears by as a coach.
Fagan's implored his new coaching staff to embrace this thought. It's never been more relevant this season, after the Club endured an incredibly tough few years on field.
"They're thinking too much rather than doing, they need the energy for the contest," Fagan says.
"So overcooking them and giving them too many instructions, you get the opposite occurs."
The change in the group didn't happen overnight, though this was anticipated.
The season exploded with an exciting win over the Gold Coast Suns in Round 1, but the club struggled after that win. They did not celebrate their second victory until Round 12 against Fremantle.
"I suppose what I've been surprised about overall though is the dogged determination of our group to get better," Fagan says.
"I think our guys are showing a lot of mental toughness this year. Earlier in the season we weren't winning a lot of games but the guys just kept trying and trying and trying.
"In the end, in the second half of the year it started to pay dividends. I was surprised by their persistence and proud of it because that's not easy to do."
Under their new coach, some players enjoyed their best season to date. Daniel Rich had a career resurgence, playing the type of football that originally endeared him to Lions fans in 2012.
Lewis Taylor, Sam Mayes, Harris Andrews and Eric Hipwood all took their games to a whole new level.
Fagan didn't shy away from making tough calls on players' performances. Throughout the season, he dropped a number of regular Senior grade players back to NEAFL.
"Tough love? Whether you call it that, or whether you call it just being fair," Fagan explains.
"I think if you're not performing well enough at AFL level, then you can't stay in the side forever because you're not getting your job done."
"It also opens the door for others to get an opportunity who have perhaps been playing well at the NEAFL. You've always got to do that."
Experienced players including Ryan Bastinac and Josh Walker were dropped to the reserve grade midway through the season. When they made their return to AFL level, their presence was immediately felt.
"Both those boys came back and played some of their best footy they've ever played," Fagan says.
"Every now and then I think in all walks of life you need to be reminded that you do have to perform and when you don't, things that you love get taken away from you."
It's this kind of unsettledness Fagan admits he wants to introduce in the Lions' camp. To never become complacent and continue to challenge yourself.
During his time at Hawthorn as Head of Coaching and Development he learned this first hand. In his ten years at the Hawks, they celebrated five grand finals and four flags. The secret to their success was the players' personal drive, particularly those in their leadership group.
"I think the best competitors I've ever met are guys that are consistently uncomfortable and they're always trying to improve," Fagan says.
Four-time premiership players including former Hawks Captain Luke Hodge, Sam Mitchell, Jordan Lewis, Jarryd Roughead and Josh Gibson are the first that come to mind.
"That's what we're trying to develop here in our culture, a group of blokes who are impatient, uncomfortable and relentless at trying to get better," Fagan says.
"If it's good enough for them to do it. It's good enough for us here at the Lions to do it."
Brisbane have laid the foundations for long-term success this year, with a promising number of re-signings and contract extensions.
The football world viewed Josh Schache's re-signing as a major turning point for the Club. A promising young country-Victorian footballer wanting to stay in the Sunshine State showed faith in the new coach and GM of Football Operations David Noble.
But back in Brisbane, Fagan didn't view it like that.
"In a way the reaction to Josh's story probably tells a story about how much pressure he was actually under as a second round pick and there's so much focus on him. And it's unfair in a way."
Every signature, along with 20-year-old Schache's was important to Fagan. Dan McStay, Eric Hipwood, Ben Keays, Harris Andrews, Sam Skinner, Nick Robertson and Cedric Cox have all indicated they are also with Brisbane for the long-haul.
Fagan says it's this reason he accepted the job with Brisbane in the first place; to help the Club on their road to redemption and success again.
"That's my personal biggest motivation for doing this job," Fagan says.
The wins this year were amongst the best he's had in his 20 years working at AFL clubs.
"There's even more joy seeing a young group of players grow and develop and start to connect together as a team and then start to win games," Fagan says.
"The excitement that you see on all their faces. You can't beat that. To me that's like petrol, it's fuel to me as a coach just to see that."
In his first year, the Round 15 win over Essendon took the cake for his favourite moment.
His players' backs were against the wall on the road in Melbourne. Inspirational Captain Dayne Beams was out and defender Darcy Gardiner was struck with a match-ending injury in the first-quarter, putting pressure on the bench.
The Bombers had a 27-point lead during the final term. But the Lions somehow found the strength to climb their way back to an eight-point win and in turn silencing an Etihad crowd.
"It was just really exciting to see them do that. They're the wins you can build belief on," Fagan says.
"It was a little bit hard for me to hold back the emotions I was feeling."
As the year progressed, Fagan became more accustomed to the external pressure the Senior Coach of a football club receives.
Something that did take him by surprise was a concerned fan asking if Tom Rockliff would be assigned a tagging role for coming game that weekend.
The round prior "Rocky" tagged Carlton's Bryce Gibbs, a selfless role that helped the side in their win but didn't help fans in their fantasy points.
"It was an extraordinary email, they were very serious the person. And it was well written and very polite. But sorry, no answer."
Fagan will join his players in celebrating the season at Friday night's Club Champion dinner.
"I'm here 12 months down the track. Even though I haven't enjoyed every minute of it, we're coming from a long way back. There's just that good feeling around the Club now that we're making progress and we're on to something."
The views in this article are those of the author and not necessarily those of the AFL or its clubs