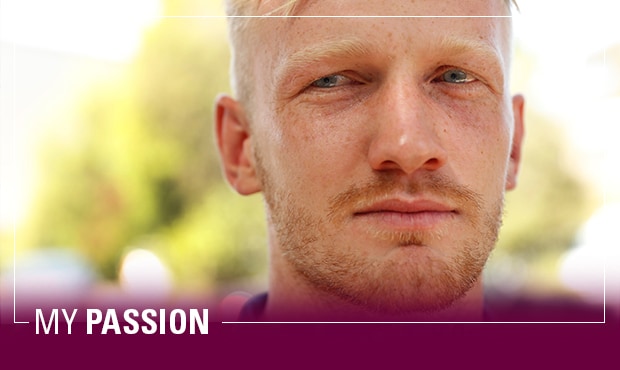 To people outside the Lions' four walls, Nick Robertson is a fiery midfielder, who enjoys rattling his opposition.
"Look, if it gets under their skin and it's something we've got to do, then I'm all for it. I won't shy away from it, but only if it's needed," he told lions.com.au.
But to his teammates, 'Robbo' is better known for his hard work ethic, flogging himself at every training session and regularly taking out the time trials.
"My old man's like that. He's a real hard bugger and I guess he kind of pushed that on to me," he said.
"I think everyone works very hard. I go into training thinking, 'you get out, what you put in.'"
This attitude applies as much off-field.
He was recently granted his Real Estate licence and will be looking to complete some practical experience in Brisbane this year.
"My old man used to own a building company and now he's selling homes. I think he's sort of passed down that interest on to me," he said.
"I'm pretty passionate about property. It's something I want to get into after footy."
The licence was two years' worth of studying. 'Robbo' used any spare days or afternoons off to catch up on study.
"Some people don't know how busy you are. A lot of guys think you go to training, you go home. But generally, you're at the Club all day," he said.
The 22-year-old had originally started a plumbing apprenticeship, but could not commit to the 20 plus hours of practical work a week or risk injury.
Becoming an agent was the perfect balance - alternating between the office and outside visiting properties.
"I'm not really one to want to sit at a desk all day," he said.
"I think I can talk to people. I don't shut up, so should be right."
It was in Tasmania, at the team's pre-season camp in December, that the importance of having interests outside of football really hit home for him.
Robbo and Sam Mayes during the INC pre-season training camp in Tasmania.

"Especially after hearing David Parkin talk about it all, having that work/life balance," he said.
"Pushing education and some sort of study or something else outside of football I think is very important for your mental wellbeing.
"And smart really, you're not playing football forever, so you need to have something behind you."
'Parko', a four-time premiership Coach, spoke to the Lions' playing group in Launceston.
"He said teams were way more successful when they had that sort of work/life balance sorted out.
"You can't be so footy orientated because you just start consuming yourself with footy and don't have that balance so you're probably a bit stressed coming into training."
Another positive to add to his life outside of football, was his engagement to girlfriend Tineka Devellerez just before the Christmas break.
"She's looked after me and been very supportive. Very lucky to have her. She made the move over here, which is really nice of her to do that. She loves living in Brisbane."
The views in this article are those of the author and not necessarily those of the AFL or its clubs