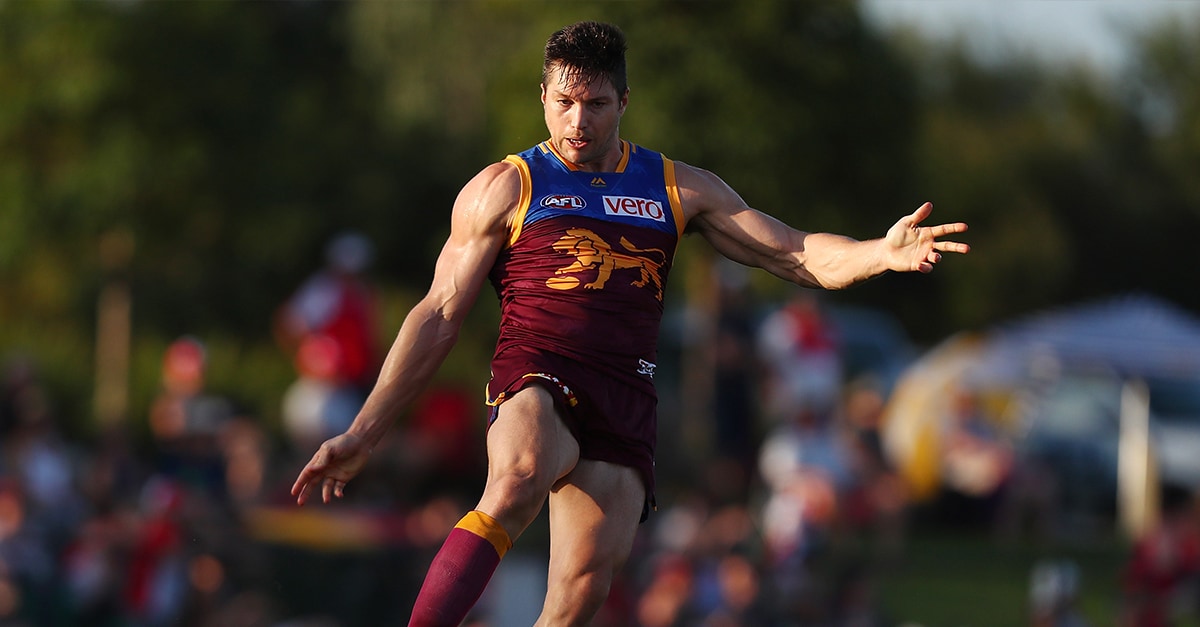 A total overhaul of everything from his diet to his pre-season training habits has propelled Stefan Martin to a whirlwind start to 2018.
Despite finishing fourth in Brisbane's best and fairest last year, the Lions' ruckman said he wasn't happy with his form and needed to improve.
He knuckled down with what he ate, making choices that were "not fun" to drop five kilograms, while still retaining his imposing strength.
Martin then confronted hungry understudies Archie Smith and Oscar McInerney the entire pre-season, who were set free by the coaching staff to make things as tough and physical as they could for the incumbent ruck.
The results are clear to see.
Martin enters Saturday's match against premier Richmond at the MCG in blistering form, torching Billy Longer in the opening round, slugging out an enthralling battle with Max Gawn the following week, then running roughshod over a Port team that relied on back-up rucks Justin Westhoff and Charlie Dixon.
At 31, Martin should be on the decline, but with his mix of strength and athleticism is producing arguably the best form of his career.
He said that a good, hard look at himself in the off-season had been the catalyst for his improvement.
"Having looked at footage of me last year, I felt like I was lumbering and not moving that well," Martin said.
"It felt like I looked a bit heavy. For an undersized ruckman, it's pretty important I move well, or what's the point?
"I wasn't happy with my 2017 year, so I needed to make a change. I lost a fair bit of weight, probably five kilos. It took a fair bit of discipline. It helped me regain that mobility I had a few years ago, but the challenge is to keep that strength up.
"It's like a see-saw, you get something but you've got to give something up for it. I had to lift heavy in the gym and not just become a running player, because in the ruck you have to be strong and mobile."
Martin described it as a constant "audit" of his body, and it hasn't all been smooth sailing.
He counted calories, logged what he ate and brought new discipline to his off-field habits.
"It wasn't easy when you got hungry at night," he said.
"I got to the leanest I've ever been in my career this pre-season. It does require a fair bit of discipline.
"It's not fun because you're hungry a lot of the time and you make some choices that are not fun food-wise."
Martin conceded he got a bit too lean and was run down late in the pre-season, but has found his "sweet spot" of 106kg.
He's moving better than ever, averaging 19 disposals a game, but it's his ruck work that has caught the eye.
In the matches against St Kilda and Port, the Lions dominated the clearances, largely due to Martin's influence.
He agreed his tap work was the best it's ever been, and credits the pre-season battles with Smith and McInerney for it.
"You can fall into the trap of taking it a bit easy on the contested side of things during pre-season," he said.
"You can fall into the trap of putting token pressure on against your opposing ruck at training, but 'Fages' and the coaches put a line through that and made an emphasis of us going hard against each other.
"It brought the best out of us all and gave us something to focus on. It was fun going to battle with those guys three times a week."
Martin is a deep thinker, a team man, a superb athlete and at a relatively undersized 199cm, is highly adaptable, able to wrestle with the brutes and run around the monsters that have him covered for height.
Perhaps the most impressive thing about him though is how resilient his body has become.
It was less than four years ago that Martin's career looked over, floundering on the sidelines, seemingly unable to get through a training session, let alone a season.
In his first six-and-a-half years in the AFL, Martin played just 62 games. Since the middle of 2014, he's played 77 of a possible 81.
"It comes down to me being a much more professional athlete," he said
"I take a bit of pride in the thought of looking after my body and there's no real reason to expect a decline.
"I don't want to pre-empt a decline. It might happen next week, but I'm taking pride in trying to not let that happen.
"I've got so much to improve.
"I'd like to think I've got a few really good years in me."
Martin is contracted until the end of 2019, and if the first three rounds are anything to go by, the quietly-spoken Lion might just be right.
The views in this article are those of the author and not necessarily those of the AFL or its clubs