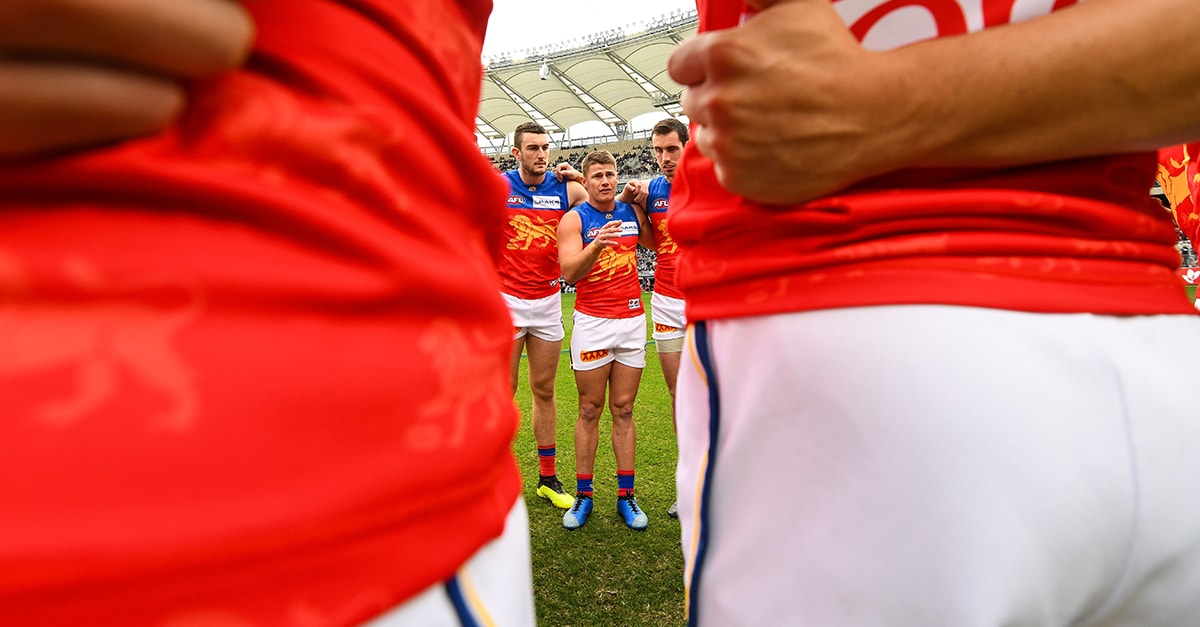 It's the Tuesday after Mad Monday. Most player's attention would be turning to their holidays and the free time they can enjoy now that a rigorous season is over.
But someone that does not share this sentiment is Brisbane Lions Captain Dayne Zorko. He sits at a Brisbane café eating some lunch before his end of season review with Senior Coach Chris Fagan.
When asked how he is feeling that the season is over, he does not mince his words.
"Jealousy," he says.
"Eight teams are playing finals."
For 'The Magician' it's frustrating to know that the Lions defeated one of those teams twice and only lost to another by seven points.
Zorko has never tasted September action. But judging by the Lions' close calls in 2018, he has faith it is not too far away.
"It takes a lot of confidence and belief in our system that what we're doing is actually correct."
It was Zorko's sixth season at the Lions and second under Fagan and 2018 was unlike any other year.
He came into the season off the back of a lot of personal success – he was the Lions' Club Champion, received his first All Australian blazer and played with the AFL's finest in the International Rules series.
But that attention and recognition soon translated on field. From Round 1, Zorko found himself being tagged.
"It was awesome that they rate me and think that they need to shut me out of the game to give themselves an opportunity to win," he said.
"[But] on a personal level, I really battled with it during those first few rounds.
"I just wasn't expecting it… it probably got the better of me a little bit."
It was not until after Round 6 and a highly publicised outburst on field that something changed.
On Fagan's and other coaches' advice, he spoke with some former greats on how to break the tag.
"It certainly put my mind at ease, knowing that some of these guys who are absolute legends of the game had been in a similar situation," Zorko said.
"I knew I had to get back to what I had done in the previous six years of my career. A lot of it had to do with pressure and helping the team in that way."
On top of Zorko's struggles with consistent form, he was taking on extra responsibility as a leader, with Dayne Beams grieving the loss of his father.
After the Lions' Round 9 win over Hawthorn, Zorko officially took over the captaincy. He had experience in the role before, stepping in when predecessors, including Tom Rockliff and Beams, had been absent through injury.
But still, it was an incredible achievement for a player that was overlooked at drafts four years in a row to become an AFL captain.
"It was a proud moment, no doubt about it," Zorko said.
The responsibility also shifted his focus on field.
"I couldn't think about my own game personally anymore. I had to think about what I could provide for the team," he said.
"When you're just a player, there's no doubt about it you're certainly always worried about your own performance and how you're contributing to the team."
The tempo lifted at training and after the mid-season break, Zorko would lead the Lions to three straight victories, something the Club had not celebrated in years.
The success, he said, was down to trust.
"It's resulting in better performances on field because everyone trusts each other. It's such an important thing to have in a football group: trust," he said.
The leadership group comprised of Zorko, Ryan Lester, Stefan Martin, Allen Christensen and Harris Andrews, with input by Luke Hodge.
This year there was a focus on accountability for everyone. It was not just up to the leaders to set the tone. To quote Hodge at pre-season camp, "the standard you walk past, is the standard you accept."
"If you let yourself down, you're letting the entire team down," Zorko explained.
"Everyone's accountable to pull everyone in line."
That included lifting in the gym, taking part in extra craft sessions and being on time for all meetings and training session.
This positive shift in culture was led by Fagan's open-door policy Zorko said.
As captain and coach, the two developed a close bond. You would often see them in deep conversation on the field at training sessions.
"I think that's the way it needs to be. It's got to be together," Zorko said.
"That's how you drive the group as well, having the one message."
The 29-year-old often refers to himself as a 'big kid', with his crazy energy and says Fagan shares this trait.
"He's an older version of me in a sense. He's a big Grandad kid," Zorko said.
That's not where the similarities end. Both had unconventional entries into the AFL arena. Zorko took four years to finally be drafted and worked as a bricklayer in the meantime. Fagan was a schoolteacher before breaking into the coaching industry as an assistant with Melbourne.
"He's someone that also appreciates the football journey. Obviously being a school teacher for a number of years before," Zorko said.
"Understanding it's not everything. I think he knows there's a funny side of everything and you've got to enjoy your time in the AFL system.
"If we have a defeat, yes he's disappointed, but he knows the sun is going to come up tomorrow and we've got to be ready for next week."
But Zorko admits, it must be stressful for Fagan to keep his safe, positive environment ticking along for the players.
"It must be very difficult coming in when we lose by four or five points and the majority of the time it's through a lack of composure when we haven't been able to execute," Zorko said.
"It must be a very difficult situation because AFL, in top dog positions, wins and losses are everything.
"The boys get a real want to play for him and you don't want to let him down."
The team must grow from their disappointments this year as they head into 2019.
"It's important that we learn from the close losses that we had this year," he said.
"It's what then happens after that."
The views in this article are those of the author and not necessarily those of the AFL or its clubs