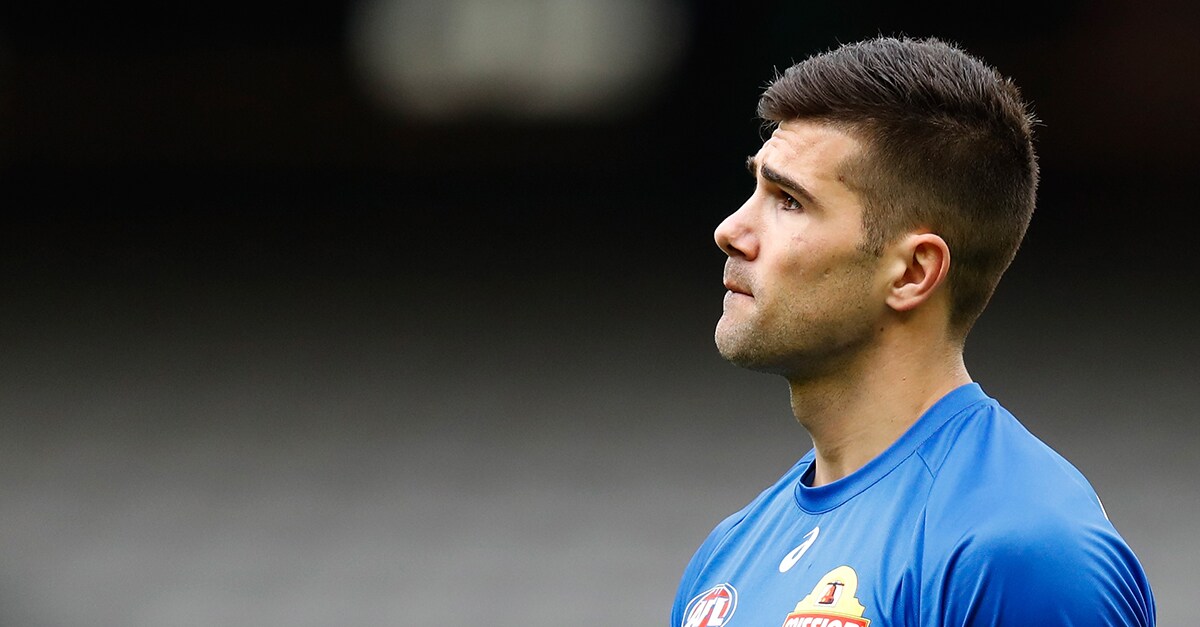 After ruling the Gabba weights room for six years Brisbane Lions' big man Stefan Martin now has a legitimate challenger.
At 192 centimetres and 98 kilograms, recent trade acquisition of powerhouse fullback Marcus Adams from the Western Bulldogs will set up the battle within the battle that will be the 2019 pre-season.
And while fellow gym junkies like Dan McStay, Cam Rayner, Nick Robertson, Rhys Mathieson, Daniel Rich and Archie Smith will like to think they are challengers too, Martin and Adams will be the ones to watch.
Adams walked away from a two-year Dogs contract, big interest from Collingwood and the lure of returning home to Perth to move to Brisbane.
He will be desperately hoping that the change of scenery will spark a change of luck on the injury front and allow him to at least compete regularly.
A mature ager drafted at Pick No. 35 in the 2015 AFL National Draft from WAFL club West Perth, he played only 27 of a possible 68 games over the past three years, and missed a premiership in his first season.
He battled a freak run of accidental and unrelated foot, ankle, shoulder and finger problems yet did enough in his limited chances to stake his claim as a genuine top-flight key defender.
Clearly, the Lions are again backing their highly-regarded high performance and medical team, which has become an important part of the recruiting pitch.
While Adams' physical assets are obvious and give him a huge advantage in one-on-one contests, any worthwhile AFL scout will also laud his closing speed, his strong hands and his beautiful long kick.
He will fit beautifully into a Brisbane back six alongside fellow big men Harris Andrews and Darcy Gardiner, and if he can stay fit will be a massive addition.
And although he is known primarily as a defender and has been recruited as a defender there is a less-known attribute that won't have escaped Fagan.
Adams started his football at the other end of the ground, and is a very capable option in attack who at some stage next year will be thrown forward.
He's kicked only four goals in his 27 games, but has started forward on occasions and has been an effective pinch-hitting mid-game move at other times.
In Round 7, 2017 against Richmond he was set a defensive role on Alex Rance and not only did he do a good job on the former All-Australian captain but he took three contested marks and kicked two goals in a Dogs win over the eventual premiers. He kicked 2-2.
The following week in a narrow loss to 2018 premiers West Coast he took four marks inside forward 50 and kicked 1-4.
Adams ignited his AFL dream with WAFL rival West Perth, which is also the former home of new teammate Nick Robertson.
He played in 2014 as a hard-leading, strong-marking and long-kicking centre-half forward, and it was only in 2015 that he was swung into defence.
He debuted in Round 1, 2016 and played the first seven games before a two-week finger injury. After playing Round 10 and 11 it was a one-week ankle injury, and then, after playing Rounds 13 and 15 split by the bye, a foot injury ended his first season.
He'd done enough to be a guaranteed inclusion in the Dogs top side if up and going, but had to watch as the club ended a 62-year premiership drought with an extraordinary September campaign that culminated in a grand final win over Sydney.
He played the first 10 games in 2017 and in May that year signed a contract extension to the end of 2020, but missed the second half of the year with more foot problems.
In 2017, he played 10 of the first 11 games before a Round 13 foot injury ended his second season, and in 2018 he missed the first 13 weeks after another foot injury at training in March.
He played six games in a row from Round 14 this before foot problems again ended his third season and ultimately his time at Whitten Oval.
With a career win/loss record of 14-13 he was 2-0 against the Lions but has never played at the Gabba.
The views in this article are those of the author and not necessarily those of the AFL or its clubs