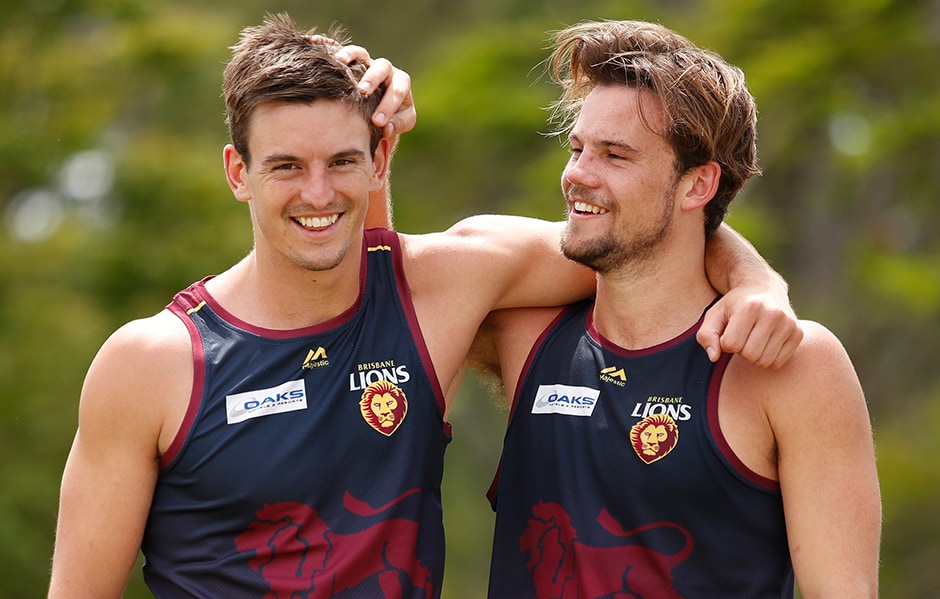 The Brisbane Lions will carry two sets of brothers on their playing list next year, with the Berry brothers and the Lyons brothers in competition for one special honour and united in their quest for another.
Will 20-year-old Corey Lyons, heading into his third season, breakthrough for his AFL debut alongside 26-year-old brother Jarryd, who looms as a likely first-team pick after a trade from the Gold Coast Suns?
Or will 18-year-old Tom Berry, drafted by the Club last week, progress so quickly that he joins his 20-year-old brother and first team regular Jarrod in the AFL side?
And, in a scenario that would suit both families, can the Lyons brothers and the Berry brothers become the first pairs of brothers to represent the Club together in more than 20 years?
It has happened only once. And it was not a day the Club remembers fondly.
It was Round 11, 1998, when Michael and Brett Voss played alongside Chris and Brad Scott against the Fremantle Dockers at Subiaco.
Not only did the Lions lose by 71 points but Captain Michael Voss suffered a horrific broken leg.
The Scott brothers, now both coaching in the AFL, have been far and away the Lions' most prominent brother combination.
They played together 95 times from 1998 to 2005, including nine finals and three grand finals.
They shared the ultimate premiership triumph in 2001-02 before both missed the 2003 grand final win through injury and they played together in the 2004 grand final loss.
The Voss brothers played together 26 times from 1997-2000, including two finals, before Brett transferred to St Kilda.
Next on the Brisbane brothers list are Dayne and Claye Beams, who both left the Gabba over the recent off-season. They played 17 times together from 2015-17 but were denied a farewell game together this year when Claye was unable to break into the top side.
The only other brothers to play together in Brisbane colours were Mark and Stephen Williams. They played together in the third and fourth games of the Bears in 1987.
Other brothers to represent the Club were Daniel and Darren Bradshaw, but they never played together, with 231-gamer Daniel sidelined by injury when Daniel made his only AFL appearance in 2002.
Regardless of the race between the Lyons and the Berrys, Tom Berry claimed a rare honour on Monday when he was given jumper number 13 for his debut season in 2019.
He will be the second player in Club history to wear a number previously worn by an older sibling.
Previously, Fitzroy's Renato Serafini wore the number 10 guernsey for 79 games before his brother Laurie played another 140 games in it.

Tom, Jarrod and their older brother Joel in their junior footy days.
It didn't happen with any of the other brothers: Chris Scott wore number 22 and Brad Scott number 5, Michael Voss wore number 3 and Brett Voss number 13, Dayne Beams number 9 and Claye Beams number 17, Daniel Bradshaw number 36 and Darren Bradshaw number 37, and Mark Williams number 2 and Stephen Williams number 36.
The Berry double-up came after Jarrod Berry traded in the number 13 jumper he wore 37 times in his first two seasons with the Club to switch to number seven worn previously by Tom Bell.
Others to have worn the number 13 in Lions history have been Kevin Wright (140 games), Martin Pike (106 games) and Bernie Harris (95 games).
Harris, who wore number 47 in his last seven games for the Bears in 1990, also wore number 13 in 46 games for Fitzroy.
The diminutive rover is one of 14 players to have played for Fitzroy and the Bears prior to the merger, and one of only two players to have worn the same jumper for each of the merger partners. The other was Alastair Lynch in the number 11.
The other 12 players to play for Fitzroy and the Bears prior to the 1997 merger were David Bain, Kevin Caton, Daryl Cox, Brad Edwards, Michael Gibson, Ross Lyon, Brendan McCormack, Scott McIvor, Nigel Palfreyman, Matt Rendell, Chris Stacey and Mark Zanotti.
Wright, who played 140 games from 1952-61, held the Fitzroy record for most games in the number 13.
Jarrod Berry's locker move will see him follow Frank Dunell (15 games), Scott McIvor (101), Jarrod Molloy (51), Jason Gram (2), Jed Adcock (206) and Bell (21) in the number 7 jumper post-merger.
Jumper number 7 was famous in the Fitzroy days, worn by Team of the Century wingman Warwick Irwin (206 games), Brownlow Medallist Allan Ruthven (184) and triple Brownlow Medallist Haydn Bunton (119).
Among the other new draftees, Ely Smith will wear number 8, Tom Joyce number 32, Noah Answerth number 43, Connor McFadyen number 45, and basketball convert Tom Fullarton number 47.
These jumper allocations follow those made during the trade period when Lachie Neale was slotted into number 9, Lincoln McCarthy number 11, Jarryd Lyons number 17, Marcus Adams number 24 and Irish newcomer James Madden number 42. Mitch Hinge, who didn't play a Senior game in number 42, moved to 22.
The views in this article are those of the author and not necessarily those of the AFL or its clubs